Las Vegas housing recovery stalls after 19 months
October 8, 2013 - 10:40 am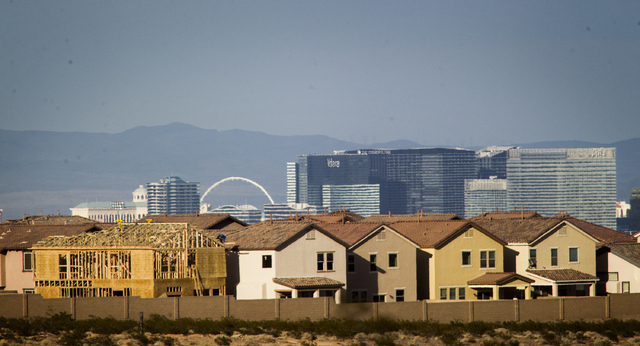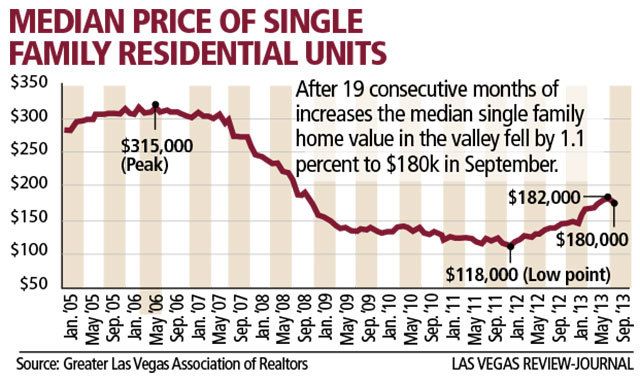 After 19 months of steady increases, the value of single-family homes in Southern Nevada took a tumble in September.
The median value for the region fell to $180,000, down 1.1 percent from $182,000 in August, according to the Greater Las Vegas Association of Realtors.
It's the first month-to-month decrease since January 2012, when median value bottomed out at $118,000, but the latest figure is still 29 percent higher than the September 2012 value of $140,000.
The slowdown comes as no surprise to those on the front lines of local real estate. They've seen properties linger longer on the market and buyers becoming more demanding when it comes to deals.
Steve Franklin, an agent with Realty Executives of Nevada, said the downtown area where he specializes has cooled in recent months, even in areas close to rapidly redeveloping downtown Las Vegas.
He described one listing, at 1240 Seventh St., that has been on the market since June and hasn't yet sold despite a price decrease from $125,000 to $123,000.
"Things have shifted a little bit here in the last couple months," Franklin said. "For sellers, they are going to have to be a little more negotiable on their price."
Franklin said from April to July homes in one swath of downtown spent an average of 64 days on the market. In that same area the average current listing is now 67 days old, meaning that if they were placed under 30-day contract immediately, the time on market would be nearly 100 days.
"I think that is some pretty solid evidence things definitely cooled off," he said.
The decline in values in September was accompanied by an increase in inventory, according to figures from the Realtors association.
"I would say a lot of the cash investors are running out of cash to invest," said Gregory Smith, a Realtor in North Las Vegas. "And it is still really difficult to get a loan even if you are qualified."
There were 14,659 single-family homes listed at the end of September, up 3.7 percent from 14,472 at the end of August. There was an even more dramatic increase in the number of houses for sale with no pending or contingent offer, according to the Realtors.
At the end of September there were 6,330 homes listed without an offer, up 12.8 percent from the previous month and up 60 percent from the end of September 2012.
The number of homes purchased with cash fell to 47.2 percent, down from a peak of 59.5 percent in February.
"We knew these rising home prices had to slow down sometime," said Dave Tina, president of the Greater Las Vegas Association of Realtors. "Home prices and sales usually slow down heading into the holidays and in the winter, so this may be the beginning of more stable prices for the coming months."
While single-family home sales were off in the month, condominium and town homes increased 3.8 percent from August to a median sale price of $95,000. That is up 35.2 percent from one year ago.
The overall value of local sales tracked through the Multiple Listing Service in September was down 8 percent, to $598 million, according to the Realtors. Total value of condos and town homes sold was $92 million, up 44.6 percent from August.
Tina said a reduction in hedge fund buyers is a good sign for the real estate market because it will result in more availability for owner-occupiers to afford a home.
"It can't go on forever, or we would have that bubble all the naysayers want to say we have," Tina said of the 19-month run-up. "We had that great growth now we are sitting good on a nice, normal, healthy median price."