Las Vegas-Long Beach routes under study by Southwest Airlines
February 11, 2016 - 2:14 pm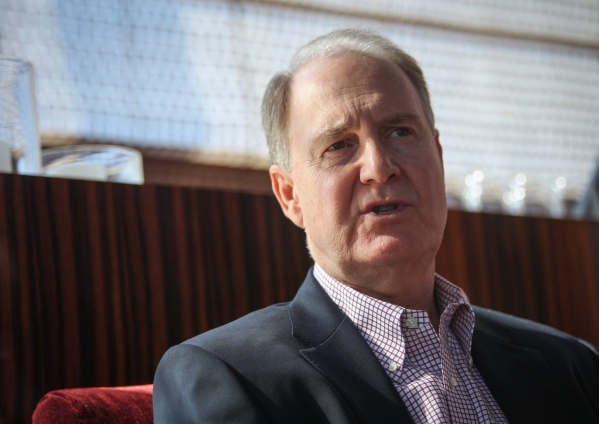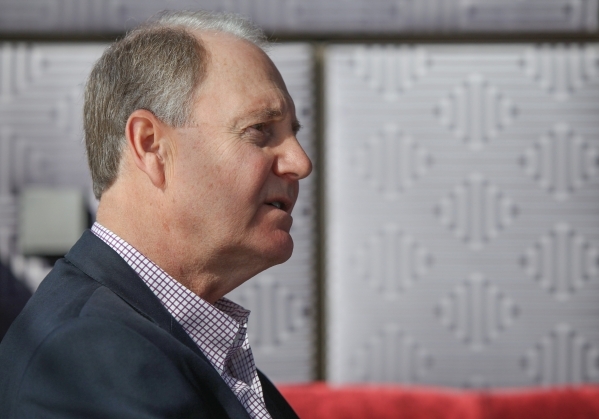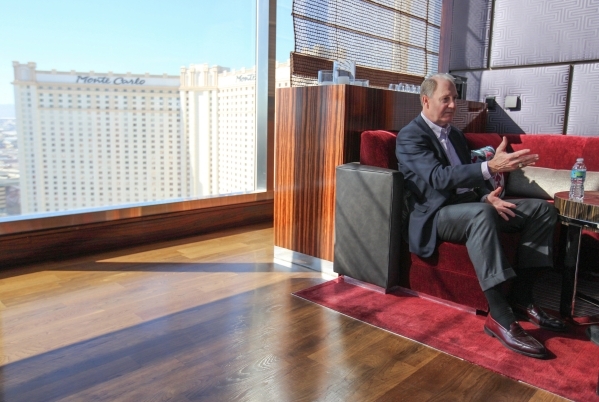 Southwest Airlines is catching its collective breath in 2016 while gearing for what is shaping up to be an eventful 2017.
While Southwest has no specific growth initiatives planned this year for Las Vegas — the airline's third-busiest station nationwide — the company may consider service to and from Long Beach Airport later this year if it accepts slots offered from what is Southern California's smallest commercial airport.
"Las Vegas, right now, is pretty stable," Southwest Chairman and CEO Gary Kelly said in an exclusive interview with the Review-Journal. "It's a very strong market for us still. We're the No. 1 airline here right now."
Southwest is by far the busiest commercial air carrier at McCarran International Airport with an average 204 daily flights and a share of about 43 percent of the seats into the market.
Kelly told a gathering of an estimated 2,500 employees in Las Vegas Wednesday that the airline had applied for takeoff and landing slots at Long Beach, which limits the number of flights it allows because of a municipal noise ordinance.
The airline already flies nonstop from Las Vegas to four airports in the Los Angeles basin, but Kelly said adding Long Beach to the network would provide even more opportunities for Southern California.
Kelly confirmed that Las Vegas would be considered for Long Beach service.
The Los Angeles Times reported later Thursday that Southwest had been offered four daily flights at Long Beach. JetBlue Airways already has 20 round trips a week between Long Beach and McCarran.
A recent noise study indicated the California airport could add nine daily flights without violating the ordinance. The airport offered three daily slots to JetBlue and two to Delta Air Lines as well as the four for Southwest.
New technology is enabling Southwest to fly to noise-sensitive airports and that's one of the areas the airline is preparing for next year.
While Long Beach is on the company's radar, other Southwest cities will see expansion. The company will add more flights in the rapidly growing Denver market, expand international offerings from its Houston Hobby International Airport terminal that it opened in October and launch international service to Mexico from Los Angeles International.
Southwest also is building a five-gate international terminal that will open in 2017 at Fort Lauderdale-Hollywood International Airport in Florida.
There's even more preparation occurring in Southwest's technology with plans to launch a new reservation system in 2017. Kelly said the company would need to train 20,000 employees on the new system.
In the second quarter of 2017, Southwest also is scheduled to become the launch customer for the Boeing 737 MAX 7 jet, a variation of the Boeing 737-700 that will fly quieter and more efficiently that existing planes. The company expects to take delivery of 15 of the new planes next year.
The MAX jets also will have a more appealing interior design similar to those found in its newest commercial aircraft, the Boeing 787. Boeing had its first MAX jet test flight last month.
Employees heard the first details of company initiatives at Wednesday's "message to the field" at the Orleans Arena. Southwest executives traditionally address employees at their Dallas Love Field headquarters and at two or three locations around the system. Las Vegas is a popular message destination and the event at The Orleans was the largest employee gathering for Southwest outside of Dallas in the company's history.
But employees who made their way to the Orleans also saw a potential cloud on the horizon — a picket line of about 300 pilots seeking a new contract. Kelly said he respects the airline's pilots, acknowledged their right to protest and characterized the demonstration as a family squabble.
"Any time you have a group of people together, you're going to have differing opinions, differing ideas and and you're going to have conflict," Kelly said. "It's not utopia. It's how we work through conflict that really sets us apart from other companies."
Kelly pointed out that Southwest's pilots four years ago received a raise when other airlines were laying off employees and grounding aircraft. He's proud that the airline didn't have any layoffs during the recession.
"I think we may have been the only Fortune 500 company that didn't have a layoff during that time," he said.
But he also acknowledged that some of the airlines that filed for bankruptcy protection are stronger than ever and are formidable competitors.
"Some of our competitors have filed for bankruptcy and have washed their sins away," Kelly said. "Today, we're seeing competition from low-cost carriers as well as legacy carriers. They're stronger than they've ever been. It's the empire strikes back."
But he said as long as Southwest employees carry on their legacy of "the best service at the lowest price, we'll continue to win."
"Right now, times are good and people's spirits are high," he said.
— Contact reporter Richard N. Velotta at rvelotta@reviewjournal.com or 702-477-3893. Find @RickVelotta on Twitter.