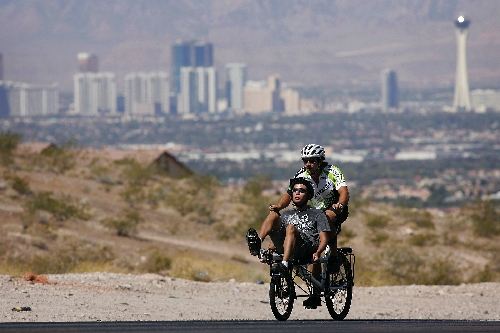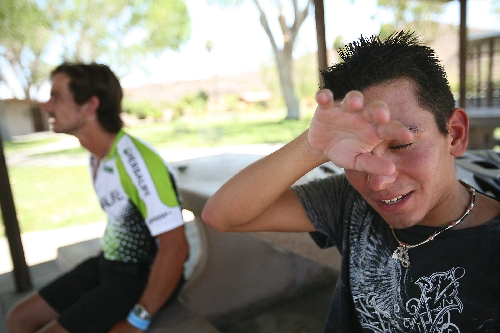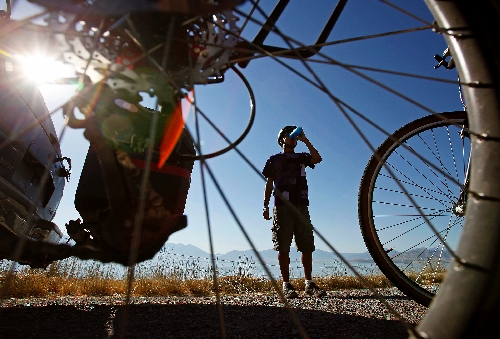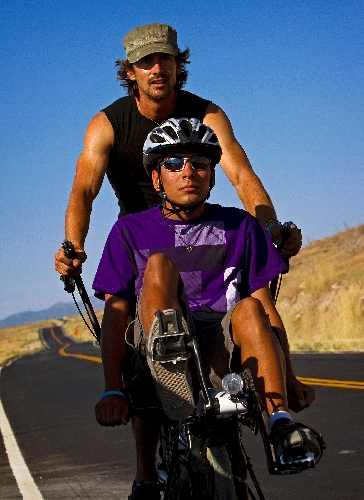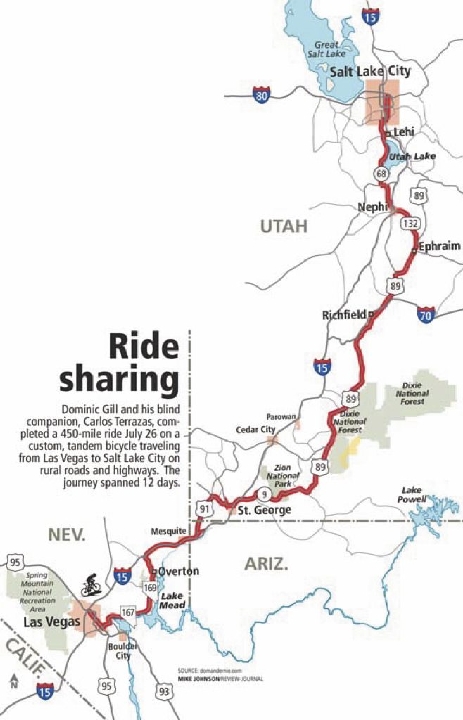 For a blind man, the 450-mile bicycle ride from Las Vegas to Salt Lake City was an eye-opening experience.
Carlos Terrazas, 22 years old and blind since birth, admits he is a city slicker. He wears bling around his neck and his hair in gelled spikes.
He never thought he would be part of a cycling adventure that would take him along the country roads and rural highways that twist and climb from the shores of Lake Mead to the Great Salt Lake.
That was until he met Dominic Gill, who picked him up at the Blind Center of Nevada and put him on the front seat of a custom tandem bicycle.
Their goals were simple: To travel. To share. To inspire.
"The harder something is, the more rewarding it's going to be in the long run," Terrazas said before they left on July 15.
Terrazas said he felt honored to be a part of a cycling adventure for people with impairments.
"I'm showing other people what we can do. That's really awesome."
Gill, an experienced long-distance cyclist from London, was inspired to take the journey by Ernie Greenwald, a 74-year-old California man who is battling cancer.
Greenwald was part of what Gill described as his first "inclusive adventure," a two-year, tandem bike ride from Alaska to Argentina in which he picked up random companions along the way. When it was over in 2008, Gill had picked up about 270 riders over thousands of miles, including Greenwald.
Greenwald dreamed of seeing America from the front seat of Gill's bike, and they planned the trip for this summer. A couple weeks before they were scheduled to depart, Greenwald became too sick to make the trip.
So, Gill expanded the "Dom-and-Ernie" project into an experience he would share with Terrazas and about 10 other physically handicapped or impaired people. The trip, which Gill plans to turn into a documentary film, has several sponsors, including Wilderness.com.
He asked Cory Nelson, president of the Blind Center of Nevada, who would be a candidate.
"Carlos is the one who jumped off the page," Nelson said. "He is somebody who has faced challenges in life and has overcome them. He's visually impaired and he's not letting that stop him."
Terrazas was born prematurely with a detached retina in his right eye and a partially detached retina in his left. He is legally blind, although he can see some shapes and shades of color.
His parents moved from Juarez, Mexico, to Las Vegas, where he grew up. He didn't let his impaired vision keep him from excelling in school. He graduated in 2005 from a magnet school, Advanced Technologies Academy, majoring in engineering technology. At the Blind Center of Nevada, he works with a trainer in hopes of becoming a triathlon participant.
Still, it was grueling on his first day on the road, the hottest day of a record-hot month. It was 113 in the shade at the official National Weather Service monitoring site, and temperatures on the pavement reached 120 degrees.
With the heat came the occasional smell of animal carcasses rotting on the side of the road as they headed over the pass between Frenchman and Sunrise mountains.
"It kind of stunk at first," Terrazas recalled, after they broke camp the next morning at Lake Mead's Callville Bay. "It was one more thing we had to try to ignore."
With the rattlesnake sound of chain-sprockets turning, the pair dripped with sweat as they rounded turns and pedaled uphill on North Shore Road.
"Still no pain just yet," Terrazas said. "It's awesome."
The swoosh of cars and trucks whisking by was a reminder of the dangers involved.
"There was only one or two that got a little too close," he said.
What stuck in his mind was the thrill of hitting speeds of 50 mph on downhill slopes.
"When we went downhill at top speeds, the wind is just hitting you right in the face," he said. "I loved it. You just pretty much relax and enjoy."
Gill's journey had begun July 5 at the Pacific Ocean from the pier in Santa Monica, Calif.
For the first week, his cycling companion was Ryon Mabey, a 32-year-old Salt Lake City man who is recovering from a traumatic brain injury in a car crash. Mabey accepted the challenge to ride to Las Vegas, even though he has problems with balance and neurological twitches.
Gill said this journey is easier compared to the "testosterone-filled, tough-guy" journey from Alaska to Argentina. First, a support team in a sport utility vehicle follows the cyclists.
"I don't have 180 pounds of dead weight" in supplies, Gill said. "Last time I was completely self-sufficient. I had everything from machete to magazines, tent, food, everything."
Plus this trip sticks to paved roads.
"My last trip I had hundreds of miles at a time on dirt roads," the 30-year-old cyclist said. " In fact, I probably traveled more dirt roads than the entire length of this trip, 4,000 miles, so that made it pretty tough."
His bike's unique design allows the "passenger" to lean back in his seat; he can pedal or coast while Gill steers from behind and provides the power. Even if Terrazas stopped pedaling, Gill said, "he's only 135 pounds, less weight than the equipment I had on my bike."
Gill and Terrazas spent 12 days riding in the morning and early afternoon and camping out at night.
"You learn about your differences," Gill said. "You learn about the kind of people you gel with. You learn about your faults, your strengths and just how to get along with people."
For Terrazas, that meant coping with "helmet hair," the sweat-drenched condition his spiked black hair endures after hours inside a bicycle helmet.
"My poor hair just couldn't take it any more, and I had to bear with it," he said, after arriving July 26 at Salt Lake City's Temple Square. It's "just another part of roughing it on this trip for me. Not just some of the sleeping arrangements, not just some of the food I had to eat, but my precious hair."
The last days of the journey, from Zion National Park to Utah Lake, just flew by, Terrazas said.
"I've loved every minute of it. Every day, a new town, meeting new people, new surprises around every corner. Just the whole spontaneousness of it. I've loved it," he said.
"Just here in America, actually it's kind of opened my eyes to just how much there is in the smallest, little towns. … Before this, I really thought there was nothing more to it than the big, big cities, like L.A., New York, Chicago."
In the end, the journey gave Terrazas a sense of accomplishment.
Even though he had the option to stop pedaling, "I didn't want to. I did really do all of it with no slacking off or taking the easy way out."
While Terrazas headed back to Las Vegas in a friend's car, Gill continues the journey with other companions, expecting to reach New York's Central Park in November.
For him, the journey gives him a greater sense of appreciation.
"I think everything becomes sweeter, whether it becomes sleep, a nice comfortable bed, a good meal," Gill said. "I'm hoping it will inspire people … but also to encourage other people — fully able or otherwise — to squeeze a little bit more out of the life they've got because there's a lot of it."
Contact reporter Keith Rogers at krogers@reviewjournal.com or 702-383-0308.
VIDEO: Blind man shares 450-mile bike ride
» More info on the 'Dom-and-Ernie' project