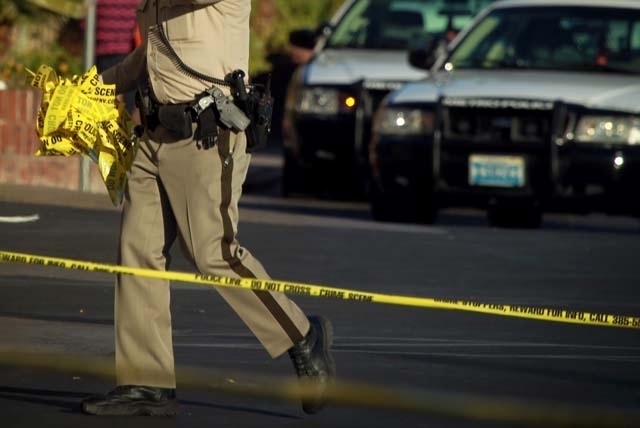 A Las Vegas man remained in critical but stable condition at University Medical Center on Saturday night after getting shot multiple times while waiting in line at Meadows mall for the new release of a Michael Jordan high-top tennis shoe.
Lt. Ken Romane, a Las Vegas police spokesman, said late Saturday night that no suspect had been arrested in the shooting, which occurred at 4 a.m. while a long line was forming well before dawn in anticipation of the new shoe's release.
Romane, however, did not have the name of the store or the name and age of the victim.
"You know how people will line up the day before a shoe is released?" Romane said. "Well, that's apparently what happened, and somebody got into a fight with somebody else and somebody was shot."
The Foot Locker inside the mall holds a raffle every two weeks to avoid such tussles. The raffle winners know a day before the release whether they won a chance to buy the new shoe, said one employee on condition of anonymity.
"We do it to avoid stuff like this," he said. "This happens every week when the new makes and new models and new colors come out."
The employee said the Jordans, endorsed by the former NBA star, run between $150 and $160 at the store, but can fetch as much as $400 out on the streets once they've been bought up and the supply dwindles.
"That's why everybody's fighting over them," he said. "They want to resell them and make money."
At Foot Action, also inside the mall, sales clerk Maria Mendoza said 24 pairs of the Jordans sold out before 5 p.m.
While some customers will hang on to the shoes, others will resell them, she said.
"That's what they'll do," she said. "They'll flip 'em to make money."
As of late Saturday, Mendoza said she thought Champs, another store, had two pairs left.
"You'd never believe how popular they are," she said.
The Jordan model at issue is the Air Jordan 4, which was released with a new "Green Glow."
Fights and even slayings over Air Jordans and other great NBA athlete-endorsed shoes are not uncommon in the United States.
In Houston, a 22-year-old man was fatally shot by robbers who were after his Air Jordans the day after Christmas in 2012.
Contact reporter Tom Ragan at tragan@reviewjournal.com or 702-224-5512.