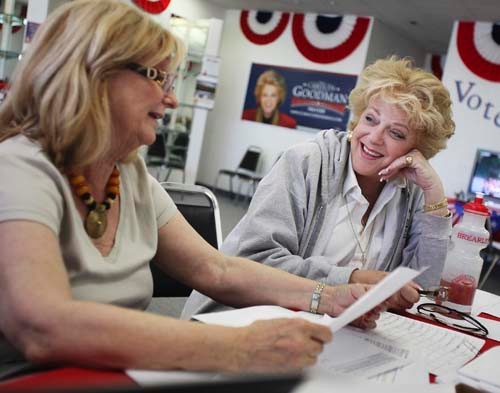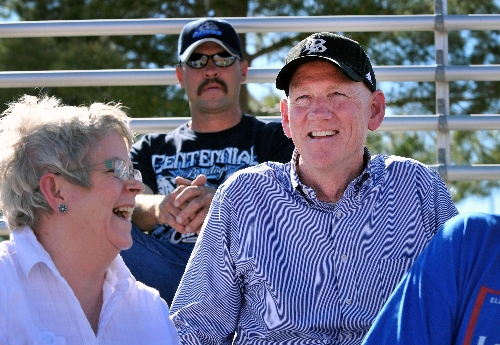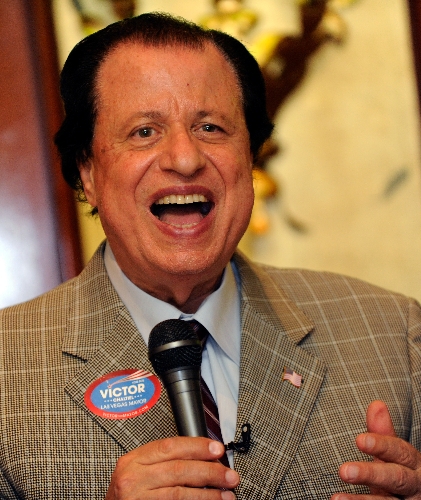 Candidates for Las Vegas mayor hit the streets and the phone lines over the weekend, searching for the final votes that could keep them in the race after Tuesday's primary.
Carolyn Goodman, still the frontrunner, worked the phones after a morning visiting various events, including a friend's birthday party. Larry Brown breakfasted with senior citizens, kicked off the Western Little League's season and persuaded a Lakers-friendly barber shop to put up some memorabilia from his beloved Boston Celtics:
"They almost booed me out of here," he said, but he made a case for honoring both rivals.
Chris Giunchigliani stuck with her favored neighborhood walking approach, and spent part of Saturday in the neighborhood around St. Louis Avenue and Maryland Parkway knocking on doors, handing out yard signs and, in one instance, scaring an apparent squatter out of a vacant house.
At the home of two longtime supporters, she asked about their neighbors: "Ask them if they're registered to vote," she said. "If not, we'll get them in the general."
As the closely watched Las Vegas mayoral election heads to Tuesday's primary, which will most likely winnow an 18-person field to two candidates, the contours of the race remain pretty much the same as when it started: There are five main candidates, three of whom are considered especially viable.
And the main question is who's going to come in second.
The consensus of the campaigns is that Carolyn Goodman, wife of out­going Mayor Oscar Goodman, remains the front-runner. Brown, a Clark County commissioner and former Las Vegas councilman, had been comfortably in second place, but is now in a tight contest with fellow commissioner Giunchigliani.
Venture capitalist Victor Chaltiel, meanwhile, has vaulted from obscurity with the help of $1.3 million of his own money, most of which went to television advertising to boost name recognition. According to his campaign, at least, he's polling within the margin of error with Brown and Giunchigliani.
Las Vegas Councilman Steve Ross continued to project optimism heading into the final days before the primary vote, even though his campaign has struggled more than the others to find traction.
"You've just got a heated battle for second, if you believe polling," said Bradley Mayer, Goodman's campaign manager, who said he's been tracking the race via exit polling. "But we don't take anything for granted here.
"There were three main people going in and there are three main people going out. The wild card is Victor. That's the main thing — how much did that (advertising push) translate into?"
LOTS OF CONFIDENCE
Though it would be an astonishing electoral performance, Chaltiel (pronounced shal-tee-EL) was still confident that it would translate into a second-place finish. Brown and Giunchigliani were equally convinced of their chances.
In Las Vegas elections, if no candidate gets a majority in the primary then the top two finishers continue to a general election, which this year is scheduled June 7.
"I am there. Absolutely I am there," predicted Chaltiel, who grew up in France and French-speaking Tunisia. "I think we are going to be the biggest upset in Nevada politics. To go from zero to being in the general — and in spite of my accent!"
Giunchigliani was equally sanguine: "I expect to be in second place Tuesday and be in the runoff," she said.
Her husband and campaign manager, Gary Gray, and Chaltiel's manager, Joe Catania, said they were using automated polling, which can be less precise than using poll-takers — you don't necessarily know if the person responding is actually a registered voter, for instance. But they say it's useful for identifying trends, and they believe they're on their way up.
"I say we've got traction. We've got momentum," Gray said.
"You look at trends over time. It looks pretty good," said Catania, who said the campaign is polling daily. "We're cautiously optimistic."
Brown was cautious in assessing Election Day probabilities.
"Everybody has their own poll and will provide their own numbers," he said. "We can't control them.
"It's certainly going to be very competitive. The dynamic that's different in this race is that there are four or five good candidates … who are out there campaigning."
The campaign to succeed Oscar Goodman, who cannot run again because of term limits, was always going to be high-profile, since it's the first time since 1999 that the mayor's chair in Nevada's largest city has been truly up for grabs.
Goodman also raised the profile of the job through his colorful personality and ambitious downtown development plans, taking a position that on paper is largely ceremonial and creating an influential bully pulpit.
The race has focused on jobs, economic diversification and even education, although the city and mayor have no direct role in public schooling.
CAMPAIGNS AND ISSUES
For the most part, the candidates have pitched their ideas and experience at voters to differentiate themselves from one another with little personal mudslinging, although Chaltiel's ads take aim at "career politicians" — a clear swipe at Brown and Giunchigliani — and Las Vegas firefighters criticized Brown for what they perceived as his linking all firefighters to the sick leave scandal in the Clark County Fire Department.
The 18 contenders in the race is probably a record, according to the city clerk's office. Since 1967, the only contest that's come close was 13 candidates in the 1991 mayoral race.
Brown and Ross announced early. Giunchigliani and Carolyn Goodman made last-minute splashes with their decisions to enter the race, while Chaltiel's momentum began with television exposure in February.
It will probably be the most expensive mayoral race in city history. By March 24, the last campaign finance reporting date, the top five candidates were already pushing the $3 million spending mark, not counting what's being spent in the run-up to Tuesday and the coming expenditures by whichever candidates make the general election.
The spending, however, generates relatively few votes, and the low turnout probably means that the result will be close and determined by the efficiency of a candidate's campaign operation. All of them tried to get people to vote during early voting and will be making phone calls and knocking on doors to get supporters to the polls on Tuesday.
The 1999 election had 25 percent turnout, which was a high-water mark for recent city elections. Estimates this year are for 40,000 to 50,000 voters to participate, which would be 18 percent to 22.5 percent of the city's 222,185 active registered voters.
A pay increase approved in 2007 takes effect for the next mayor, who will not be able to hold outside employment and will be paid an annual salary of about $130,000 during the four-year term.
Contact reporter Alan Choate at achoate@reviewjournal.com or 702-229-6435.