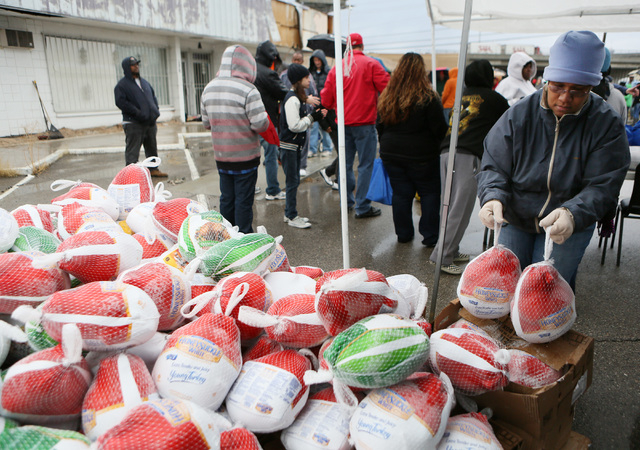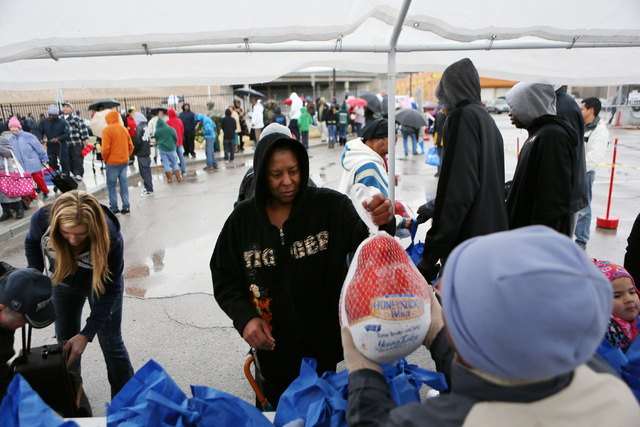 Unemployed and struggling to feed himself these days, Pete Munoz was one of an estimated 1,600 people who received free frozen turkeys on a dreary Saturday morning, part of the Las Vegas Mission's annual giveaway.
With yellow vouchers in hand and hoodies and umbrellas to shield themselves from the rain, hundreds of people showed up at the Moulin Rouge lot on Bonanza Road near J Street, among them Munoz.
He rose at 4:30 a.m. to catch a 40-minute bus ride to the vacant lot where the distribution took place, only to face a sea of 50 people ahead of him when he arrived at 6:45 a.m. The turkeys were handed out by volunteers from corporate sponsors Wells Fargo and Wal-Mart starting at 8 a.m.
"I'm really grateful for something like this going on," said Munoz, who lost his job in September and has been forced to swallow his pride at the expense of a growling stomach. "Turkey pot pie, turkey sandwiches, anything you can make with turkey, I'll be making it."
The giveaway was just one in a number of food giveaways and meals that community groups were busy providing on Saturday.
The Las Vegas Mission handed out Turkeys for three straight hours, along with food baskets filled with side dishes, including cranberry sauce, boxes of mashed potatoes, stuffing, gravy, vegetables and fruit.
John Fogal, director of development for the rescue mission, said the giveaway was by far the largest in the four years that he has worked at the shelter. Others who work for him noted that it might have been the largest showing in the turkey giveaway's 20-year history.
Fogal said he also noticed a troubling trend: More and more families with children are struggling these days. It's not just about homeless individuals anymore. It's not just about single men and women who live on the streets.
"I don't know if it's a carryover from the lean years when the economy tanked a few years ago, or what. But the sheer number of families that we're seeing is incredibly sad," Fogal said. "We're talking about regular folks out there who are struggling. And of course it warms our heart to help them. That's our mission, after all, and Thanksgiving is right around the corner."
For two decades now, the mission has distributed free turkeys on Thanksgiving while tending to the daily duties of providing shelter for an average of 200 homeless people per night and roughly 1,000 meals per day at the dining hall.
One woman, who asked that her name not be used, said the giveaway is a god send.
She said she had been homeless until recently.
"To me, it means a lot to have this food," she said. "On turkey day we're going to have our homeless friends over. It means a lot helping those out that don't have food, because I've been there. I've been on the streets. I prayed everyday for help."
Next week, the rescue mission plans on giving another 1,000 frozen turkeys away to low-income seniors and poor families where children are struggling at five different elementary schools in the Las Vegas Valley, he said.
On Wednesday night, between 3 p.m. and 6 p.m., between 1,200 and 1,500 meals will be served at the shelter, in keeping with the Thanksgiving eve tradition.
One of the chefs will also wow the crowd with an ice sculpture, which he will fashion from a chain saw.
At Cambridge Community Center, near Maryland Parkway and Flamingo Road, more than 300 families came to grab some free grub provided by Three Square food bank.
Juvenile probation officer Kevin Niday and his community service kids joined forces with Three Square, University United Methodist Church and Las Vegas police officers to run the "open air" food market in a back room of the community center.
More than 900 people came out, including young couples, large families and senior citizens.
"People forget about seniors," officer Michelle Wilson said.
Niday also had the kids lend a hand at a food bank event last month.
"The whole philosophy is to make them appreciate their life," Wilson said. "We love those kids. Hopefully it teaches them to be a better human being."
People coming for food began lining up for the event early. Niday said he had planned to start at 9 a.m. but because so many were standing in the rain, he had to do it early.
"It was so cold," Danielle Waters said as she waited for a ride with her boxes of produce. "The line was all the way around the building this morning."
The officers that volunteered all expressed concern for the neighborhoods they work in.
"This was great, because you have families that really need it, and they were able to grab as much they want," said officer Lourdes Smith.
Also on Saturday, MOMS, or Modern Outreach Mentoring Support, distributed more than 200 family dinners around the same time, going door to door in some of the lower income neighborhoods in the Las Vegas Valley.
And on Monday, the Metropolitan Police Department's communications department will load their patrol cars with dozens of turkeys, then surprise some of the needy families who live near their command centers.
Review-Journal reporter Wesley Juhl contributed to this report. Contact reporter Steven Slivka at sslivka@reviewjournal.com or 702-383-0264. Contact reporter Tom Ragan at tragan@reviewjournal.com or 702-224-5512.