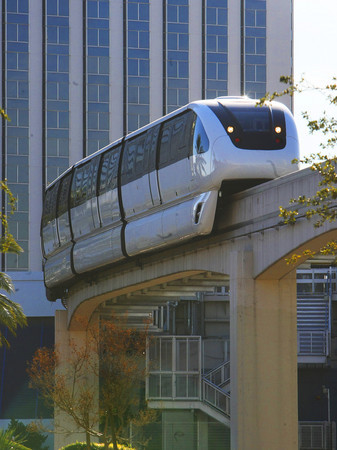 The Las Vegas Monorail Company is considering filing for Chapter 11 bankruptcy in its attempt to restructure its bond debt, a move officials believe would ultimately allow the rail system to expand to the airport and other resort properties.
Because the company has not earned enough money to pay off the $650 million in construction and startup costs, it is negotiating a restructuring agreement with bondholders and its insurance company, board member Bruce Woodbury said.
Woodbury said the monorail has been a success in terms of "being a good transportation system" and relieving congestion in the resort corridor.
However, he said, "it did not meet the initial goal to make enough money to pay back all of the startup construction bonds."
Initially, monorail backers claimed the train would draw about 20 million passengers a year who would pay a fee of $2.50. Ridership has never met expectations and fares have been increased since startup.
The company has three options: It can negotiate an agreement without filing for bankruptcy; draw up a new agreement that includes the bankruptcy filing; or move forward by filing Chapter 11 without a new agreement in place.
Chapter 11 simply means reorganizing the financial structure; a plan developed throughout the case is approved by a judge or a vote of the creditors. Another common form of bankruptcy, Chapter 7, requires the liquidation of the debtor's assets.
"We think we've got to get a permanent restructuring of the debt … where we go from there remains to be seen," Woodbury said.
The company's intent is to revise the terms of the agreement to lower its payments to bondholders.
"We may say, 'we can't pay this much per year,' so instead, we're going to do this so everybody is as happy as possible," said Ingrid Reisman, the company's vice president of corporate communications.
If the monorail company files for Chapter 11, operations and services will not be interrupted, Woodbury said.
"I don't foresee any scenario that would cause the system to shut down. That would not benefit anybody," Woodbury said, adding that the only way bondholders can recover their investment is through revenue, not taking ownership of the trains or rails.
The monorail's struggles have been exacerbated by the slumping economy. Ridership has decreased this year in part because fewer conventions have been held in Las Vegas, and the few conventions that have moved forward don't draw the same number of conventioneers as they did a couple of years ago.
Woodbury said the company ultimately plans to expand the monorail to the airport and additional Strip resorts.
But, he said, "until the current debt is restructured in a way that we don't have continuing unpaid principal amounts on that bond, we probably won't be able to attract financing for expansion. It's an economic necessity if we're ever going to go to the airport and other resorts, which I think we need to do."
According to the company's 2008 tax forms, revenue for the year, which includes ad revenue, was about $33 million, down $3 million from the prior year. Despite the drop in revenues, the amount of money paid to employees was $3.3 million, up about $1 million from the prior year. Its total expenditures were $95.5 million, up about $1 million.
Contact reporter Adrienne Packer at apacker@reviewjournal.com or 702-387-2904.