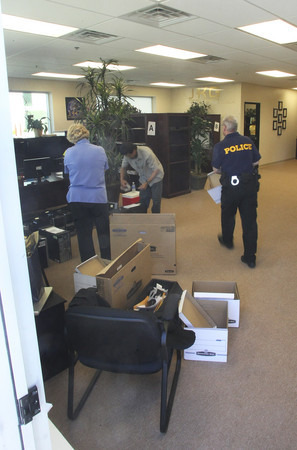 The secretary of state's Securities Enforcement Division on Tuesday searched the offices of a Las Vegas man suspected of defrauding elderly residents in a real estate investment scheme.
The suspect, known by aliases Jamal Eljwaidi and Jean Marc, faces six counts of elder exploitation on allegations that he defrauded local residents of at least $600,000, including $400,000 from one Las Vegas resident with a diminished mental capacity.
There are at least five confirmed victims, but more are possible, officials said, noting that the scheme might have netted Eljwaidi millions of dollars.
Secretary of State Ross Miller said his investigators found a "gold mine" of information during the search that might lead to more charges. He declined to release details of what was found.
Miller said that after the Securities Enforcement Division issued an arrest warrant for Eljwaidi last week, more possible victims came forward. A former Eljwaidi employee also provided new details that led to the search warrant being issued.
Investigators said Eljwaidi's scheme involved offering people high-interest payments for investing in a shopping center project next to his offices at 8820 Russell Road, near the Las Vegas Beltway.
The project was described as a "Monte Carlo-style, open-air plaza on 9.23 acres," being constructed through Eljwaidi's companies, Babuski LLC and JKG Development, and having broken ground in 2007.
Miller said it was clear no construction had taken place, but Eljwaidi was good at selling himself.
"He was very, very good at what he was doing," Miller said. "He seemed very professional on the surface."
Eljwaidi was at-large Tuesday and could be in Las Vegas, Miller said, but there are reports he has been spotted in France. Miller could not confirm whether Eljwaidi was a citizen of the United States.
Miller said the scheme might be continuing; employees at his offices were still working when officers executed their search warrant.
"I don't know how much they (the employees) know," he said. "They may be continuing to solicit additional investors."
Investigators first opened the case on Eljwaidi in June 2007. Some people alleged to be his victims have reported dealings with him since 2004.
Miller said Eljwaidi was living a "lavish lifestyle" at the expense of his clients, some of whom have lost almost everything they had.
"There are some pretty tragic scenarios out there we've uncovered already," he said. "A terminally ill cancer patient that didn't have any resources invested him with promises of a high rate of return … these were not, by and large, individuals with a lot of money to lose," he said.
Anyone with information on Eljwaidi, or anyone who might have been defrauded, is urged to contact the secretary of state's office at 702-486-2440.
Contact reporter Mike Blasky at mblasky@reviewjournal.com or 702-383-0283.