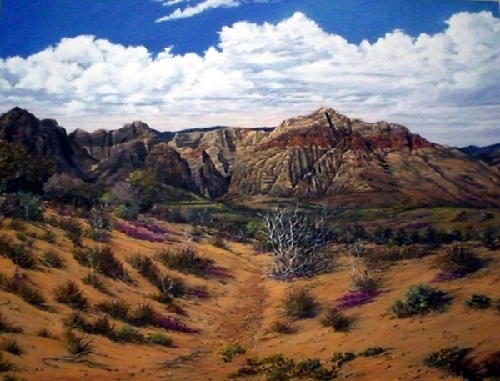 Southwest Las Vegas resident Lily Adamczyk , 63, has been painting for more than 40 years.
It was her love affair with art that pushed her to self-expression with oil painting, almost accidentally.
"I discovered in an odd way that I had talent for this," she said. "Essentially, a friend of mine took up painting and asked if I would go to the art supply store with her. We bought paintings and brushes. I bought some stuff to do on my own just to be supportive."
Adamczyk said she discovered immediately that not only did she have a passion for painting landscapes in oil but that she was good at it.
"I never put the paint down after that," she said.
Adamczyk is what is known as a self-taught artist, meaning she has had little art education.
"I took one semester in college when my four boys were younger and decided that was an impossible task," she said.
Adamczyk said instead of chaining herself to an art academy, she chose to attend painting workshops when they were available.
"I enjoy the process of figuring things out on my own, anyway," she said. "Everything I know about painting has been a personal discovery for me."
Adamczyk is the vice president of the Vegas Artists Guild and has been featured in "Best Of Worldwide Oil Artists," a publication that highlights top oil painters from around the world.
"Someone saw my work and asked if I would submit to be named in the top painters for the nation," she said. "Then I was asked, based on my work, if I would like to be named worldwide. Of course, my answer was yes."
Adamczyk said she is probably best known for her realistic renderings of clouds. Capturing the essence of a moody, stormy day comes naturally to the artist, who has a gallery inside thrift store and art shop Dinosaurs & Roses, 6029 W. Charleston Blvd.
"I really enjoy depicting the atmospheric mood," she said. "I seem to be able to paint that feeling that is in the air on a cloudy day, or on a summer afternoon when the sky is dotted with white, fluffy clouds, and you're sitting at a lake with your feet dangling in the water. I can capture a moment, a feeling."
Adamczyk specializes in painting landscapes, seascapes and historical landmarks and said she draws inspiration from everything around her.
"The best thing about painting is that you can convey so much emotion, so much of yourself, without revealing too much of yourself," she said.
Michele Morgan-Devore, owner of Dinosaurs & Roses, said Adamczyk's work is unlike any she's ever seen.
"I am a huge fan, personally," she said. "What Lily can do is so amazing. Her work is one of a kind and just stunning."
Adamczyk said she teaches painting at various community centers across the valley and takes on private students at her home studio.
" I find teaching exhilarating," she said. "I love to share what I know."
Adamczyk said she comes from a family of artists who have always been very supportive.
"My mother and grandmother both had talent," she said. "I'm the first one to actually pursue it as a profession. But I feel very blessed to do so. I love what I do."
For more information, visit www.lilyspadd.com.
Contact Southwest and Spring Valley View reporter Amanda Donnelly at adonnelly@viewnews.com or 380-4535.