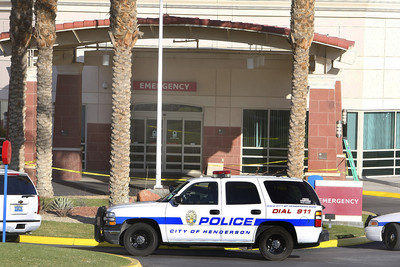 Before Charles Bradley Campbell armed himself and entered a Henderson hospital emergency room early Wednesday, he e-mailed his ex-wife in Washington state and threatened suicide because he was depressed, Las Vegas police said.
Metropolitan Police Department spokeswoman Barbara Morgan said a call about Campbell was received at 12:39 a.m.
Two Las Vegas officers trained in crisis intervention arrived at the 48-year-old man's southeastern home for a welfare check at 12:57 a.m.
The Las Vegas Valley man was already gone.
At roughly the same time, Henderson police responded to a 911 call from a nurse at St. Rose Dominican Hospital's Siena campus reporting a gun-wielding man. When confronted, Campbell ignored orders to surrender his weapon and was fatally shot when he pointed his gun at officers, Henderson police said.
Las Vegas police must have barely missed intercepting Campbell, Morgan said.
"We feel very bad," Morgan said. "We did all that we could. We just didn't get the call on time."
At Campbell's residence in a small gated community near South Eastern Avenue and the Las Vegas Beltway, officers spoke to Campbell's sister, Morgan said. The sister told them that Campbell might have gone to St. Rose and that his gun was missing.
The St. Rose nurse called 911 shortly before 1 a.m. Henderson police arrived minutes later and evacuated the hospital's emergency room while looking for Campbell. Police found him with a gun in his hand, wearing a "green, military-type jacket."
He was shot by two officers, and they have been placed on routine paid leave pending a coroner's inquest. Two additional officers who were near Campbell did not fire their weapons, police said.
After the shooting, Campbell was taken to another part of the hospital for treatment. He died a short time later.
A patient in the emergency room heard Campbell declare that he wanted to donate his organs.
Campbell had no record of arrest in Las Vegas, North Las Vegas or Henderson.
Henderson police spokesman Keith Paul said the officers who responded to the St. Rose call reacted appropriately.
"Our officers were placed in a difficult situation," Paul said. "They were responding to a threat and forced to defend themselves."
Paul said that because of the quick action of officers and hospital personnel, bystanders were not injured.
Paul said Thursday that police would not release additional details about the shooting. The facts of the case will become public during the inquest, which has not yet been scheduled.
St. Rose spokeswoman Sasha Jackowich said Wednesday that the Siena campus has adequate security, which includes armed security inside the emergency room 24 hours a day. Jackowich said hospital officials will review their procedures to see whether they can take additional measures to increase safety.
Contact reporter Antonio Planas at aplanas@reviewjournal.com or 702-383-4638.