Las Vegas police use saturation strategy to cool 'hot spots' of crime
November 30, 2008 - 10:00 pm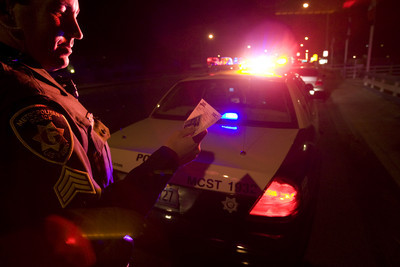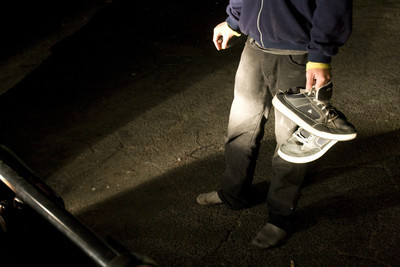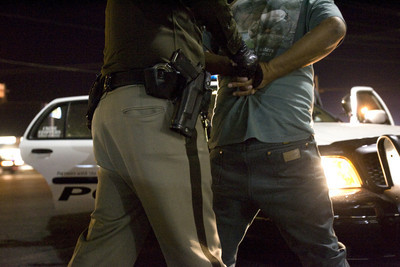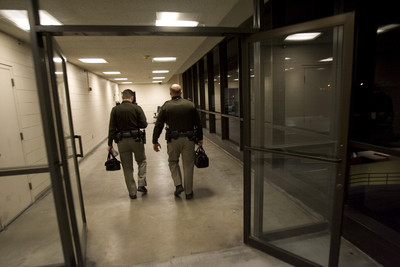 It's 6 p.m. A dozen officers and a sergeant meet in a basement at Las Vegas City Hall.
Projected onto the wall is a map of a slice of the valley. Red, yellow and blue blotches are splattered across the map.
"Downtown's on fire again," an officer says.
So are other places. The Rancho Drive and Washington Avenue area. Maryland Parkway and Tropicana Avenue. Cheyenne Avenue and Pecos Road. The entire northwest is dead quiet.
The sergeant runs down what to look for on the streets. A witness wanted in a murder trial. A guy who tried to kidnap a kid.
Somebody stole copper from the Gift of Lights in Sunset Park. "So if you see somebody with a bunch of Christmas lights in their car, it's probably stolen," Sgt. Roger Palmer says.
"'Tis the season," an officer says.
Before setting out, the team goes for dinner, and that's where Palmer explains the mission of the Metropolitan Police Department's saturation teams, or sat teams for short.
It's an innovative, proactive approach to policing. Don't handle calls for service. Leave that to the regular patrol cops. Talk to as many citizens as possible to find out who the bad guys are. Get people off the street who don't belong, and maybe prevent a robbery or burglary, or worse, from happening.
"We're not worried about turning in tickets," he says. "We're trying to get the bad guys off the street."
They use whatever laws are at their disposal: jaywalking, riding a bicycle without reflectors, outstanding warrants. They work together, swarming "hot spots" around the valley.
On Nov. 18, they decide to start with the northeast area.
First spot is the Cheyenne Pointe apartments, off Cheyenne Avenue and North Las Vegas Boulevard.
Palmer drives into the gated complex. It's seen a rash of stolen cars recently. On Election Night, Palmer says, the area was lit up with celebratory gunfire.
After rounding a corner, a few young men standing on the corner watch Palmer's car go by. He slows down, but keeps going. It's getting cold out this time of night. Fewer people stay out late. Those who do are probably up to no good.
Leaving the complex, Palmer spots an older Dodge pickup with expired California plates pulling into a bar parking lot.
In some areas, the popular cars to steal are Hondas or Toyotas. In this neighborhood, it's pickup trucks. Palmer turns on his lights.
Turns out the driver has a clean record, but the two passengers have extensive fraud and drug histories. A search of the truck turns up clean. Palmer sends the three on their way, on foot.
Just around the corner, the presence of the sat team is impossible to miss. Officers have two men seated on the curb while they check out a stolen moped. Another officer has just stuffed two young men into a jail van for possession of a black spray paint can and fat felt-tip marker. A woman is in handcuffs for a felony drug warrant.
"We're like wolves," officer Justin Gauker says. "We travel in a pack."
BIRTH OF A SUCCESS STORY
In August 2005, then-Undersheriff Doug Gillespie called Capt. Jim Dixon early one morning and asked him to breakfast. Dixon, then a lieutenant, and the now-sheriff knew each other well. They had worked together from the beginning of their careers.
"He (Gillespie) said, 'If you were king for a day, what would you do?'"
Dixon said he wanted 10 officers to hit "hot spots" around the valley.
They wouldn't be beholden to respond to service calls unless the calls came from the immediate area. They'd just target criminals.
Gillespie liked the idea, and the next month he called Dixon. He told Dixon that he could have 28 officers, two sergeants, and space in the basement at City Hall. The unit would report directly to the undersheriff.
Soon after, the unit began its first assignment: a low-income area in the shadow of the Strip they dubbed "Nora 2," bordered by Desert Inn and Flamingo roads and Maryland Parkway and Paradise Road.
The area had been racking up homicides and crime was rampant, Dixon said.
The first week, the criminals were like "deer caught in the headlights," he said.
"Eyes opened," he said. "Criminals said, 'Oh my god, what is this?'"
The second week the criminals had caught on, and his officers were constantly running suspects down on foot.
That's not all they did. They painted walls, picked up trash, had cars towed, had the power company increase the wattage of street lamps.
"We even gave out Christmas presents," he said.
Within a month, neighbors were calling police and asking for Dixon personally to invite him over for tea.
After 90 days they moved on to other areas, including the West Las Vegas neighborhood, the scene of multiple drive-by shootings in 2006, including the notorious Berkley Square attack that left three dead during a block party.
Since then, crime has dropped significantly. And though no arrests have been made in the Berkley Square attack, the neighborhood has become a success story for the department.
In the unit's first year, officers made more than 6,000 arrests, the vast majority of which were for felonies, and seized more than 80 firearms.
Before the team hit the streets for the first time, Dixon had gone to the department's Internal Affairs section to warn that it might get complaints because of the aggressive nature of the team.
But he received far fewer complaints than he expected, and only one was sustained, Dixon said. That was for an officer who, just before a team of officers was about to go into a drug dealer's house, threw his exterior video camera onto the roof, he said.
Sat team officers have to make constant judgment calls. They won't pull over and arrest someone in Summerlin, for example, who doesn't have bike reflectors. But if the area has seen a rash of burglaries, and the person on the bike has prior burglary convictions and doesn't live there, they will.
"If you see a guy who jaywalks, and he's a 42-year-old man who works at the Fremont casino and is heading home … shake his hand and let him go," Dixon said. "If you stop a guy who jaywalks, and he's a thug and he's got a history of burglaries and he's got a crack pipe in his pocket, you take him into jail."
Dixon stressed to his officers the importance of shaking the hands of residents and explaining to them what the team was doing in the area. That helped build bonds with those in the community.
"It's old-school policing with professionalism," he said.
The sat team has other duties, too: covering presidential details or working special events such as last year's NBA All-Star Weekend. Officers also follow up on major incidents, such as the time they patrolled areas around high schools after a Palo Verde High School freshman was gunned down early this year.
The team also serves another purpose, as a training ground for young officers. With the team, Dixon tried to get young officers to revert to his days of working the beat, when officers were more alert to what was going on in the community.
Back then, officers didn't have in-car computers to help them.
"We looked out the window."
'WHAT IS HE DOING OUT HERE?'
It's past 9 p.m., and officer Robert Boehm turns down a street near the Cheyenne Pointe apartments. He sees an 18-year-old on a bicycle rolling through a stop sign on a residential street.
The young man looks familiar. It's because Boehm and other sat team members busted him the week before for stealing a BB gun from a Kmart.
Boehm says that BB guns have been the weapon of choice for making drug-related robberies right now.
He was released from jail just a few days ago.
"This is the perfect example," Boehm says. "What is he doing out here?"
The man says he lives near Washington Avenue and Nellis Boulevard, about four miles away. His uncle lives at the Cheyenne Pointe apartments. He isn't heading there or to his home, however, and can't explain where he's going.
Boehm searches him. No drugs. No weapons. But he is a person that is probably up to trouble, Boehm says.
He handcuffs him, stuffs his bike in the trunk of his patrol car and takes him down to the Clark County Detention Center. The charges are failing to obey a traffic control device and not having lights on a bicycle.
STRATEGY HAS ADVANTAGES
The sat team draws a few officers from each area command. The strategy has two advantages: it doesn't upset area command captains by sapping one area over another, and it draws officers from all over the valley. If one officer doesn't know the streets in the southwest valley, for example, chances are someone else does.
Boehm, a 30-year-old out of the police academy for just a year and a half, can already point out streets where he's chased people and been shot at.
It's 10:30 p.m., and the team decides to move down to an area west of the Boulevard Mall: "Nora 2."
It's quiet. Sat team officers are driving past each other looking for somebody to talk to, somebody doing something wrong.
Boehm rounds a corner just as an out-of-commission police car with four young people and a child turns toward him. It doesn't have any plates.
Boehm turns around and pulls it over.
The vehicle is almost notorious, and Boehm and other officers who arrive recognize it immediately.
On the rear side panels of the car, where the traditional police phrase "To serve and protect" might be written, "To punish and enslave" is in its place. Some of the officers get a chuckle out of it.
The car was also at the scene of a shooting in the northwest a few weeks ago, when officers had pulled several toy guns from it, officers said.
Officers search the driver, the passengers and the car. They come up clean.
The driver is good-natured about it and jokes around with officers. "I get pulled over all the time, constantly," he says. "It's a good car, man."
He has insurance, but says he can't get it registered because it won't pass the smog test. Not enough reason to tow it, officers conclude, and they let him park the car and walk to a friend's apartment on foot.
As the night goes on, Boehm drives around the neighborhood, pulling up to a few people on foot who look out of place.
He doesn't suspect anything, and doesn't turn on his lights. He just asks questions — What's your name? Where are you going? — and people answer them. They have the option to keep walking, of course, but most don't.
One person walking to a bar about 1 a.m. has a warrant out for unpaid traffic tickets out of Boulder City. It's not worth the time to take him to jail, Boehm concludes. Besides, the man has a destination.
Another man Boehm talks to was just released from jail, and has the paperwork to prove it. He's heading just down the street to the Eureka Casino to gamble, he says.
His story seems legit, and he doesn't have any warrants, so Boehm tells him to have a good night and drives away.
That's about the most action the team sees. Well into the early morning the team calls it a night.
Twenty people were booked this night during the shift. Nine were for felony crimes, including one for a stolen moped.
"Honestly, best job in the world," Boehm says. "I'm living the dream."
Contact Lawrence Mower at lmower @reviewjournal.com or 702-383-0440.
Slide show