Las Vegas potbellied pig rescue operation wins zoning fight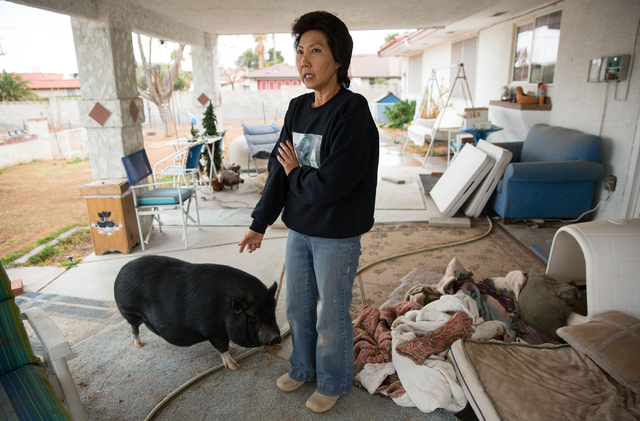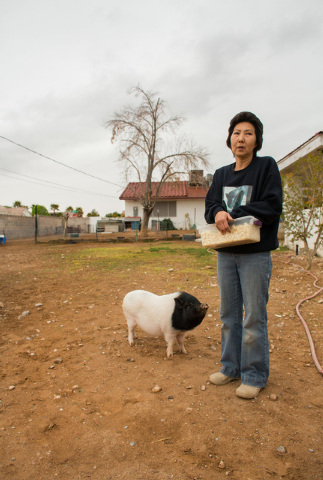 The Clark County Commission Wednesday unanimously voted to allow a potbellied pig rescue operator to keep as many as eight porkers for purposes of adoption.
Officials were inspired in part by the operation itself and the fact that it is in an area where other livestock is allowed.
One neighbor, Richard Kostelac, spoke in opposition at the meeting, telling commissioners he didn't think the lot was big enough for the pigs, which can grow to nearly 200 pounds.
Kostelac was one of four neighbors who had appealed an earlier decision to allow Crystal M. Kim-Han's potbellied pig rescue organization, VegasPigPets, to have up to eight pigs on her half-acre fenced property. Under county code, Kim-Han needs a permit for more than three potbellied pigs. In February Kim-Han was given a special-use permit for as many as eight after the county received a zoning complaint.
The pig rescue organization at 3188 Redwood St. in Las Vegas also had plenty of neighborhood supporters who told the county VegasPigPets wasn't a problem. The county received 26 cards in support; 14 in opposition.
Commissioner Susan Brager said she had a favorable impression after a visit there.
Kim-Han's goal isn't to permanently house the critters. Instead, she finds a home for potbellied pigs when owners can no longer care for them. Considered an exotic pet by their owners, the pigs can become more difficult to house when they reach maturity. At times, pig owners purchase the piglets without understanding how big the wee animal can get.
Contact reporter Ben Botkin at bbotkin @reviewjournal.com or 702-405-9781. Follow him on Twitter @BenBotkin1.