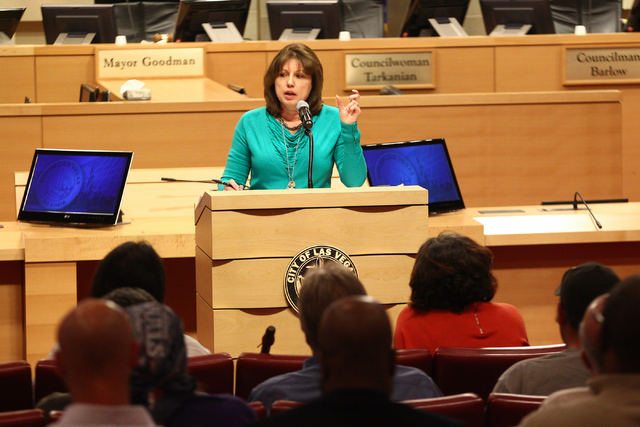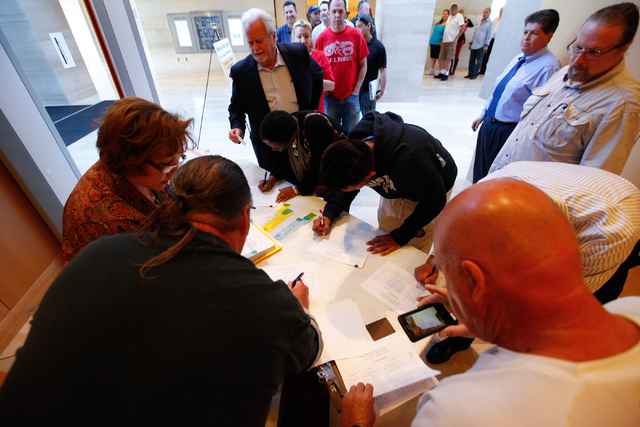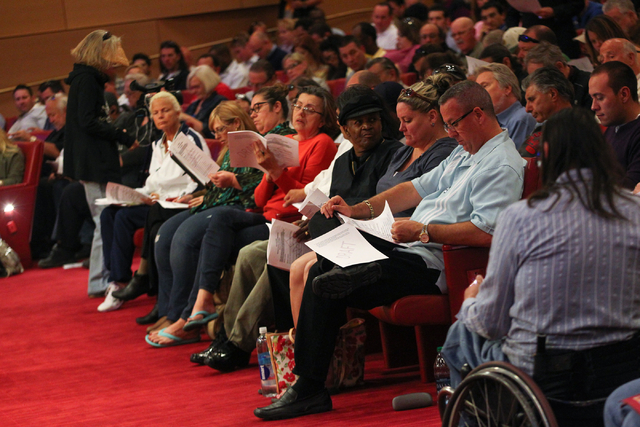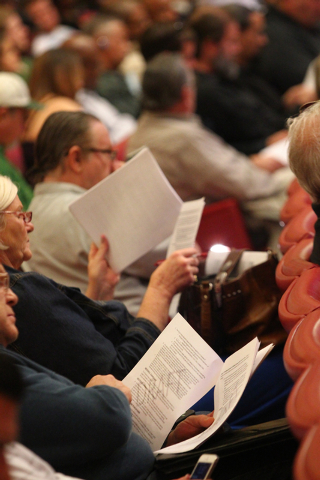 The Las Vegas business licensing department, led by manager Karen Duddlesten, came under fire for the second time in as many weeks on Tuesday for drafting what many called "hypocritical" regulations in what will be a proposed medical marijuana ordinance in May.
More than 500 people, from patients to future dispensary owners, filled the council chambers in what was the last in a pair of public hearings on the 38-page draft proposal. The opinions will be considered by staff before the blueprint is sent to the City Council for a vote that could bring 10 medical marijuana dispensaries to town.
A new state law that took effect on Tuesday allows as many as 66 dispensaries to operate in the Silver State, 40 of them in Clark County. Each major city is entitled to 25 percent, or 10 dispensaries, which could sell medical marijuana to patients who carry cards.
Although medical marijuana has been legal in the state since 2000, it took Nevada 14 years to allow dispensaries to operate. Now that a new law is on the books, the biggest problem is wading through the regulations.
Some of the controversial clauses in the Las Vegas proposal include having to employ three security guards on duty at all times in all facilities, regardless of whether it's a dispensary or a grow house or a state-certified lab; allowing Las Vegas police full access to any of the establishments at any time; and only being permitted to grow marijuana in one-third of the grow house.
"Is this just a way of collecting on more taxes?" asked one member of the audience.
Major criticisms included that the city has not yet set the cost of a dispensary license; that only Nevada residents are allowed to open a dispensary in Las Vegas; and restrictions on marijuana candy or gum. Marijuana suckers, since medical marijuana was legalized, are very common.
It was a restriction questioned by Thomas Roland, a chef by trade and longtime patient because of post-traumatic stress disorder and glaucoma.
"Are you saying that we can only bake a cake and make brownies?" said Roland, who is thinking about getting into the business and who noted that marijuana can be used in a variety of food products.
One doctor told the business licensing staff that it should open its eyes and realize that marijuana is being sold on just about every street corner in Las Vegas and that the difficulty of breaking through the red tape will only keep illegal dealers in business.
Cindy Brown, a medical marijuana advocate, said the city, in its proposed regulations, was being hypocritical, especially given the city's history of organized crime.
"I think you think you're better than the rest of us because we use cannabis," said the arthritic-stricken Brown to a round of applause.
Duddlesten began the public hearing by telling the audience, "Please don't shoot the messenger, for lack of a better term. … At this time we are here to simply listen." She said the business licensing staff was given the task to research the subject, come up with a draft and send it to the Las Vegas City Council.
"The purpose," she said, "is to integrate these businesses into our neighborhoods."
At least 50 people spoke, some delivering monologues on the benefits of medical marijuana.
Contact Tom Ragan at tragan@reviewjournal.com or follow him on Twitter @tomragan2