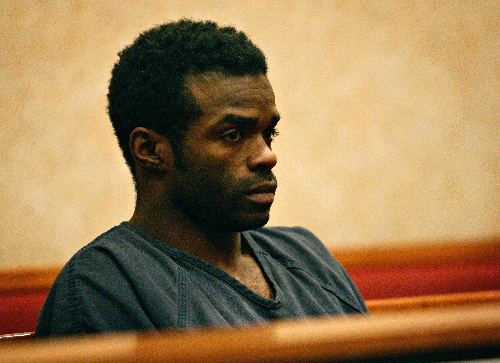 It has been more than a year since ex-Cirque du Soleil dancer Jason "Blu" Griffith was charged with strangling and dismembering "Fantasy" dancer Debbie Flores Narvaez.
The case shocked the Las Vegas performance community, and the sensational nature of the evidence garnered national attention.
After multiple delays of Griffith's trial, family members of the slain Strip dancer and her ex-lover charged with murder confronted each other on the "Dr. Phil" television talk show Thursday.
Griffith's mother, Charlene Davis, told the Review-Journal she contacted the television show to let the public know her son was being unfairly portrayed in the media.
"I want people to know that my son would not hurt anyone unless it was self defense or he was in danger of his life," Davis said. "Debbie was a stalker. She harasses her men. She doesn't know how to let go. She was a very volatile woman."
Flores Narvaez did not go undefended on the show. Her sister, Celeste Flores Narvaez, and her mother, Elsie Narvaez, also appeared on the program.
The sister told the Review-Journal Thursday, "If you think a slap on the face is going to justify what he did to her, that's ridiculous. That's the most ridiculous thing I've ever heard."
Davis gave the "Dr. Phil" show evidence from her son's case that could lead to a self-defense claim.
The evidence included a video – also obtained by the Review-Journal – showing Flores Narvaez admitting to slapping Griffith, slashing his tires and damaging his property. Davis also handed over police reports from Maryland in which Flores Narvaez was accused of stalking and harassing several ex-boyfriends.
The black-and-white video shows an argument between Griffith and Flores Narvaez. She apparently did not realize she was being recorded.
She said, "I am admitting that I hit you. That I came in your house. That I looked in your laptop. That I poured egg whites on your car. That I slashed three of your tires because (unintelligible) you one left. I didn't (unintelligible) because I didn't want the paint to be damaged. I am not going to lie about anything I was doing."
Also in the video, Flores Narvaez explained her actions: "Basically slashing tires is this: (Expletive) you. You think you can (expletive) with me and hurt with me and lie to me? I'm going to react."
The video was made about six months before her death. The relationship continued after the video was recorded.
Davis said she wasn't trying the case in the media but does believe her son has been treated unfairly in media coverage. "They portrayed my son like he's some mass murderer," Davis said.
"I'm not saying my son is innocent. I don't know. I wasn't there. I'm saying let the facts come out," Davis said. "It had to be self defense. My son had his whole life ahead of him."
Davis said Griffith's accomplishments included dancing for singer Toni Braxton on tour, being a New York Knicks City Dancer and signing a record deal. At the time of his arrest he had a major role in the Cirque du Soleil show "Love" at The Mirage.
Davis added that she had knowledge of other incidents involving Flores Narvaez that point to a volatile nature. Davis would not share that information, however.
Davis also questioned statements made to police by Griffith's roommate, Louis Colombo. He is a key prosecution witness.
Colombo helped hide the body during the weeks after the slaying. He admitted his involvement in a bid for leniency. He has not been arrested or charged in the case.
Davis said, "He will tell you anything if it will keep his butt out of jail, which it did."
Celeste Flores Narvaez also spoke to the Review-Journal about the show. "I thought they (Griffith's family) were ridiculous. (They're) sitting here demeaning her character because she did property damage. He hit her when she was pregnant. I'm sure any woman would be upset."
The show also revealed some new information about Griffith. He is married with two children. According to the show, producers spoke to his unnamed wife, who said Griffith had battered her and threatened suicide if they were to break up. The woman no longer lives in Las Vegas.
Las Vegas police reports show in December 2007 Griffith had to be taken into custody twice on the same day for suicide attempts. The first time, he barricaded himself in a room threatening to kill himself. The second time, he threatened to leap to his death from the top of the South Point parking garage. In each case he was taken into custody
After Thursday's show, prosecutors declined to comment.
One of Griffith's attorneys, Deputy Public Defender Jeff Banks, said, "What we want is fairness for Mr. Griffith, and you don't get fairness on a nationally televised talk show. You seek fairness in the courtroom."
It's unclear whether the defense will use a self-defense strategy at the trial.
Celeste Flores Narvaez received applause from the audience when she said regardless of damage her sister had done to Griffith's property, she didn't deserve what happened.
The trial date is now set for Aug. 13.
Flores Narvaez was reported missing a day after she missed a Dec. 13, 2010, performance in the Luxor burlesque show "Fantasy."
Her disappearance made national headlines, in part because her family made high-profile appeals for help in finding her.
Authorities said Flores Narvaez had gone to Griffith's North Las Vegas home Dec. 12 to watch the television show "Dexter" – about a serial killer – where the two fought.
Griffith and Flores Narvaez had a volatile history, including at least three incidents in which authorities responded to calls of domestic violence between the couple, including one on Oct. 22, 2010, that resulted in Griffith's arrest.
Griffith, 33, remained jailed without bail at the Clark County Detention Center.
Contact reporter Francis McCabe at fmccabe@review journal.com or 702-380-1039.