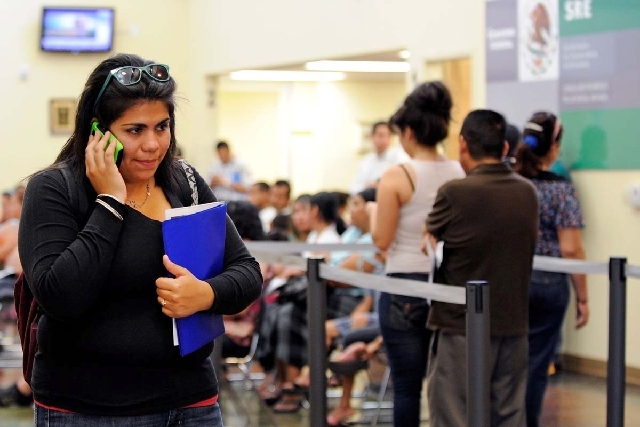 WASHINGTON — Las Vegas student Astrid Silva perched in the gallery of the U.S. Senate on Thursday, looking down at the surreal scene of Sen. Harry Reid telling a packed chamber of senators and witnesses her life story.
Reid told of Astrid crossing the Rio Grande from Mexico when she was 4, wearing a ruffled dress and patent leather shoes. She cried "because the only things she could take with her were her baptismal cross and a doll."
The Senate majority leader from Nevada went on to talk about how Silva grew up undocumented in Las Vegas — "American in all but paperwork." Ultimately, she became an activist and a face of the DREAMers, a generation of young people seeking U.S. citizenship. She is attending the University of Nevada, Las Vegas.
Silva said she was surprised Reid put her in the spotlight, mentioning the letters, cards and notes she has written to him about herself and her hopes. "I was just honored he spoke about me," she said.
Reid's speech completed debate and was followed by passage of a comprehensive immigration bill that would create a path to citizenship for Silva and
11 million undocumented residents. At the same time, it would commit $46 billion to prevent further illegal crossings of the border and overstays of visitor visas
It passed, 68-32.
As he said he would, Sen. Dean Heller, R-Nev., joined Reid, a Democrat, in voting for the bill.
Looking on, Astrid, 25, and her friend and fellow Las Vegas DREAMer Blanca Gamez started crying. She recalled the last time they sat in the Senate gallery, in December 2010 when senators failed to come up with enough votes to pass a DREAMer bill. But now there were tears of happiness.
"We were a mess," Silva said after the vote. "People were passing us tissues."
Heller, who opposed immigration reform as recently as last year, said he made the hard choice to get behind the latest effort.
"While not perfect, this immigration reform bill is a step in the right direction toward fixing an immigration system that is clearly broken," he said in a statement after the vote. "While the easy thing to do politically is nothing, the harder choice is to govern."
Reid also has changed on immigration. He proposed a bill in 1993 to revoke birthright citizenship, apologizing for it 13 years later and calling it "the low point of my governmental career."
Since then, he has become an advocate of immigration reform, particularly bills aimed at easing the plight of young people facing deportation after being brought into the United States illegally as children. Reid said Thursday that the immigration bill would "expand this country's frontiers and move it closer to its ideals."
Salvador Zamora, 51, a Mexican immigrant known around Las Vegas for fasting in the name of immigration reform, called the vote a "spectacular one" but added that the deed will not be complete until the House passes the measure.
Zamora, who went as long as 70 days with only water and milk, said after the vote on Thursday that he planned to visit Washington, D.C., in the next week to monitor the bill.
"If the House doesn't pass it, then I'm going to call for a boycott," he said, adding that he would like all the immigrants who aren't in the country legally to walk off their jobs for at least one day.
Danny Thompson, executive secretary-treasurer of Nevada's AFL-CIO, also applauded the vote.
"Today's vote by the United States Senate brings us closer than ever to significant and meaningful immigration reform that protects the rights of workers, keeps families together, and creates an attainable pathway to citizenship," he said in a prepared statement.
On Monday in Las Vegas, Reid and local immigration advocates will hold a 1:30 p.m. rally at Culinary Local 226 to celebrate the Senate vote.
Silva and Gamez spent this week in Washington, meeting not only with senators but also with U.S. House members from Nevada, where the immigration debate will continue .
"We've got to move right on over to the House," Silva said. "There is no time to rest. We have to keep it going. This is not the end."
Las Vegas Review-Journal writer Tom Ragan contributed to this report.
Related Story
Senate passes historic immigration bill