Las Vegas Valley agriculture heyday
November 16, 2013 - 3:47 pm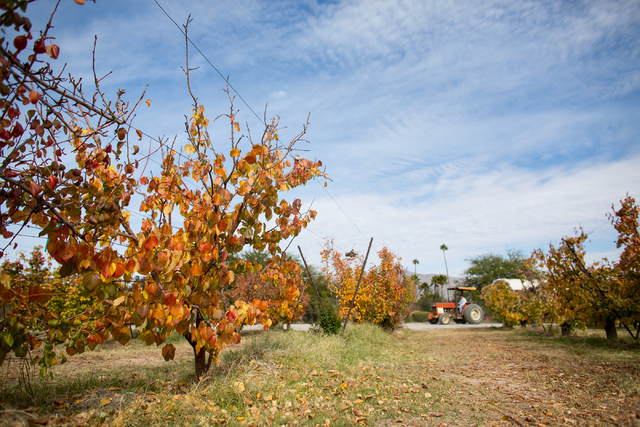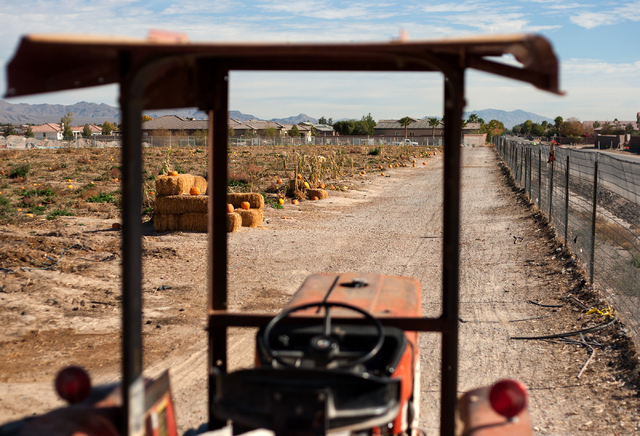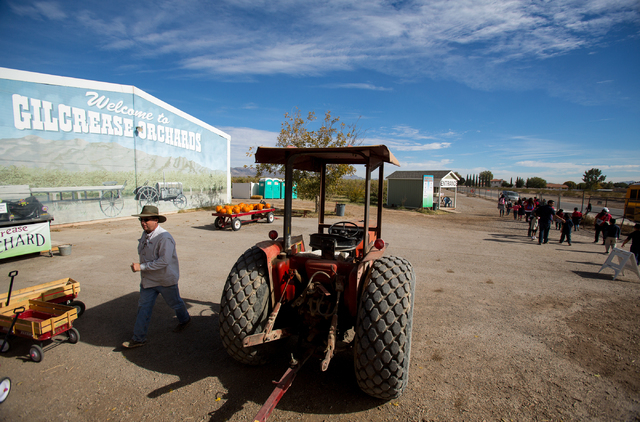 Editor's note: Nevada 150 is a yearlong series highlighting the people, places and things that make up the history of the state.
Let's start with a bit of word association.
Kansas? Wheat.
Nebraska? Corn.
Florida? Oranges.
Nevada? Slot machines, showgirls and the vast, vast desert.
OK, so Nevada isn't the first state anybody is likely to think of when they hear the word "agriculture." But some tending of crops has been going on here for thousands of years.
Karen Harry, an archaeologist who is an associate professor and graduate coordinator for the anthropology department at the University of Nevada, Las Vegas, said evidence of farming has been found in the Las Vegas Wash that literally dates to biblical times.
"Agriculture in this area started at the time of Christ," Harry said, with evidence of activity from that time — corn cobs — found in the wash.
It's probable those inhabitants had come up from Arizona, she said, but just who they were remains a mystery.
"In the Las Vegas Wash, it's anybody's guess."
By 200 AD, she said, there were some agricultural undertakings in the Moapa Valley around present day Logandale and Overton. Those people were the Virgin Anasazi, and artifacts have shown that by 500 AD, there was actual farming in the Moapa Valley.
"There were corn cobs, pottery, villages, all the things we equate with gardening," Harry said.
It's only logical that those first attempts at agriculture were in areas where water either collected or naturally occurred.
"Obviously, because we're in the middle of the desert, any agriculture required that you were in a river valley — the Las Vegas Creek, the Virgin River, the Muddy River — basically relying on natural water sources for irrigation," said Peter Michel, a curator of Special Collections of the UNLV Libraries.
Harry said farming in the Moapa Valley, including corn, beans and squash, continued until about 1200, and then just stopped.
"That culture just disappears," she said.
Nobody was farming there until the Paiutes came in, she said. They were primarily hunter-gatherers, but they did some rudimentary horticulture.
"They did plant some crops," said Dena Sedar, archaeologist at the Lost City Museum in Overton. "They would plant things, and then they would go gather and come back. It wasn't like they were tending things every day, but they would plant things and then come harvest it."
Just when the Paiutes came into the area and started farming remains the subject of debate, Harry said.
"In the early to mid-1800s, Anglos arrived. They were the Mormon settlers who arrived and really established farming in the area."
And the area around the Muddy River was a good place for that, she said.
"Once you irrigated, it was a great source. It was really reliable."
When the Europeans came in, they brought wheat.
ranching takes hold
The early Mormon settlers were moving into Northern Nevada about the same time, said James Young, a former longtime research scientist for the U.S. Department of Agriculture in Reno.
Those pioneers farmed in the Carson Valley, but they clearly had an entrepreneurial streak. They provided some supplies and services for those heading west for the gold rush of 1849. At times, they would take in abandoned work animals, restore them to health and sell them to the next group who came by.
Young said this also was the time that Nevada ranching, part of the state's agriculture industry, was born.
"People coming from the East and coming from Western Europe had no idea about this environment," Young said. "Then they realized that the cattle and the horses could be turned out on the desert and they would do quite fine. Occasionally there was a very bad winter, but most years they wintered by themselves."
And Nevada was an anomaly at the time, he said, in that there were very few American bison here.
"At that time, the buffalo on the Great Plains was the most abundant large herbivore here on Earth," Young said. "But they had withdrawn their range from here, probably because of periodic drought."
That meant the animals ranchers turned out in Nevada had no natural competition for the bunch grasses that grew in the desert.
"They just ran the cattle and the horses," Young said. "Horses and mules were a really big thing in the 19th century; they did very well in our environment."
As the end of the century approached, he said, the Mormon pioneers were learning about irrigation.
"People discovered they could grow crops if they irrigated," Young said. "Nobody east of the Mississippi knows a thing about irrigation, because it's rain-fed agriculture."
They also were discovering that the natural forage might not be enough to sustain the cattle and horses. Young said the winter of 1888-89 was the driest on record, and it was followed by the wettest and coldest.
"It just about wiped out the industry," he said. "They realized they had to have forage preserved during the winter as hay, so they could get them through the winter, a ton of hay for each cow. A lot of land had to be brought into production. There were huge fights over water rights. In Nevada, water rights is a fascinating thing."
gilcrease ranch
In Southern Nevada at about the same time, farming was taking place at the Mormon Fort and at the Las Vegas Ranch, famously owned by Helen Stewart after the death of her husband, Archie.
"It was mostly orchards — apricot trees, apple trees, pecans, those sorts of things," Michel said of the ranch. "Although they also grew alfalfa, which they mostly sold on the market as hay, and beans, oats, tomatoes, a certain amount of wheat and corn. There also were grapevines. That was one of the major products of that ranch, grapes, which were usually turned into wine."
Most of the produce at the time was sold to the railroad construction camps.
"Before there was refrigeration, you couldn't ship it very far, which was why they were always looking for a local market for their produce," Michel said. "They were so excited about the railroad coming through, because they could ship it either way," north or south.
And Michel said the founders of Las Vegas had big dreams about the future of agriculture in the area.
"When they were first laying out the town and promoting the town," he said, "they were very much promoting it as an agricultural center. They saw this as a garden spot, almost as though it was going to be another Southern California. All the things that were growing on the ranch and the irrigated areas from the springs. All the artesian wells in this area, they thought this was going to turn into this blossoming agricultural center."
Brochures at the time promoted orange groves and apple orchards.
"Very interesting, given what happened," Michel said.
Others had dreams of an agricultural empire in Nevada. In a 2002 interview, Ted Gilcrease, who is now deceased, said his family came to Las Vegas in 1920. Their ranch initially was 960 acres. Gilcrease said his father, Leonard, "expected to develop a lot of water, but wasn't able to," and ended up farming only 60 acres.
The little town of Las Vegas — population less than 5,000 — couldn't support a fruit-and-vegetable operation, so they produced mostly grain and alfalfa.
As the Great Depression came on, Gilcrease said his father wanted to sell the ranch; but his mother, Elda, wanted to stay put because the land meant security. In 1930, Leonard Gilcrease returned to California, leaving Elda and the boys to run the ranch, much in the spirit of Helen Stewart decades before them. Ted Gilcrease was 16 when he was running the ranch full time.
They raised laying hens and sold eggs, at one time supplying half of the eggs in Las Vegas, Gilcrease said. They eventually expanded the ranch to 1,500 acres, irrigating by drilling wells and cutting a trench to a nearby spring.
The Paiutes weren't out of the picture, though. Gene Hattori, curator of anthropology at the Nevada State Museum in Carson City, said Catherine Fowler, a professor emeritus at the University of Nevada, Reno, quoted the unpublished notes of Isabel Kelly from 1934. In them, Kelly reports that the Southern Paiutes were producing corn, greens, squash, amaranth, sunflowers and European crops introduced by the Spanish and the Mormons at 14 sites in the Las Vegas Valley, seven in the Pahrump Valley, four in the desert south of the Pahrump Valley and five along the Colorado River north of Chemehuevi country.
Elsewhere in Southern Nevada, Bill Tomayasu had a 100-acre ranch near what is now Sunset Road.
"They grew vegetables, lettuce, asparagus," Michel said. "A lot of that they sold to dam workers. That was sort of a going agricultural concern."
rise of the blm
In Northern Nevada, Young said, the Carson Valley was largely agricultural until after World War II.
"It was a tremendous dairying thing, because dairy products — cheese and butter — went to the miners in California," he said.
After the war, the game was changed by halogeton, which had been accidentally introduced from Asia and was poisonous to range foragers.
"Sheep in bands of 1,000," he said. "They don't drink water on the salt desert range; they lick snow and lick the frost of plants. They licked the snow off the halogeton, and it would drop 800. The herd is standing there, and they're falling down dead.
"It brought a lot of money and research out here, and brought a lot of money to the BLM. The BLM wrested control from the ranchers and got some form of management on the rangelands."
Agriculture in Nevada was pretty much going the way of those doomed sheep. Gilcrease said in 2002 that the brothers had to sell much of their investment to pay inheritance taxes when their mother died in 1968. Vestiges of the ranch exist today as the Gilcrease Orchard and the Gilcrease Nature Sanctuary.
In the Moapa Valley and elsewhere, water rights were worth more than crops, and ranchers started selling them off.
"The basin here in Reno that was an agricultural area is totally gone," Young said. "That changed like some things all over the West. Some of our most productive agricultural areas are changing."
There remains a dedicated group of growers who are in large part inspired by the farm-to-table movement. Doug Taylor, an instructor in the Producer to Chef program of the University of Nevada Cooperative Extension and a former chef with the Batali-Bastianich group in Las Vegas, said he saw farms increase "dramatically" during his seven years here.
"Since 2006, there was a huge influx of small, more boutique family farms," Taylor said. "It went to really being a handful — four or five — in Southern Nevada to now where there are somewhere around 50."
Most of them are less than 10 acres, he said, which in many cases include the family home. He said they are all over the Las Vegas Valley, in Pahrump, Logandale, Sandy Valley and Caliente, as well as in southern Utah and northern Arizona.
The original market was resort-corridor restaurants, but that has expanded.
For the most part, it started off as chefs only, and then it branched out into the farmers' markets," Taylor said. "It even has had quite large success at Whole Foods and even in the bigger distribution companies. Some of the farmers are exporting outside the state."
Recently, some Smith's stores were offering locally grown Peri &Sons onions from Yerington. Taylor said Peri &Sons, a family farm that dates to 1918, is one of the largest onion growers in the country. For the smaller and newer operations, though, finding a market can be a challenge.
"It's a struggle because they're still trying to find their place," he said.
Taylor said the Food Cottage Act, which the Legislature passed this year, allows growers to produce shelf-stable products from their crops without having to use a commercial kitchen. That, he said, has helped them sell in another form crops that didn't sell at market, and also establish side businesses.
But by and large, Nevada's agricultural heyday — what there was of it, anyway — is history.
"In the last century, Americans had one thing, a surplus of food," Young said. "As we go on with this one, some people say that's not going to be the case. There have been a lot of wars and trouble over food."
Contact Heidi Knapp Rinella at HRinella@reviewjournal.com or 702-383-0474.

Celebrating the Silver State