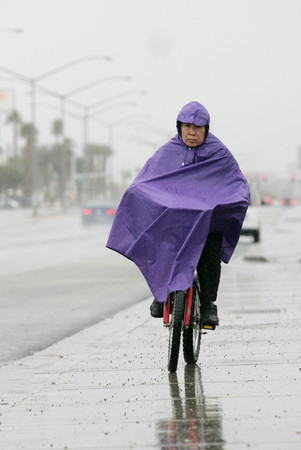 In four days, an El Niño weather system has dropped more rain on the Las Vegas Valley than the area saw all of last year and topped it off with a little snow.
Thursday saw the worst of it as downpours harassed motorists, closed intersections and delayed or canceled flights out of McCarran International Airport.
Emergency response crews scrambled from one weather-related crisis to another.
In a wash along Interstate 15 near Sahara Avenue, firefighters rescued two homeless men from rising water. On the east side of town, a woman lost control of her car on the slick roads and struck two Las Vegas police motorcycle officers, who suffered injuries that were not life threatening.
The system had dumped 0.89 inches of water on the official measuring station at McCarran by 8:45 p.m. Thursday, a record for any individual day in January and shattering the previous Jan. 21 record of 0.4 inches set in 1940.
This week has seen 1.69 inches, and counting, of rainfall. The valley ended 2009 with only 1.59 inches of rain.
"It's ironic and amusing and pretty wild, actually," National Weather Service spokesman Brian Fuis said.
Thursday might have been the worst of it, but rain is expected to continue. Forecasters call for a 70 percent chance of rain today, with thunderstorms instead of the continuous, steady downpour that has characterized the weather this week.
This weekend should be mostly dry, but a chance of rain could return on Tuesday.
Among the other records set Thursday was the lowest atmospheric pressure ever recorded in Las Vegas: 29.03 inches of mercury, according to the National Weather Service. The previous record was 29.17 inches, set on Dec. 10, 1949. The low pressure is conducive to rain showers, Fuis said. Hurricanes, for example, have extremely low atmospheric pressures.
As Thursday dropped rain, and snow in some parts of the western valley, travelers had trouble.
The unidentified motorcycle officers involved in a 2:30 p.m. accident are brothers in the department's traffic bureau, Las Vegas police said. Police spokesman Jacinto Rivera said one of the officers was taken to University Medical Center to be treated for a head injury. The other was transported as a precaution.
The officers were traveling north on Nellis Boulevard at Harris Avenue, near Bonanza Road, when a Chevrolet Cobalt driven south by 57-year-old Veronica Sanders crossed the median and struck them. Investigators believe the accident was weather-related, Rivera said.
Clark County also closed two roads because of excessive rainfall. Ranch Road in Moapa, west of State Route 168, was closed. Winnick Avenue west of Audrie Street near the Strip also was closed.
Clark County Fire Department firefighters rescued two homeless men from a wash on the side of Interstate 15. Spokesman Scott Allison said there was a report that they were trapped against a gate. They were rescued uninjured.
Matthew O'Brien, a Las Vegas-based journalist and author of the book "Beneath the Neon: Life and Death in the Tunnels of Las Vegas," said there are hundreds of homeless people living in flood channels at any given time.
There are 500 miles of flood channels in the valley, 200 miles of which are underground, he said. When it rains heavily, the homeless are forced to quickly vacate, he said.
"It's a very dangerous situation because they (the tunnels) can fill a foot per minute," O'Brien said.
Despite living underground, the homeless aren't normally caught by surprise, he said.
"A lot read newspapers, look at forecasts, listen to battery-operated radios," he said. "They communicate amongst each other, give each other a heads up."
In the past week, O'Brien, along with members of HELP of Southern Nevada, a nonprofit organization that assists the needy, has been spreading the word about upcoming storms.
There's no guarantee everyone will get out safely, however.
"There's people who are drunk, maybe passed out from drugs in the tunnels," O'Brien said. "When it starts raining and the floods start coming it's a wall of water, not a gradual build. If you're not prepared, it can take you away."
Contact reporter Lawrence Mower at lmower@reviewjournal.com or 702-383-0440. Contact reporter Mike Blasky at mblasky@reviewjournal.com or 702-383-0283.
Video of homeless men rescued from tunnel
Storm slide show
RAINFALL FIGURES
• From Jan. 1 to Wednesday, 0.8 inches of rain was recorded at McCarran International Airport, the official record-keeping station for the National Weather Service in Las Vegas.
• On Wednesday, the official rainfall was 0.27 inches. Record rainfall for Jan. 20 is 0.49 inches, reported in 1954.
• On Tuesday, a record 0.49 inches of rain fell on the Las Vegas Valley, surpassing the 0.42 inches recorded Jan. 19, 1954.
• On Monday, 0.04 inches of rain fell, the first of 2010. The record for Jan. 18 is 0.71 inches, set in 1952.
• In 2009, no measurable rain was recorded until Jan. 22, when 0.01 inches rain fell. In January 2009, the valley received 0.04 inches of rain.
Source: National Weather Service
Pileup in snowstorm closes part of I-80
RENO — The California Highway Patrol has closed part of Interstate 80 in the Sierra Nevada after about a dozen cars and trucks were involved in a wreck in a heavy snowstorm.
No injuries have been reported in the accident, which occurred Thursday near Cisco Grove, Calif., about 22 miles west of Truckee, Calif.
The patrol has shut down the westbound lanes of the interstate between Truckee and the accident. They were expected to remain closed into the night.
A series of winter storms that began moving in from the Pacific Ocean early this week has dumped more than 2 feet of snow in the upper elevations of the Sierra and several inches in Reno.
THE ASSOCIATED PRESS