Las Vegas water rate increases approved through 2017
December 3, 2013 - 7:03 pm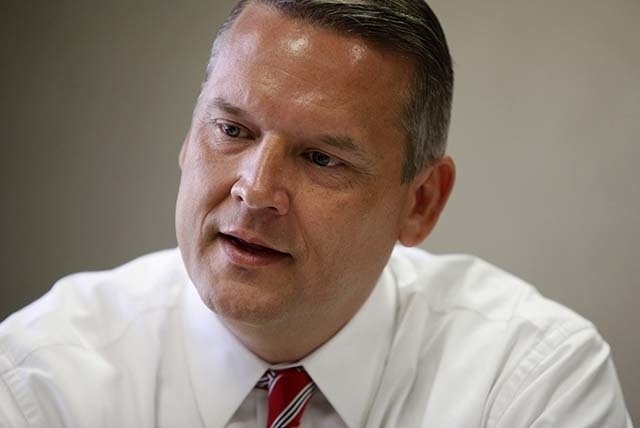 Ever feel like your water bill goes up every year?
Get used to it.
On Tuesday, the Clark County Commission, sitting as the board for the Las Vegas Valley Water District, unanimously approved a series of annual rate hikes scheduled to begin in January and top out in 2017.
All customers, from the smallest home to the largest resort, can expect to see their bills go up, though the exact dollar amount will vary widely based on the size of the property's water line and how much water is used.
A typical single-family home will see its average monthly bill rise by a little more than $1 each year for the next four years.
Henderson adopted the same rate schedule last month, and the North Las Vegas City Council plans to vote on it Wednesday night.
The higher rates will show up on bills starting in February. About half of the increase comes in the form of a fixed monthly charge while the other half is based on consumption, so customers can save some money by using less water.
A residential customer with an average monthly bill of $34.34 will wind up paying $39.26 a month on average by 2017. A customer with an average monthly bill of $107.47 will wind up paying $115.63.
The rate hike originated with the Southern Nevada Water Authority, which adopted it in September to help cover rising principal and interest payments on almost $3 billion in construction debt the wholesale water supplier racked up trying to keep pace with the community's explosive growth.
When the building binge began in 1995, the valley was served by a single intake pipe in Lake Mead, a single water treatment plant and four main distribution pipes, known as laterals, none of which reached as far as Summerlin, Anthem or Aliente.
"Those parts of the community wouldn't exist if we hadn't built that plumbing over the last 10 to 15 years," said John Entsminger, deputy general manager for both the water district and the authority.
At a cost of more than $2.5 billion, the authority built several new 6-foot diameter laterals, a second treatment plant and a second intake pipe and pump station to draw water from Lake Mead. The agency is now constructing a third straw into the shrinking lake for an additional $817 million at least.
"It's not a matter of choice here. We have got to pay off the debt service for the massive infrastructure projects that make this community vibrant," said Brian McAnallen, vice president of government affairs for the Las Vegas Metro Chamber of Commerce. "I think this rate is as fair as we can get."
Chamber officials harshly criticized the authority's last rate hike in early 2012 because it disproportionately impacted businesses and other water customers with little-used but required water lines for fire protection.
This time around, McAnallen and the chamber actively helped develop the rate increase as part of a volunteer panel convened by the authority and featuring more than two dozen representatives from various sectors of the community.
The Integrated Resource Planning Advisory Committee held 14 public meetings and considered 16 different rate scenarios.
And committee members aren't finished. Next year, they will reconvene for an arguably trickier task: to help the authority plot its long-range plans for developing new water resources, maintaining water quality and building — or perhaps not building — expensive new facilities.
This round of talks is sure to involve an analysis of the authority's controversial plan to tap groundwater across eastern Nevada and pump it to Las Vegas through a pipeline network expected to cost as much as $15 billion.
Committee members will also discuss whether to build a new pumping station at Lake Mead that could add at least $300 million to the cost of the third intake.
If built, such pricey projects would almost certainly lead to higher bills for water customers.
Contact reporter Henry Brean at hbrean@reviewjournal.com or 702-383-0350. Follow him on Twitter at @RefriedBrean.