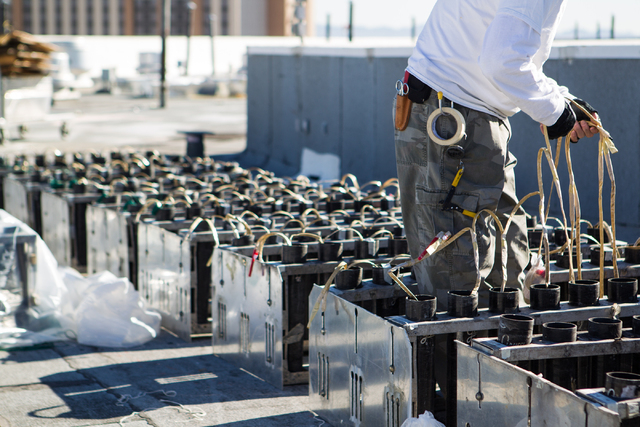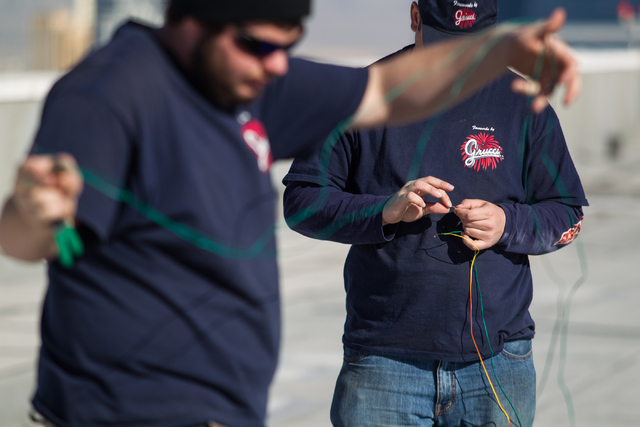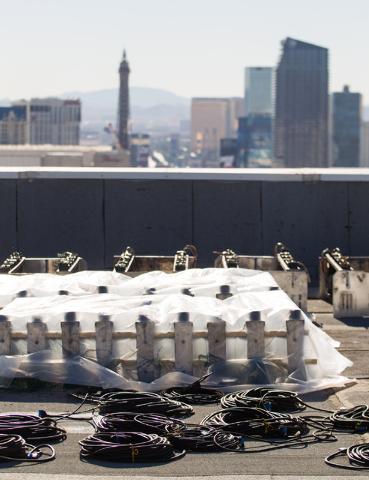 About 180 fireworks per second will explode in an eight-minute show over the Strip to herald the start of 2014.
Off the Strip, Fremont Street Experience will celebrate the Downtown Countdown on New Year's Eve with performances from Papa Roach, Blues Traveler, Loverboy, Vince Neil and Adelitas Way.
There will be parties galore all over the Las Vegas Valley, giving revelers a vast array of choices for how to ring in the New Year.
But with an influx of more than 300,000 people expected in Las Vegas for one of the world' largest New Year's Eve gatherings, celebrating will take some planning if you don't want to start 2014 in a bad mood.
AMERICA'S PARTY
The main event in town will be America's Party on the Strip. Las Vegas police will start clearing all vehicles off Las Vegas Boulevard between Sahara Avenue and Russell Road at 6:15 p.m., making way for an all-night street party. The night will culminate with the fireworks show.
More than 10,000 circuits will ignite the 88,000 pyrotechnics in split-second unison from seven Las Vegas Boulevard resorts — MGM Grand, Aria, Planet Hollywood, Caesars Palace, Treasure Island, The Venetian and the Stratosphere hotel-casinos — making for a choreographed-to-music spectacle.
Mariah Carey's "Auld Lang Syne" will play first, then Frank Sinatra and Bing Crosby's "Well Did You Evah," followed by more contemporary songs from artists including Pitbull, Rihanna and Robin Thicke's hit "Blurred Lines."
Fireworks are by the same Long Island-company, Fireworks by Grucci, planning to break a Guinness World Record for biggest fireworks display on New Year's Eve. That record-breaking show will be in the United Arab Emirates city of Dubai with 1,250 explosions per second. In Dubai, about 450,000 fireworks will be shot from 400 locations and live-streamed on YouTube.
Starting at 5 p.m., the Nevada Highway Patrol will close the offramps from Interstate 15 onto eastbound Tropicana Avenue, Flamingo Road and Spring Mountain Road. By 6:30 p.m., all roads leading to Las Vegas Boulevard will be closed to vehicles, and partygoers will be allowed on the street.
People driving to the Strip should get there early or park outside the road closures and walk. That will make it easier to leave once the party is over. While the celebration usually subsides around 1:30 a.m. and police start removing barricades, I-15 ramps and surface streets won't begin reopening until 3:30 a.m.
Partyers should dress for the weather — clear skies with temperatures in the low 40s or even 30s — because many Strip properties won't let people in without a room key.
Those younger than 18 won't be allowed to stay on the Strip after 9 p.m. because of curfew, unless they are with a parent or adult legal guardian.
For those thinking there will be too many people for authorities to notice, police officers will be out in force, in uniform, plain clothes and on horseback, Las Vegas police Lt. Roxanne McDaris said on Monday.
She would not disclose how many officers will be on duty but said Las Vegas police will be joined by other agencies and will use the Strip's 37 new street cameras.
Las Vegas police also have set up a text messaging system for those wanting traffic updates, road closures and reopening information starting at 4 p.m. on New Year's Eve. Simply text the word "info" to (702) 800-6776 to receive a first text message confirming a connection to the New Year's Eve information distribution network.
DOWNTOWN COUNTDOWN
For $40, anyone 21 years or older can join Las Vegas' largest private New Year's Eve party for nine hours of non-stop entertainment on three stages for Fremont Street Experience's Downtown Countdown.
The party will include a 2013 year-in-review retrospective on the light canopy over Fremont, a midnight countdown led by Las Vegas Mayor Carolyn Goodman and fireworks — also by Grucci — synced to virtual fireworks on the light canopy.
In addition to the headliners, local bands Arena, The Blackjacks, Clockwork, Kid Hollywood and Monroy will grace the stages.
"There's no better place to spend New Year's Eve than Las Vegas," Goodman said in a news release. "This is a place where anything can happen, and I invite everyone to visit our rejuvenated downtown."
The area will close to the public at 5 p.m. with gates opening at 6 p.m. for the countdown. The main gates are at Fourth and Fremont streets, and Main and Fremont streets. The party goes until 3 a.m.
OTHER WAYS TO GO
Most Las Vegas nightclubs have their own New Year's Eve parties planned, as do other businesses offering a scenic view of the Strip fireworks or just a party away from the chaos.
The Cosmopolitan of Las Vegas offers an open bar and view of the fireworks from its Boulevard Pool, where guests can ice skate into the new year and watch a live stream of Bruno Mars' concert from the Chelsea inside.
The Mandarin Bar, Tea Lounge and Sky Lobby at Mandarin Oriental will host a New Year's Eve gala featuring live music and floor-to-ceiling window views of the fireworks across the Strip skyline. Like the Cosmopolitan party, the gala starts at 9 p.m. Access to the gala is free to hotel guests.
The Las Vegas Hilton has four parties with different themes from classic rock bands to island-style bands and Top 40 music, all with free admission to the public.
Contact reporter Trevon Milliard at tmilliard@reviewjournal.com or 702-383-0279.
– HOLIDAY CLOSURES: New Year's Eve & New Year's Day