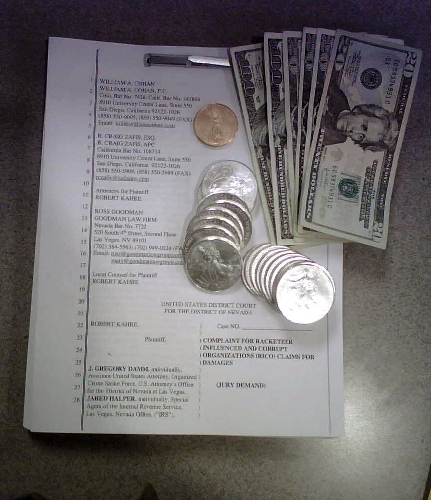 Heidi Molesworth of Las Vegas was sentenced Tuesday to five months in federal prison for her role in a tax scam perpetrated by Robert Kahre, who paid workers in gold and silver coins without withholding payroll taxes.
Molesworth pleaded guilty to tax evasion and then assisted prosecutors by testifying against Kahre, her former boss, in two criminal trials. She was indicted as Heidi Rasmussen, but later changed her last name.
Kahre, who used to own several construction-related businesses here, has been in federal prison for 10 months of a 15-year sentence. He still intends to fight his conviction for tax fraud and evasion, but lawyers on his side — with no protest from government lawyers — recently received a six-month delay for filing briefs, which is an early step in the appeal process.
Two other Las Vegans convicted with Kahre — Alex Loglia and Lori Kahre, who is Robert's sister — are also appealing, but will not go to prison unless they lose the appeal. The trio's attorneys sought the delay due to the case's complexity, as well as the belated release of the trial's lengthy transcript, which is a key resource for both sides in the appeal.
The first briefs are now due in March 2011; their original filing deadline was in May. The case's court docket now has more than 2,700 entries, federal public defender Michael Kennedy said to explain the benefit for both sides to have more time to prepare.
U.S. Attorney Gregg Damm — who helped indict and prosecute the appellants, and will assist in opposing the appeal — did not respond to the Review-Journal's request for comment on the delay, or the appellants' assertion that his own conduct impaired the fairness of their trial. The U.S. Attorney's office does not comment on cases that are on appeal, spokeswoman Natalie Collins e-mailed Monday.
The three convicted will appeal together, despite some differences in their charges and case facts, according to Kennedy, who represented Lori Kahre in two trials. Jurors in 2009 convicted the two Kahres of conspiring in tax fraud as well as evading their own taxes; Loglia was convicted of only tax evasion. The three also were tried in 2007 for the same actions, but were neither convicted nor exonerated.
"We intend to … file one argument for shared issues," Kennedy wrote back after the Review-Journal emailed him for comment. "By doing so, we hope to simplify the process for the three-judge appellate panel so they can get to the heart of the matter."
Robert Kahre is incarcerated at a low-security federal facility in Lompoc, Calif., for running what jurors determined to be a cash-under-the-table payroll scam. Prosecutors estimated that he paid out about $120 million in wages, all bypassing the Internal Revenue Service.
Kahre paid his own workers — and workers for about 30 other businesses — in silver dollars and $50 gold coins, going by their face value rather than the coins' much higher market value. He said recipients were responsible for their own taxes, and could calculate income by adding up the coins' face value, even if workers had immediately traded the coins for paper cash at the payroll window.
Loglia and Lori Kahre both worked for Robert Kahre, who closed his businesses before entering prison last November. Lori Kahre faces six years in prison, Loglia faces 26 months. At Molesworth's sentencing, U.S. District Court Judge David Ezra explained that if she hadn't cooperated, she would have faced a multi-year sentence similar to Lori Kahre's.
Las Vegas lawyers Lisa Rasmussen — who is not related to Rasmussen Molesworth — and Joel Hansen are working with Kennedy on the appeal.
According to their Aug. 27 motion to postpone briefs, one basis for the appeal is the claim that Damm was not "disinterested" as a prosecutor, but over-eager to win, in order to protect his career. Damm is a defendant in a separate civil lawsuit filed by Kahre and some of his former workers, who seek damages for the way the IRS obtained payroll evidence that led to the indictments and convictions.
In early summer 2003, armed law-enforcement raided several Kahre business sites and workers' homes. While most agents worked indoors collecting evidence, workers were held outdoors at gunpoint, in high heat at length, without shade or water.
If a civil trial finds the raid illegal and Damm at fault, he could forfeit his federal job and pension. But given Robert Kahre's incarceration and present lack of funds, it is unclear the civil case will ever be heard, let alone end in Kahre's favor.
In both of Kahre's criminal trials, judges rejected the idea Damm had compromised his prosecution by being an authority figure over government witnesses — including Molesworth — who had worked for Kahre, evaded paying their own taxes, suffered through the raid, but then testified in hopes of lightening their own legal consequences.
Perjured testimony is another argument appellants will make to overturn their convictions, according to Lori Kahre's October 2009 appeal notice.
In closing arguments at the second trial, defense lawyers said that Damm and Jared Halper, an IRS agent who assisted in the case, had lied in court as to whether they tried to persuade some government witnesses to drop out of the pending civil suit about the raid.
Lori Kahre's appeal notice details an alleged May 2006 pre-trial meeting, at which government witness William Whitney, a former Kahre worker, "was asked questions regarding the federal civil rights suit by (Assistant U.S. Attorney) Damm or (IRS) Special Agent Halper. This practice ended only (when) Whitney's appointed criminal counsel stepped in and asserted … that (civil) counsel was not present to consent to such questioning by adverse parties."
But during sentencing, Ezra said from the bench that some of Lori Kahre's testimony was "less than credible," and Loglia gave some "materially false testimony."
Contact reporter Joan Whitely at jwhitely@reviewjournal.com or 702-383-0268.