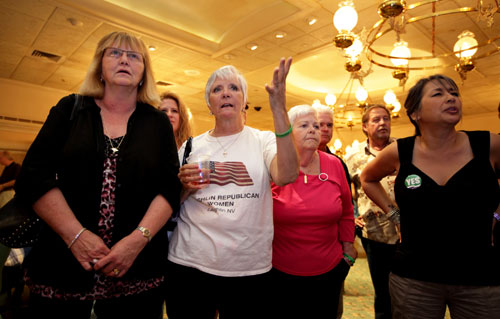 The city of Laughlin was not meant to be.
Voters turned out in droves Tuesday to have a say in whether their community should incorporate – 1,691 registered voters out of about 3,000 took part in the election.
The verdict: 57 percent gave a resounding no, trumping the 43 percent of voters who supported change.
Boos echoed off the walls of Granny's restaurant atop the Pioneer Hotel and Casino during a pro-incorporation party when early voting numbers showed a majority of Laughlin residents were not ready to turn their town 100 miles south of Las Vegas into a city.
The faces of supporters fell as all three precincts within the proposed city boundaries reported Tuesday's results, and the realization set in that the cityhood ballot initiative had failed.
"We think people who voted it down made a mistake," said David Floodman, president of the Laughlin Economic Development Corporation.
Supporters already have begun making plans to try again in two years.
Rosemary Munger, candidate for Laughlin council seat B, would have gone on to the general election in November had the measure passed. She would "have loved for it to happen."
"My side may have lost," Munger said. "But the democratic process worked. I want to thank everyone who worked so hard to give Laughlin the right to vote."
Clad in a bright red cocktail waitress uniform, Laughlin resident Suzy Cooper cast her ballot against incorporation.
The bubbly blonde headed to the polls straight from work Tuesday at the Riverside.
"With the economy the way it is, this town's not ready," said Cooper, a 20-year resident of the area.
Unlike the usual low voter turnout seen in primary elections, more than 900 voters, or about 30 percent of Laughlin's registered voters, had turned out by 5 p.m. to vote on incorporation at the Spirit Mountain Activity Center.
Early voting, which ended last week, drew more than 12 percent.
Election worker Mary Audrey said early Tuesday, "there were lines out the door."
Voters leaving the polls were passionate – whether for or against – in the discussion about being under the thumb of Clark County government.
One voter, who supports incorporation but declined to give his name, likened it to "a battle of David versus Goliath."
"If we were a city, we could control our own destiny," the man said. "We could attract more business. It's hard to get new businesses here with the licensing process."
It's a common complaint among supporters.
"I'm invested here, I own rentals here, and this place is dying," the man said. "We don't have a pharmacy."
The town of 7,300 people rests on the banks of the Colorado River across from Bullhead City, Ariz., which has more shops, services and about 40,000 people.
Laughlin has one local grocery store, no supermarket chains and few fast-food chains.
Over the past decade, Laughlin's population has grown at a snail's pace, with 247 people moving to Laughlin in that time, according to the latest census figures.
Some voters refused to identify themselves to a reporter, fearing retaliation for how they voted. They did not specify in what ways they might be retaliated against for casting their ballots a particular way.
"Everybody's polarized; it's a small town," Cooper, the cocktail waitress, said. "I'm not scared."
Voter Nancy Kirkpatrick, a 20-year resident, declined to say how she voted.
"It's too nasty out there," Kirkpatrick said. "People are taking it too far."
Jerry Taylor, who has lived in Laughlin for 12 years, voted against incorporation.
"We're just not ready for it," Taylor said. "It's too damn small anyway. It's not a place for a real city."
Those against incorporating now argue that becoming a city would not be financially feasible and taxes would increase as services, now provided by the county, are cut.
City revenue would have come from property taxes, consolidated taxes and other municipal fees. The largest portion of consolidated tax revenue now comes from the casino corridor, which declined to leave the county's control and would not have become part of the city.
Had the measure been approved, voters would have selected candidates in three City Council races. The top two vote-getters in each race would have been on the general election ballot in November.
Contact reporter Kristi Jourdan at kjourdan@reviewjournal.com or 702-455-4519.
2012 PRIMARY ELECTION
• Nevada primary voting results
• More election news