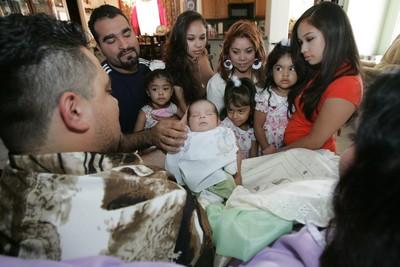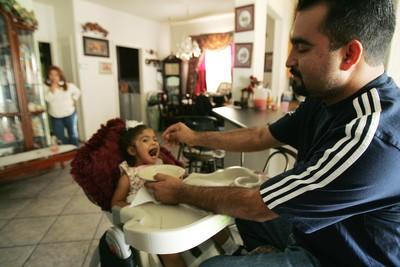 Most weekends and holidays, Juan and Rosalva G. get together with relatives who also live in Southern Nevada. Barbecues, baptisms, birthday parties, "sweet 15" celebrations for teen girls and swapping of child care duties are all part of the happy cycle.
The core value and top priority of Juan and Rosalva is "family."
"It's lovely to have your family this close," says Juan, sitting on an easy chair at home, gesturing as a toddler daughter clambers onto his lap, eager for attention.
Another daughter has gone down the street for a few minutes with his wife to take soup for lunch to the children of Rosalva's sister, who was away at work.
But the family unity of Juan and Rosalva is precarious.
The two are safely ensconced in the United States. Both were born in Mexico, both are now naturalized citizens. Their three preschool daughters were all born here, and thus are U.S. citizens. But their extended clan of 59 relatives living in Southern Nevada is a blend of different legal classifications. Present immigration law, if enforced, could shatter several of the clan's 10 local households. The immigration reform now before Congress also would seriously remake the lives of many of Juan and Rosalva's relatives.
All of the local clan's 24 adults entered this country illegally; eight of them are still illegal. Of the clan's 35 children, one is illegal but 34 are U.S. citizens by birth. Juan agreed to talk about his "mixed-status" extended family, a term applied by sociologists who study immigration, but is withholding last names to protect relatives who are vulnerable.
Illegal immigrants account for about 30 percent of all foreign-born living in the United States. Most illegal households, 59 percent, have no children, usually because the adult is here alone. But mixed legal status is the norm, not the exception, in the households of illegal immigrants with children, according to the Pew Hispanic Center. Of such illegal households with children, most of the time, 56 percent, all the children are U.S. citizens by birth.
Juan, 35, said the recent congressional fray over immigration is generating "bad suspense. Everybody is nervous. They don't want to get separated from their family."
Juan has prospered since he arrived in the United States, illegally, 15 years ago. A woodworker, Juan today runs his own small cabinet-making business.
By day he does jobs for pricey custom homes. On the side, he plans soon to refloor the upstairs of his modest tract house in fine Brazilian cherry.
The house is a major step up from the two-room cottage in which he had lived with his parents and four siblings in Mexico. The family kept its propane cooking stove outdoors because there was no room for it indoors.
The day Juan left, his mother's sad, worried face "destroyed" him, he recalls. "But they understand, in the meantime, you're going for (the) good" of the family. Like many illegal immigrants, he faithfully sent money home every couple weeks, between 30 percent and 45 percent of his wages, he estimates.
The woodworker retells his story of "jumping the border" near Tijuana, Mexico, by night in winter 1992. An older brother already in the United States had paid about $700 for Juan's "coyote," who guided other illegal immigrants in a group crossing. It took a week, including several days of waiting in Tijuana for the right moment.
"It was cold and it was rainy. People were running and slipping. Some got hurt. There were kids," Juan says.
After the group made it to a "safe house" inside the border, the coyote ordered him and four others into the trunk of a car. "It was, like, really 'squeezy.'"
Once they arrived at their final destination, the parking lot of a convenience store in the Los Angeles area, they were told to climb out and act nonchalant until relatives picked them up.
Soon, Juan found work in a small California company that built metal bed frames and paid workers in cash. Then he moved to a larger cabinet-making company, which used the skills he had honed in Mexico.
At that point, in order to get a paycheck, he acquired a fake Social Security number.
"I used to go to the liquor store to cash the check. And they charge you money."
From the outset, Juan determined his only law breaking would be the steps he needed to take to hide his illegal status. Every year that he held a false Social Security number, he filed his federal income taxes, even though he will never get credit for his payroll contributions under that number.
"I hardly got a speeding ticket," he says. "We used to do all the tax at the end of the year. There was no lying. You want to do things right, (in case) an opportunity comes" to legalize one's immigration status.
Juan met Rosalva through an uncle. She had immigrated earlier and already had legal status. When she moved to Las Vegas in the late '90s, he visited her almost every weekend. In 2000, he moved here so they could marry.
Rosalva, a dealer at a casino, recalls how Juan fretted during the first years of their marriage. She brought home decent earnings. But he was still illegal, and found his employment limited to lower-paying cabinetry companies that don't investigate their employees' immigration backgrounds very thoroughly.
"I just feel a little sad" for Juan in those days, Rosalva says. "Most of the time, the men feel very good to be the head of the house. But he no feel right, he no feel comfortable" earning less than his wife.
Early on, Juan and Rosalva also considered having him return to Mexico to apply for legal entry, but learned the backlog in applications from Mexicans meant the young couple would have to spend years apart.
In they end, they decided being together was more important. He would remain here, lying low, waiting for a chance to legalize in-country, which happened thanks to a legalization program that began under President Clinton. That program expired after the Sept. 11, 2001, terrorist attacks. Juan had filed before the deadline, however, and was granted legal residency in 2002.
Congress has opened this sort of "release pressure" valve several times in the last several decades, but not since 9/11, point out the two UNLV law professors who run an immigration-law clinic on campus. The result, the professors contend, is a partially artificial build-up of illegal Mexican immigrants inside U.S. borders.
"People say, 'We shouldn't let people cut in line'" to legalize, says David Thronson, one of the professors. "But there's no longer a 'line' for them."
A "perfect storm" of immigration chaos is brewing, Thronson contends.
Under current law, if an illegal immigrant has been here for a year or more and then is apprehended, he or she is barred from returning for 10 years. With that penalty and no outlet to legalize inside this country, illegal immigrants are simply stacking up.
"You can have very close ties, (such as) a legal-citizen spouse or child, and not be guaranteed your own adjustment to legal status," Thronson says.
In the days before Sept. 11, 2001, some illegal immigrants left their families back in Mexico, and periodically went home to visit during slow work periods. Now that border scrutiny is tighter, many opt to stay here indefinitely and now sneak in their family members — who are illegal immigrants, too — to avoid living apart with no prospect of visits.
Thronson poses the scenario, but UNLV law professors Leticia Saucedo and Sylvia Lazos agree it exists.
For Juan and Rosalva, the scenario rings frighteningly true.
One of Rosalva's adult sisters, who is illegal, has five children with her husband, who is a legal permanent resident.
If she is caught, she cannot leverage the citizenship status of any of their minor children born here in order to legalize her own status. Under current law, she would likely be deported, and face years before legal reunification in this country would be possible.
"We are so close that we can take care of them (her five sons) with no problems," says Juan, describing the close family network that would fill in, if that relative were deported.
But her five sons, who range in age from 2 to 16, would lose the "meaning of having a mom."
ILLEGAL IMMIGRATION: Counting The CostMore News Stories