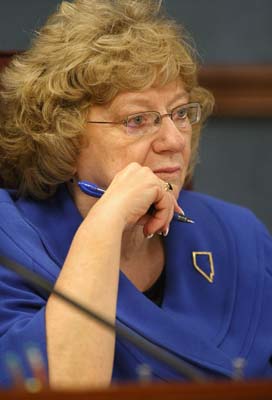 CARSON CITY (AP) — Nevada lawmakers debated a bill Friday that would require more reporting from pharmaceutical manufacturers and wholesalers who try to promote their products by giving money or gifts to health care providers.
SB211, reviewed by the Senate Commerce and Labor Committee, would require those companies to file annual reports with the state Board of Pharmacy, which will be made available on the Internet for citizens to see.
"Some doctors are incentivized to prescribe medications, not based on their efficacy, but because of the benefits for the doctors that come with a particular brand," said Sen. Joyce Woodhouse, D-Henderson, the bill sponsor. "This is just not right."
Currently, wholesalers and manufacturers don't have to disclose the money they spend to persuade doctors to prescribe their medications. Supporters of the bill said those incentives come as lunches, dinners and medical supply products that advertise their brand.
Under the bill, pharmaceutical companies would have to file an annual report listing the value and nature of any incentive that cost more than $100, if those gifts had no direct benefit to patients. If the aggregate yearly total in gifts exceeded $1,000 to one health care provider, the company also would have to provide the name of the recipient.
Barry Gold, representing the American Association of Retired People of Nevada, said drug manufacturers usually spend twice as much money on marketing efforts known as "detailing" than they do on research and development. He added that many medical schools are banning the practice entirely.
"People need to know where the money is going," Gold said. "Detailing is claimed to be about educating doctors, but it is really about trying to encourage or influence them to prescribe the newest high-cost, brand-name drugs. No one is going to doctors offices 'detailing' generic or low cost medicines."
Some on the Senate committee thought the bill did not go far enough.
"I don't see anything in here that says, 'If you save money on marketing or detailing, that should be passed on to the consumers,'" said Sen. Mark Amodei, R-Carson City. "You've got to make those pharmaceutical companies pass those savings on to the consumer, and I see nothing in here that does that."
Gold agreed that was not part of the bill, but said he hoped that if the public saw the amount of money spent, they would put pressure on drug companies to lower their prices.
"If they're not spending these billions of dollars, they don't have the overhead, and hopefully that would allow them in their business model to lower their cost," Gold said.
Derek Naten, representing Pharmaceutical Research and Manufacturers of America, said the industry already is following strict reporting guidelines required under a 2007 state law and several federal laws. He added that the industry has scaled back on hosting lavish dinners and meetings in exotic locations.
Naten also said that legislation pending in Congress would cover similar ground, which would make the state bill repetitive.
"Had we been having this conversation several years ago, I could not sit here and state that marketing practices were beyond reproach," Naten said. "This activity simply does not define the industry today."
But Sen. Maggie Carlton, D-Las Vegas, who chaired the Senate committee, didn't seem convinced.
"Right now, could I find this information on the Internet?" Carlton asked.
Naten said there are some companies that disclose the information, but there is no requirement to do so. He added that he did not have all the information on the federal legislation, but it did include reporting requirements.
Carlton asked Naten to provide side-by-side comparisons between SB211 and the pending federal legislation, and he agreed.