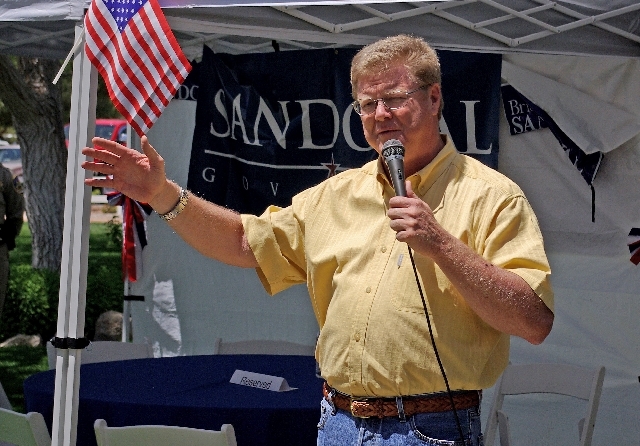 The Progressive Leadership Alliance of Nevada will be involved in multiple efforts during the August congressional recess to win support for immigration reform legislation awaiting action in the House of Representatives.
The efforts include calling on Reps. Mark Amodei and Joe Heck, both
R-Nev., to support immigration reform with a path to citizenship and for them to ask House leadership to schedule a vote on the issue this fall.
"This is the best chance we've had in a generation to pass real immigration reform that moves our country forward," said PLAN board President Theresa Navarro. "Our families simply can't wait any longer."
PLAN state Director Bob Fulkerson said immigration reform as passed by the U.S. Senate is good policy.
"It's also good economics," he said. "A Congressional Budget Office report shows reform will grow our economy by 3 percent and reduce the deficit by almost a trillion dollars over two decades."
Navarro and Fulkerson were recently arrested outside of Speaker John Boehner's office in Washington, D.C., for protesting his inaction on immigration reform.
Heck said at a Las Vegas event in July that the Senate bill is "not a bad start to immigration reform," but he said he opposed it because it would allow the government to waive tough border security requirements while still ushering immigrants along the pathway to citizenship.
Amodei has also expressed opposition to the Senate bill while supporting elements of comprehensive immigration reform.
—Sean Whaley
LOWDEN STRIKES BACK
One person's bad debt is another's principled opposition, at least when it comes to jostling for position to become Nevada's next lieutenant governor.
Former state Sen. Sue Lowden, who says she is considering jumping into the Republican primary, said she felt slighted by coverage of a lawsuit against her over alleged debts from her 2010 primary campaign for U.S. Senate.
Lowden is being sued by a Colorado campaign consultant who says he hasn't been paid for about $77,000 worth of polling work.
It's a small amount of money relative to the estimated $2 million Lowden is said to have spent on an unsuccessful attempt to be the Republican challenger to Senate Majority Leader Harry Reid, D-Nev.
Rather than backing down, Lowden is digging in to fight the case even if it makes her possible campaign for lieutenant governor against Sen. Mark Hutchison, R-Las Vegas, messier than it needs to be.
Federal campaign filings show Lowden ended her campaign with about $532,000 in debt, which she is working with vendors to settle.
She maintains the Colorado vendor refuses to provide evidence to support his allegations.
"If the court ever tells me I am wrong and have to pay, I will pay," Lowden said. "But I am not going to listen to a vendor who won't cooperate and give me some backup and help me understand why this is owed."
—Benjamin Spillman
DISTINGUISHED LAWMAKER TO LEAVE US
CARSON CITY
With his well-trimmed white beard and hair, Assemblyman Joe Hogan might have been the most distinguished member of the 2013 state Legislature.
The 76-year-old Las Vegas Democrat said recently that because of multiple health problems, he won't be seeking re-election to a sixth and final term in the Assembly in 2014. Hogan said he is doing the best he can, and he is in the beginning stages of some of the illnesses, but cures are not possible.
Still, he intends to continue serving on interim committees until his term ends at the end of 2014. He was an active participant in Tuesday's Interim Finance Committee.
Hogan had caused a stir during the legislative session by introducing a bill to legalize the recreational use of marijuana by adults. Hogan, who insisted he has never tried marijuana but would if it were legal, said legalization could result in $470 million a year in tax revenues that would be earmarked for public education.
At a spirted hearing, many people, including doctors, spoke out for the bill, but the Assembly Judiciary Committee let it die without a vote. Hogan blamed that on the promise of a veto by Gov. Brian Sandoval.
"The governor has made sure we don't get a tourism boom from marijuana," Hogan said at the time.
In a recent interview, Hogan said he expects another bill to legalize marijuana will be debated at the 2015 session and that it is inevitable that marijuana someday will be legalized in Nevada.
Let's hope he will be around to keep his promise to try it.
—Ed Vogel
Contact Capital Bureau reporter Sean Whaley at swhaley@reviewjournal.com or 775-687-3901. Contact reporter Benjamin Spillman at bspillman@reviewjournal.com or 702-383-0285. Contact Capital Bureau Chief Ed Vogel at evogel@reviewjournal.com or 775-687-3901.