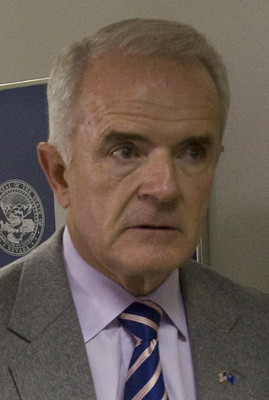 CARSON CITY — The lawyer for first lady Dawn Gibbons said Friday that Gov. Jim Gibbons has violated an agreement with his estranged spouse by speaking to the media about his wife and their pending divorce.
Cal Dunlap said Gibbons broke the agreement during a June news conference in which he discussed the text messages he exchanged with a female friend and in July when he conducted TV interviews about how he felt lonely without a female companion.
"The litigation is going to go on because the governor violated the agreement," Dunlap said.
Dunlap said Gibbons' breaking of the agreement not to talk means the governor can no longer have the case sealed, The Associated Press reported.
Dunlap and the governor's lawyer, Gary Silverman, announced June 9 that the governor and first lady had agreed there would be no further public comment or litigation filed in their divorce case while they attempted to reach a settlement.
"The whole idea was to work informally to reach a settlement," Dunlap said. "He violated that agreement by his public statements."
In a July 17 interview, Gibbons, 63, told KLAS-TV in Las Vegas that he decided to speak out about false speculation about other women in his life, although he had been "muzzled by my attorneys from speaking out because of the divorce."
The lawyers and the first couple met behind closed doors Thursday for three hours with District Judge Frances Doherty in Reno in a management conference to discuss what progress has been made in the case.
Although he refused to discuss that meeting, Dunlap said he does not expect that the divorce will be finalized before the end of the year.
Dunlap also declined to state whether he will proceed with an earlier demand that the divorce case should be held in public and legal briefs opened to public scrutiny. Court action on that demand has been held up because of the agreement.
Gibbons, 63, filed for divorce from former Assemblywoman Dawn Gibbons, 54, his wife of 22 years, on May 2, citing incompatibility.
Three days later, District Judge Bill Maddox agreed to the governor's request that the records be sealed and the divorce conducted behind closed doors. He cited a law that allows one party in a divorce action to request as much.
But Dunlap in May filed a motion to seek to have the case opened to the public.
He contended the secrecy in divorce law did not apply in cases affecting major public officials, such as a governor.
Dunlap also said the real reason Gibbons wanted a divorce was because he has been involved with another woman. The lawyer called this woman a "marital intruder" who virtually stalked the governor.
The woman later was identified as Kathy Karrasch, the estranged wife of Reno podiatrist, C. Craig Karrasch.
In a news conference on June 10, Gibbons admitted he exchanged 867 text messages with Karrasch in a five-week period in 2007. He said she was a longtime friend and he never had a sexual relationship with her.
Dozens of the text messages were often sent between midnight and 2 a.m. when the governor was living in the Governor's Mansion with his wife.
When asked at the news conference if the first lady knew about his text messages with Karrasch, Gibbons replied: "You would have to ask her."
The governor then was photographed by the Nevada Appeal during the Reno Rodeo with Leslie Durant, the ex-wife of former Reno Mayor Pete Sferrazza. Durant was a Playboy model in 1989.
Like Karrasch, she is married. In one photo, Gibbons was shown with his arms around Durant. He said initially she had been crying and he was comforting her.
But in the July 17 interview with KLAS-TV, Gibbons said he was helping Durant because she was in pain and he thought she was having a heart attack and needed to go to the hospital. He called her a "dear friend' of 20 years."
"I don't think anyone should tell you or me who your friends can or cannot be," Gibbons said when asked by the Review-Journal about whether his public appearances with women were leading to negative public speculation.
Also in July, Gibbons told TV stations that he doesn't want to be "a lonely governor," and plans on dating. He said he did not have a girlfriend.
He declined an interview with the Review-Journal about his "lonely governor" comment.
In his KLAS-TV interview, Gibbons said it was unfortunate that the divorce is occurring now and that "I want my wife to be as happy as she can be."
Gibbons' lawyer, Gary Silverman, did not respond to a request for comment.
Contact Review-Journal Capital Bureau Chief Ed Vogel at evogel @reviewjournal.com or 775-687-3901.