Lawyer had status: 'God and Buchanan'
November 9, 2009 - 10:00 pm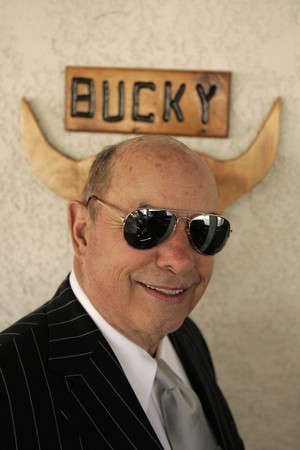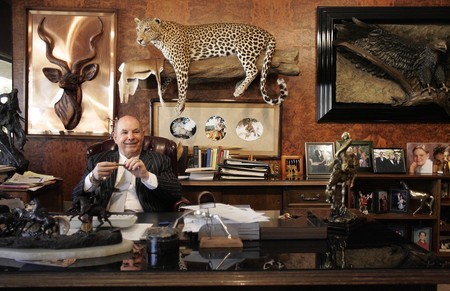 Las Vegas has its share of characters. But Bucky Buchanan stood apart.
In the Naval Academy, he sank a ship. In Africa, he hunted big game. And in Las Vegas, he became an institution.
His personality was disarming. Gregarious, always smiling, Buchanan loved people. It was that personality that endeared him to the jurors, judges, attorneys, clients, journalists and pretty much everyone else he encountered.
In one of his most high-profile cases, Buchanan in 2000 represented David Mattsen, one of the men originally accused in the theft of $7 million from the vault of the late gaming heir Ted Binion. Mattsen was accused of being a felon in possession of a firearm after police found guns in his home. The case seemed solid. Yet Buchanan managed to get the jury to acquit.
"I believe in God," Mattsen later said, "and Buchanan."
James Lawrence "Bucky" Buchanan, the defense attorney who represented pimps, prostitutes, thieves and pretty much anyone else who needed representation, died Saturday at 5:52 p.m. He was backing his 1988 Ferrari GTS 328 into his driveway when Las Vegas police said he suffered a medical episode and died.
He was 74, an age that was only a number to him. He worked furiously, expending a tremendous amount of time and energy on his practice.
"In his mind he was 50," said Stewart Bell, Buchanan's friend and a former District Court judge.
After graduating from the U.S. Naval Academy — in the same class as Arizona senator and Republican presidential candidate John McCain — Buchanan built bombs for the military. He went to law school and was admitted to the Nevada Bar in 1965.
When asked why he moved to Las Vegas, he said it was mostly for the strippers. He was the life of the party even then.
"Oh brother, the stories abound," attorney and friend John Momot said. "Sometimes he did terrorize the Strip, and let's just leave it at that."
Las Vegas was a different city then, and as it grew, Buchanan grew with it, taking on more and more clients and becoming an "institution" in the legal community, attorney and friend Tom Pitaro said.
"Every day, every courtroom you went in, he was there," he said.
It was that massive caseload that led to another of Buchanan's habits: tardiness.
While working a case before federal court Judge Roger Foley, Buchanan was late on the third day of the trial, attorney and friend Bill Terry recalled. The start time was 8 a.m. Terry, who was working with Buchanan, was on time. Foley was on time. The jury was on time.
Everybody waited for Buchanan, who was an hour late. That would have landed any other attorney in contempt of court, Terry said. Buchanan apologized and said he thought the start time was 9 a.m. The judge, Terry said, didn't say a word, and the case proceeded as if nothing had happened.
"Judges would be irritated at him for not showing up, but at the end of the day, Bucky would come in and grin, and that was the end of it," Clark County District Attorney David Roger said.
Buchanan's tardiness would sometimes land him in hot water. In 1967, District Judge Paul S. Goldman held him in contempt of court. In 1985, U.S. Magistrate Philip Pro suspended him from practicing in federal court, a decision that was overturned by the 9th U.S. Circuit Court of Appeals.
Bell said that Buchanan had a different relationship with the late District Court Judge Howard Babcock. Babcock, fed up with Buchanan always running late, started charging him a dollar for every minute he was late. From then on, the affable attorney would show up with cash and, during a break in court proceedings, pay Babcock's assistant. Babcock and Buchanan chuckled over it each time, Bell said.
"I don't know what they did with the money, put it in the secretary's holiday fund or what," Bell said.
Buchanan was liked by almost everyone. His good nature belied his sharp wit and skills in the courtroom.
Pitaro said he was one of the best cross-examiners he had ever seen. Pitaro faced off against Buchanan when Pitaro was an assistant U.S. attorney. It was a drug case, and the government's case was solid. Buchanan fought furiously. His client lost, but, "brother, his client got his money's worth," Pitaro said.
Roger said he warned his prosecutors never to underestimate Buchanan.
"You knew when he went to trial he had a good chance of winning," Roger said.
Law was not his only practice. He was a university system regent for a decade. He had his own reality television show, contributed to several charity and fundraising efforts and was part-owner of several restaurants.
When Buchanan became part-owner of the Coachman's Inn, on Eastern Avenue near Desert Inn Road, he encouraged Bell to go there and enjoy a free lobster dinner. Buchanan wrote on the back of a business card, "Two lobster dinners courtesy of J. Buchanan," and handed it to Bell. Bell never used it but still keeps the card in his wallet.
Buchanan had two grown sons, twin daughters and several grandchildren. In 2001, he married his wife, Gianna, a deputy state attorney general.
"Regardless of whether you were a million-dollar client or a low-income client, you always got the same dedication and commitment from Bucky," she said. "He would say, 'These people need me.'"
He loved what he did, and it showed, she said.
"It's just been such an honor for me to be his wife, and I've always felt that I was the one who got the better end of the bargain by being able to be married to him."
Contact reporter Lawrence Mower at lmower@reviewjournal.com or 702-383-0440.