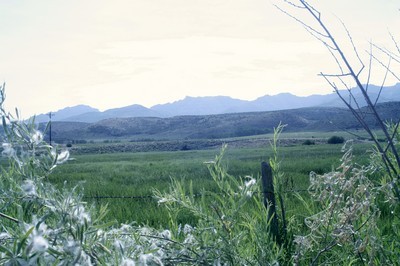 The tax lawyer who's been hit with an ethics complaint for helping Gov. Jim Gibbons get a money-saving tax break said Monday he did nothing improper.
"I think it's ludicrous," John E. Marvel said of the complaint submitted to the state Ethics Commission by the executive director of the Nevada Democratic Party. "There's no foundation for it. It's stupid. It's a waste of taxpayer time, it's a waste of my time and it's certainly a waste of the governor's time."
Whether Gibbons and Marvel violated state ethics law is now in the hands of the commission, which is barred from discussing pending complaints. If convicted of willfully violating ethics statutes, Gibbons could face impeachment.
The complaints charge that Gibbons abused his power as governor, and Marvel his as a member of the state Tax Commission, when Elko County Assessor Joe Aguirre alleged he was pressured to give Gibbons an agricultural designation on a piece of rural land he had purchased.
Aguirre has said he didn't think the 40-acre parcel, which was leased for grazing cattle, merited the designation, which decreased Gibbons' property taxes from as much as $5,000 to about $40.
Gibbons has said he did not do anything wrong.
His spokesman, Ben Kieckhefer, said Monday he didn't know whether the governor had been contacted by investigators and that Gibbons probably would retain outside counsel to defend himself.
Marvel said Monday that his actions as Gibbons' lawyer had nothing to do with his position on the Tax Commission, which has broad powers over county assessors, although they are independently elected.
"It's nothing but slander," he said, noting that he was the lawyer on Gibbons' purchase of the land from Jerry Carr Whitehead, a former judge who owns an adjoining ranch and is paying Gibbons to graze cattle on the parcel.
"As part of my duties as a lawyer I file applications for buyers of agricultural property," Marvel said. "I worked in my capacity solely as a lawyer. It did not even dawn on me to think of my position on the Tax Commission."
Gibbons, he said, deserved the agricultural tax deferment.
Experts have questioned whether, at going rates, the land could possibly have provided feed for enough cattle to merit the $5,700 Whitehead paid Gibbons to lease it. Marvel said the payments were for an entire year and the land was worth at least that much.
"It's been portrayed as nothing but a dirt pile," he said. "I would love for you to be able to see the lush native pasture, the clover and timothy growing in the sub-irrigated meadow, which is the majority of the property."
The Ethics Commission's executive director, Patty Cafferata, said she couldn't discuss complaints submitted to the commission, which are confidential by law. In general when a complaint comes in, Cafferata and the commission's general counsel have 60 days to examine it and see whether it falls under the commission's jurisdiction and there is some evidence to support it. If so, the matter is assigned to a panel of two commission members.
The commission is composed of eight members, four of them appointed by the governor and four by the Legislature. Three of the members have been appointed by Gibbons, while one vacancy is awaiting a gubernatorial appointment.
There are no statutory provisions for recusal if commissioners are charged with evaluating charges against those who appointed them, Cafferata said. "All of our commissioners are very aware about disclosure and abstaining," she said. "If they had a personal or a business relationship with anybody, they would recuse. That's a discussion we have every time."
Cafferata, a Republican former state treasurer, said she was committed to being objective despite her many partisan political ties. She noted that she and Gibbons are not exactly political allies, as she ran against him for Congress in 1996.
"He's a Republican and I've supported Republicans, that's no secret," she said. "That doesn't mean we're great friends." She noted that she was appointed to her post by the commission, not the governor.
If the two-man panel finds "just and sufficient cause" to believe that ethics law has been violated, the matter becomes public and goes before the full commission for a hearing. The commission must determine whether there were violations and whether they were willful.
Willful violations are punishable by fines and in the case of statewide officials such as the governor must be followed by impeachment proceedings, which go through the Legislature.
Ethics experts expressed different views about whether Gibbons appeared to have acted unethically.
"Regardless of what Nevada's ethics statutes are, this definitely would raise a red flag and pose some very serious questions about the role that the governor personally played in getting this tax relief," said Judy Nadler, senior fellow in government ethics at the Markkula Center for Applied Ethics at Santa Clara University.
"One of the principal guidelines for being in public office is that you put the public's interest first, above your personal interest, above your financial interest, above your political interest," she said. "What that means is that you are doing everything within your power to make sure your actions do not even give the impression that you are getting an unfair advantage because of your office or are using your office to influence actions by other branches of government."
When officials appear to gain advantages not available to the general public, she said, "It completely damages the public trust."
However, Julie Tousa, acting president of the Nevada Center for Public Ethics, wasn't so sure. She said if Gibbons deserved the tax break, he wasn't wrong to ask for it, and if he didn't, he shouldn't have received it.
"If the tax break was not legitimate, the assessor should not have signed off on it, even if he felt some pressure," she said.
Contact reporter Molly Ball at mball@reviewjournal.com or 702-387-2919.