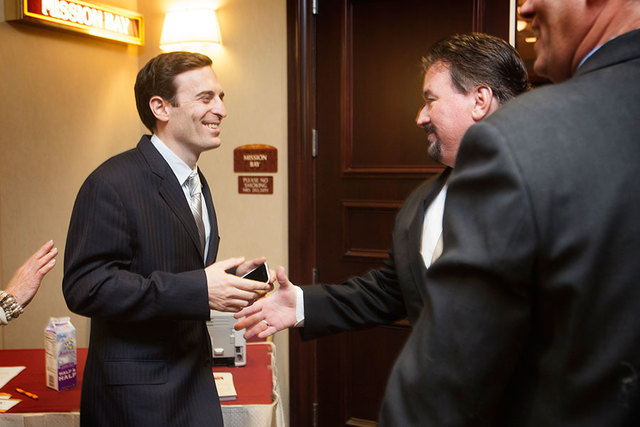 Republican attorney general candidate Adam Laxalt continues to get the cold shoulder from unlikely places.
The latest slap comes from Dale Raggio, widow of the late Republican legislative legend Bill Raggio. During his long career as a lawmaking lion in the state Senate, a good word from Raggio meant a lot.
A couple years after his death, even the thought of a few kind words from Raggio can still set pulses pounding.
Raised in Washington, D.C., by a single mother and far from Nevada politics, Adam Laxalt is the grandson of Silver State political powerhouse and former U.S. Sen. and Gov. Paul Laxalt. The elder Laxalt was close friends for more than half a century with Bill Raggio.
Last week, Dale Raggio opened her Reno home for a fundraiser for Laxalt's opponent, Democrat AG candidate and current Secretary of State Ross Miller. When asked about the fundraiser, Adam Laxalt speculated that Bill Raggio would have embraced his candidacy.
He told the Reno Gazette-Journal's Ray Hagar, "Do I think we would have had the support of Sen. Raggio in this race? Absolutely. There is no question we would have had his support."
In response to that seemingly reasonable speculation, a perturbed Dale Raggio replied to the longtime Northern Nevada political reporter that she was carrying out her late husband's wishes because he had once told Miller's father, former Gov. Bob Miller, that he would endorse the rising Democratic Party star for AG.
"Sen. Raggio was a man of his word, as his book suggests, and he told Bob Miller that he would support Ross," she said, later adding, "Bill didn't even know Adam Laxalt."
Ouch.
Hagar then made his own endorsement by adding, "That's correct" and explaining that the younger Laxalt, a former Navy JAG officer, "moved to Nevada full-time just three or four years ago when he got out of the Navy."
While spending this much time on a teapot tempest in a state AG's race might say a lot about the temperature of state politics this season, it also is a reminder that small slights and offhand remarks can reverberate mightily in the age of Internet blasts and rapid-fire tweets.
Not surprisingly, State Democratic Party spokesman Zach Hudson had a field day with the dust-up, calling young Laxalt to apologize for his speculation: "Adam Laxalt's arrogance to presume an endorsement from an individual he never met is sad, pathetic and disrespectful to Sen. Raggio, his family and legacy."
Dale's dis had Laxalt campaign consultant Robert Uithoven smelling potentially damaging political smoke, and he scrambled for a respectful response.
Talk about a single careless match starting a forest fire. Someone call Smokey Bear.
Short of that, Republican stalwarts former Nevada Gov. Bob List and attorney Joe Brown — whose friendships with Bill Raggio and Paul Laxalt are beyond dispute — agreed to cut through the haze and clear up some confusion on candidate Laxalt's behalf.
Both men say they know with certainty that, far from never having met, Adam Laxalt and Bill Raggio were well-acquainted. They add that it's possible Dale Raggio might not have known this when she made her criticism. It's also clear that neither Brown nor List wanted to put her on the spot.
"Bill invited Adam to talk to him when he came out to practice law in Nevada," List recalled. "On trips to Washington, Bill would never go back there without seeing Paul and he would also see Adam. … From my perspective, it's important to say that it certainly would be wrong to conclude that Bill would have gone against Adam Laxalt. … I just felt like the record ought to be straight on this."
At the risk of perpetuating the notion of either candidate should be receiving a political endorsement from beyond the grave, List added, "It's inconceivable that, had Bill been alive, he would not have supported Adam given the long family history."
When former Nevada GOP National committeeman and current Gaming Commission member Brown learned of the Laxalt-Raggio tiff, he just shrugged. For many years he attended the annual "lamb fry" put on by the Laxalt family with young Laxalt and Bill Raggio in attendance.
"Bill knew Adam and was impressed with Adam," said Brown, who was law partners with Raggio. "Adam was at those parties."
And while Bill Raggio was also friends with the Miller family, he did write a check in support of Republican Danny Tarkanian's campaign for secretary of state against Ross Miller.
"I don't know what Bill would have done," Brown admitted, but the legislator was certainly on friendly footing with Adam Laxalt and only with rare exceptions ever supported a Democrat. (For one, U.S. Sen. Harry Reid against Sharron Angle, a constant Raggio critic.)
Whether it makes a bit of difference in the outcome of the AG's race is unclear.
But the dust-up does serve as a reminder that, even in death, even the thought of a good word from Bill Raggio can still go a long way.
John L. Smith's column appears Sunday, Tuesday, Wednesday, Thursday and Friday. E-mail him at jsmith@reviewjournal.com or call 702-383-0295.