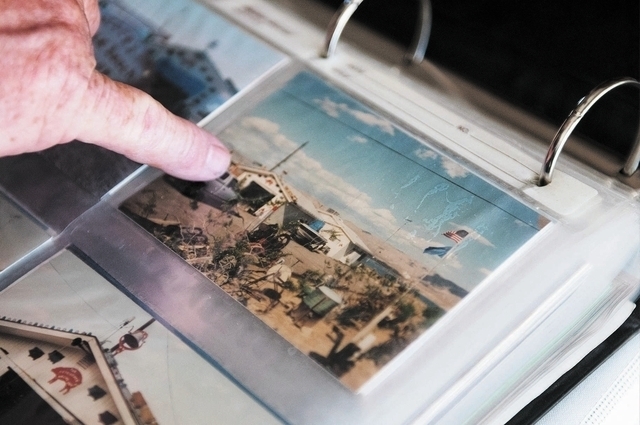 By now you've probably heard about the folks who were kicked out of their vacation homes at Lake Mead because of the government shutdown.
The plight of those forced to leave their lakeside cabins made national news.
But how did these lucky souls wind up with their own private getaways inside a unit of the National Park Service in the first place?
It turns out it began back in the 1950s as a government enticement meant to promote recreation and tourism at Lake Mead and other national parks. To lure more visitors, the Park Service began issuing long-term leases on small plots and allowing people to build on them.
Back then, said historian Dennis McBride, federal land was seen as something to "develop and exploit and use."
"It was an effort to connect more with the public," said McBride, who heads up the Nevada State Museum in Las Vegas and has written extensively on the history of Hoover Dam and Boulder City.
Since then, "there's been a change of philosophy generally. The sense of mission has changed to one of preservation," he said. "You have these two philosophies coming together with those cabins."
But not for long.
The National Park Service pulled the plug on the long-term lease program years ago and is allowing it to slowly wither and die. It could take years or even decades, but eventually there will be no vacation cabins at Lake Mead anymore.
Christie Vanover is spokeswoman for the Park Service at the nation's oldest, largest and second-most visited national recreation area.
She said park policy had already begun to shift by the time the original 25-year leases for vacation cabins at Lake Mead started to expire in the late 1970s. As part of a long-range goal of restoring all recreation land to public use, the Park Service shortened the leases to five years, made them non-transferable and allowed them to be renewed only by those people listed on the documents at a certain date.
Vanover said a total of 137 leases were issued at Lake Mead between 1953 and 1965. Today, 48 private cabins remain within the 1.5 million acre recreation area, where they are disappearing at a rate of about two each year.
YEAR-ROUND VACATION
Officially, they are known as permitted vacation cabin sites, and most of the ones that are left can be found at Stewarts Point, where 29 cabins are scattered on half-acre parcels along a dirt road that forms a rough figure-8 about 70 miles northeast of Las Vegas.
There are another 14 cabins at Temple Bar on the Arizona side of Lake Mead and five more at Katherine Landing on the Arizona side of Lake Mohave.
Leaseholders pay an annual fee that ranges from about $2,600 to more than $3,400, depending on location. The lease rates are reviewed annually and increase along with the consumer price index.
Access to the land is about all cabin owners get for their money. The Park Service doesn't provide utilities or maintenance of any kind, not even for the road to the sites.
Cabin owners have to pay the same entrance and use fees as any other visitor. Their leases clearly state the cabins are not to be used as permanent, primary residences and that the Park Service can close the cabin sites and surrounding roads at its "sole discretion."
In other words, McBride said, "If the government says you have to go, you have to go."
When a lease ends, either through forfeit or the death of the last person listed on the document, the lease holder has 90 days to remove the cabin and all other personal property.
Vanover said only a handful of park sites nationwide still allow long-term leases for vacation homes.
Lake Mead also has long-term trailer villages that allow people to rent sites on a monthly basis and stay in the park for as long as 180 days a year.
Vanover said the park is currently home to 790 trailers at six locations run by private companies under Park Service contract. Like everything else in the park, the trailer villages were cleared out when the government shut down.
With so much of Lake Mead's staff on furlough due to the shutdown, there were some questions Vanover could not answer. She couldn't say when Lake Mead stopped allowing new cabins to be built or supply any details about enforcement of the rule against living in vacation homes full-time.
She did say that only three of the cabins were occupied when the shutdown hit on Oct. 1.
David Pahlka was one of the people evicted. As of last week, he was camping in a friend's yard in nearby Overton, with a sleeping bag spread out on a concrete slab sheltered from the wind and rain.
When the Park Service kicked the 64-year-old retiree out of his cabin at Stewarts Point, he planned to park his van somewhere and sleep in it, but he couldn't get the vehicle to start.
Despite the rule against it, Pahlka has lived in his cabin at Lake Mead full-time since about 1992, and he said he hopes to keep living there maybe for the rest of his life.
"It's the longest I ever stayed anywhere," he said.
The cabin sites at Stewarts Point were never right on shore, but the walk to the lake has gotten longer as the water level dropped in the drought-stricken and overdrawn reservoir. The closest cabin is now about a half-mile from the water. From Pahlka's place, it's more than a mile.
Electricity comes from the power co-op that serves Overton. Water is hauled in or pumped up from the reservoir and filtered to make it potable.
Pahlka doesn't understand why Park Service officials want to get rid of the cabins, or what exactly they are trying to preserve. The lake is man-made, after all, and without it there would be no park.
"There isn't that much natural beauty at Lake Mead," he said. "Just bare desert."
CURE FOR CABIN FEVER
Pahlka said he inherited his cabin from his parents, who acquired it in 1980 and also used it as their primary residence.
He claims the Park Service basically looks the other way when it comes to him and few of his neighbors. The rangers let them live in their cabins year-round because they help keep an eye on things at Stewarts Point, he said. "In a way, we're doing them a favor."
But that certainly isn't the agency's official position.
"We respect that our vacation cabin site owners and millions of other visitors help look after our park lands, but management only authorizes full-time residency for park and concession employees," Vanover said. "The vacation cabin site permit allows owners intermittent, non-residential, recreational use, and we require owners to have a primary home outside of the park."
McBride, the historian, said vacation homes and other developments were not part of the original plan for Lake Mead. During the early planning stages for Hoover Dam, the yet-to-be-filled reservoir and the area around it were envisioned as more of a primitive nature preserve.
That began to change in the 1930s, when officials saw people flocking to the area by the thousands just to see the dam being built and realized they had a major tourist draw on their hands, McBride said.
In recent decades, the pendulum at Lake Mead — and national parks in general — has swung back toward restoring and preserving the land instead of developing it.
"If they want to go back to the way it was or the way it was meant to be, yeah, there are not going to be anymore long-term leases of land for vacation cabins," McBride said. "Bring a tent."
Contact reporter Henry Brean at hbrean@reviewjournal.com or 702-383-0350. He's on Twitter at @RefriedBrean.