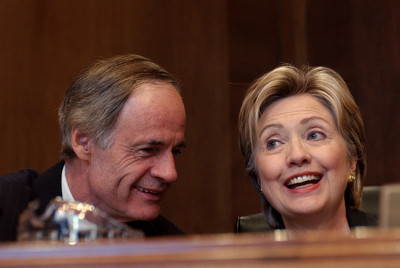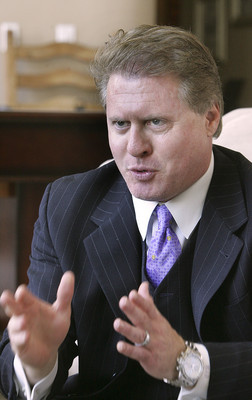 For a while there, Ruben Kihuen looked like a superstar.
The first-term Democratic assemblyman was profiled on the front page of the Wall Street Journal in August, complete with one of the paper's signature dot-sketch portraits.
When he said any presidential candidate who wanted his endorsement would have to hold an event in his district and meet his constituents, Barack Obama and Hillary Clinton both were there within days.
In the ensuing months, most other Democratic legislators have lined up behind a candidate, but Kihuen remains uncommitted and the spotlight has gone off him. So did he miss his moment? Is Ruben-mania over?
Kihuen said recently he is as sought-after as ever. "I haven't been seeking the media about this," he said. "Candidates still want to come to my district. I just got a call from Bill Richardson."
He noted that when she visited two weeks ago, Clinton held a health care forum at a senior center in his district. And he said he's doing it all for his constituents, not his personal fame or prestige.
"The candidates see District 11 as one of the most important districts that could make the biggest difference in the caucuses," he said. "I'm using this whole situation to enable my constituents to get to know them. If I had endorsed months ago, they might not be still coming back."
The only Hispanic immigrant in elected office, Kihuen acknowledged the candidates also see him as a proxy and leader for the potentially powerful Hispanic vote.
Kihuen last month was quoted in the Reno Gazette-Journal as saying that when he made his endorsement, the candidate of his choosing would be there to accept it. That raised the hackles of some who read it as a sign the 27-year-old with less than a year in elected office was getting too big for his britches.
Kihuen said he didn't mean to imply the candidates had to kiss his ring. "In behind-the-scenes talks, they have agreed to do an event in my district when I decide to endorse," he said.
If there were any doubt about Kihuen's visibility fading, he apologized for taking a while to answer a phone call, explaining he'd been busy leading a European film crew around town.
HILL'S HILL OOPS
Unless that was an imposter wearing a Hillary Clinton Halloween costume at the Oct. 31 Senate hearing on Yucca Mountain, somebody made a big mistake.
The Hill, one of three newspapers in Washington that specializes in covering Congress, had egg on its face Thursday after it published a story claiming that Sen. Clinton was a no-show.
The hearing about the Nevada nuclear waste site was organized at Clinton's request, making it big news if she was not there. "Clinton skips Senate hearing she called for," the headline said.
Only problem was that Clinton indeed was in attendance, and took an active role.
Several blogs called attention to the gaffe, as well as Politico, a competitor of The Hill. The story was removed from The Hill's Web site, and the paper was posting a correction online and in print.
Managing editor Bob Cusack explained the reporter got a news release from Sen. James Inhofe, R-Okla., but didn't notice it was dated July 25, which was when Inhofe criticized Clinton's non- attendance at earlier hearings.
To remove any doubt she was at last Wednesday's hearing, Clinton's staff posted video on her Web site of her performance.
REID SAYS WAIT AND HOPE
Sen. Harry Reid, D-Nev., says he thinks "it is a little too early" for the state to be considering budget cuts in response to troubling revenue projections.
Asked about the state budget in a meeting with reporters last Wednesday, Reid was careful to say that he did not want to "get into running state government." He wouldn't comment on whether any specific agencies should be exempt from potential cuts.
But, he said, "I am of the Jim Rogers school. Let's just hold back before we start asking for budget cuts. I think it is a little too early. Let's hope we have a really good quarter and revenues come up."
Rogers, the chancellor of the state's university system, has called Gov. Jim Gibbons' request for possible budget cuts premature. He has refused to come up with a plan for cutting 5 percent, or $64 million, from the higher education budget.
"I am a Jim Rogers devotee on budget cuts, but that is up to the governor," Reid said. "I am not going to get into that for now."
A spokeswoman for Gibbons said the governor shouldn't be criticized for trying to plan ahead.
"The governor does not feel it's too early" for such discussions, Melissa Subbotin said. "We believe that by taking proactive steps to address expected shortfalls, we will be in a better position to address the budgetary needs of the state."
Subbotin said Gibbons had no problem with Reid weighing in.
"We take all concerns and comments into consideration, which is why we're holding a summit on the 7th which will include local and state leaders," she said.
Gibbons has called a budget summit for Wednesday to discuss the need to prepare for cuts to the state's $6.8 billion general fund if tax revenues do not pick up.
ROOTING FOR HIMSELF
Buoyed by the reception he's gotten since announcing he was running to be the Libertarian Party's nominee for president, Las Vegas sports handicapper Wayne Allyn Root, who signs his correspondence WAR, filed federal paperwork declaring his candidacy last week.
With characteristic exuberance, Root declared that his speech at last month's Conservative Leadership Conference "was a grand slam home run" and in addition to receiving a standing ovation had become an online sensation.
"I am now convinced that I will be the Libertarian nominee for president of the United States," Root said in an e-mail. His run, he said, means "Nevada now has a 'favorite son' presidential candidate."
Top Libertarian Party activists have said they wouldn't be surprised if he gets the nomination. The Libertarian Party ticket received the fourth-highest number of popular votes in 2004, nearly 400,000.
"It's time for America's voters to think 'out of the box' — to elect a Jewish, Columbia University-educated, Libertarian small businessman, Las Vegas oddsmaker and professional gambler, S.O.B. (Son of a Butcher) as president!" he declared.
Root also has been hyping the fact that he was in the same class at Columbia as Barack Obama. He said they never met, despite sharing the same major, political science.
BEERS AND JEERS
Would you be surprised to hear Bob Beers has a page praising him on a union drive's Web site?
Ever-vigilant conservative activist Chuck Muth wasn't, because he knows the difference between Assemblyman Bob Beers, R-Henderson, and state Sen. Bob Beers, R-Las Vegas.
The latter is the staunch fiscal conservative who ran for governor last year. The former introduced a failed bill in the Legislature on dealer tip sharing and has taken the side of Caesars Palace dealers' unionizing.
Assemblyman Beers is the only politician with his own link on the front page of www.caesarspalacedealers.com.
Muth, noting that unions spend most of their time and effort trying to get Democrats elected, called Assemblyman Beers "a lousy Republican."
It's not the first time Muth, who quit the Republican Party recently because he didn't like its direction, has questioned Beers' ideology.
Beers said he wasn't interested in notions of partisan purity because his priority is representing his constituents.
"There are an awful lot of problems with the Republican Party, but there are a lot more problems with the Democratic Party," he said. "It is an ill-fitting suit, but it's the best one I could find."
Contact political reporter Molly Ball at 702-387-2919 or mball@review journal.com and Stephens Washington Bureau chief Steve Tetreault at STetreault@stephensmedia.com or 202-783-1760.