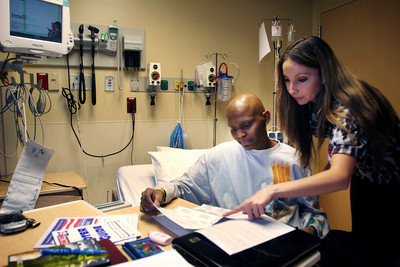 Think of your future.
That was Tealan Mitchell's thought as he skimmed an absentee ballot Tuesday afternoon at Sunrise Children's Hospital before casting his vote.
Despite undergoing chemotherapy treatments, fighting fevers and infections, the 18-year-old was determined to vote for the first time, especially in this historic election. His leukemia had to take a back seat.
"That's all he's been talking about. He wanted to vote, and we wanted him to," said Marie Weber, a charge nurse in the children's oncology unit who helped Mitchell navigate Clark County's Election Department to determine how someone who missed the absentee ballot deadline could still vote.
Because of Mitchell's condition — he is in isolation to avoid acquiring an airborne infection — he can't leave the hospital.
But hospital staff learned Tuesday that under special circumstances, a hospitalized person can request an emergency absentee ballot. In order to get the ballot, though, Mitchell had to fill out a form, show his ID and provide proof that he was hospitalized.
On his behalf, Weber took that information to county election officials. Once the documents were verified, election staff gave Weber a ballot in a sealed envelope to take back to Mitchell.
Mitchell carefully reviewed his ballot for about 20 minutes. At the foot of his bed sat Earth Science, U.S. government and algebra high school textbooks, as well as a laptop.
"I felt like this was something I had to do because it affects my life," Mitchell said. "When you get down to the nitty-gritty, you have to think about which of these two candidates is going to create a better future for us. Voting is about thinking of your future; that's why I had to vote."
After Mitchell filled out his ballot, he folded it and placed it into an envelope, which he sealed.
Smiling slightly, Mitchell handed the envelope to Weber, who then gave him his "I voted" sticker to place on his T-shirt.
Weber then headed out to the Election Department with Mitchell's vote so that it could be included in the tally.
"Barack Obama," Mitchell said when asked which presidential candidate he voted for.
Contact reporter Annette Wells at awells@reviewjournal.com or 702-383-0283.