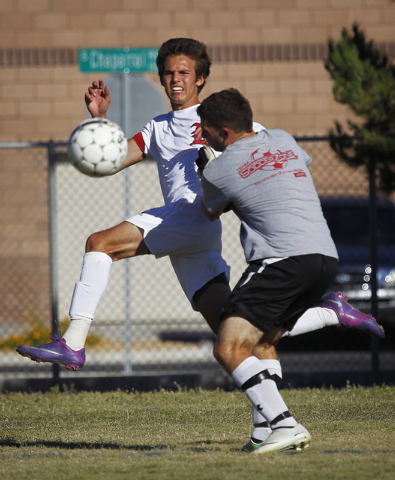 Danny Musovski knew he was getting close.
"Every single game that went by, I was counting down to reach that 100 mark," Musovski said. "I can't lie and say I wasn't."
A senior forward for the Liberty boys soccer team, Musovski tallied his 100th career goal on Sept. 19 with the last of his four goals in the Patriots' 4-2 victory over Sierra Vista.
Now, he is within reach of an even more impressive individual milestone.
After scoring two goals in Wednesday's 2-1 victory over Coronado, Musovski has 110 goals and is approaching the large-school state record of 123 set by James Tate of Rancho from 1979 to 1982. Will Wolford of Division III North Tahoe holds the overall mark with 165 goals from 1997 to 2000, according to the NIAA record book.
"He's as fast with the ball at his foot as he is off the ball, and that's what separates him from everybody else," third-year Liberty coach Mike Eshragh said. "He creates his own goals a lot of times. He has a great touch, and his speed is obviously his greatest attribute. And he has a nose for goal. He wants to score five goals a game if he could."
Musovski scored 38 goals in his first two years, and he earned Gatorade state Player of the Year honors as a junior after finding the back of the net 43 times. That broke the large-school state record for most goals in a season set by Bobby Jackson of Las Vegas High in 2006 with 41.
Musovski has 30 goals this season with nine matches remaining, not including the Division I Sunrise Region playoffs. He scored a hat trick in Monday's 3-3 tie at unbeaten Eldorado, showing off the full spectrum of his talent.
Musovski used his speed on the first goal, latching on to a long pass from Joey Hollimon and outracing an Eldorado defender. For the second goal, he stole the ball in midfield and dribbled through the Sundevils' defense before lashing a shot into the lower left corner. With 10 minutes remaining, Musovski pressured Eldorado's back line into a costly turnover 25 yards from the goal and then won a penalty kick, which he calmly converted to give the Patriots a 3-2 lead.
"You game plan for a kind of player like that, you always do. And then he still scores three goals," longtime Eldorado coach Gerald Pentsil said. "He scores goals in so many different ways. … He's a special player. You admire a player with that kind of talent."
Musovski, who carries a 4.1 GPA and is class president, has narrowed his college choices to Northwestern, UNLV and Washington. Musovski went to Northwestern during the summer and made an official visit to UNLV last weekend.
As a center forward for the Patriots, Musovski often is isolated high up the field, where he either can hold up the ball and wait for teammates or dribble at opposing defenders. At the next level, though, he expects to be more of a playmaker and less of a goal poacher.
"I need to add more depth to my game, getting better shots, maybe seeing the assist more, looking for the pass," Musovski said. "There's always stuff you need to work on, even dribbling. I can get that better, even though that's what I consider my strength."
The Patriots won five games during Musovski's freshman and sophomore years but reached the postseason for the first time in school history in 2012. Liberty (8-1-2, 1-0-1 Southeast League) is hoping to advance beyond the quarterfinals this season.
"I'm not looking to any individual award; I just want to win state," Musovski said. "Every year that goes by, it seems more realistic. Last year, we were saying it, but this year you can feel a belief in the team."
Contact reporter David Schoen at dschoen@reviewjournal.com or 702-387-5203. Follow him on Twitter: @DavidSchoenLVRJ.