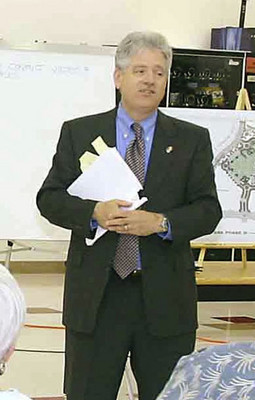 After 10 years at the top, Daniel Walters, director of the Las Vegas-Clark County Library District, has announced his retirement.
It won't take effect until next June, he said in a phone interview Friday.
"I wanted to give the institution plenty of time for the most orderly transition," he said.
Walters, 61, who took the job he now holds in 1998, said he will retire in the traditional sense of the word: No more work.
"It's time to think about those green pastures," he said. "I'm going to read all of those big tomes I couldn't read while preparing big board packets."
Frances Barron, chairwoman of the library board, praised Walters.
"He's done a phenomenal job," she said.
In particular, she cited the district's new Homework Help center at the West Las Vegas library as an accomplishment Walters should be proud of.
The center focuses on helping children get specific help with their homework.
In addition, the district is building its first new library in more than a decade. The Centennial Hills library is scheduled to open next year.
That is one reason Walters wants to remain on until next summer, he said.
Also, he said all of the system's urban libraries are being remodeled with the latest technology. Both the new library and the remodeling are huge jobs, he said.
Barron said the board has known about Walters' upcoming retirement for about two or three weeks — not yet long enough to have formed a transition plan.
The board will meet soon, she said, to discuss what steps should be taken next.
One point is certain, she said: The search will include candidates from inside and outside the district.
"We plan to look everywhere for the right person," she said. "We're going to throw out the net nationwide."