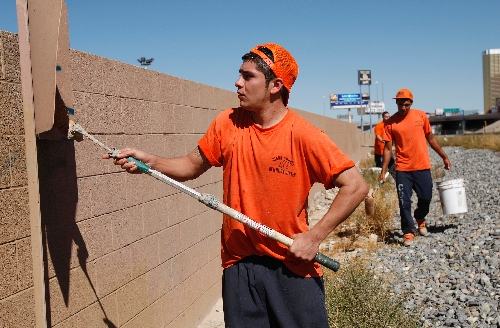 When Las Vegas officials take away a business license, it's usually because of criminal or strong nuisance activity — a massage parlor that's a front for prostitution, perhaps, or a nightclub known for fights or nudity.
Last week, the council snatched up the Amazing Art Co.'s license because the owner, James Cooper, sold a paint marker and spray paint — "graffiti implements" in the parlance of law enforcement — to minors.
One longtime city official said it's the only such case in the city in at least the past 30 years.
And now the city might be legally vulnerable.
So says none other than Mayor Oscar Goodman, who brought a machete to the Oct. 6 council meeting to make a point about how much he dislikes graffiti.
"I was ready to chop his thumbs off," said Goodman, a former attorney, referring to the store's owner. The mayor once famously remarked that those defacing property with graffiti should have their thumbs cut off on television.
In this case, though, "when I heard the proofs, they didn't satisfy me," he said.
"The law is ambiguous. I hope he gets a lawyer, and I hope he opens up."
Graffiti gets people's blood boiling.
It causes Goodman and Mayor Pro Tem Gary Reese to have violent thoughts.
It costs an estimated $30 million a year to abate tags and graffiti across the metropolitan area.
But a city ordinance barring the sale of graffiti implements to those younger than 18 might have a fatal flaw in this case. It says minors can obtain those supplies only with a parent's consent, but what constitutes "consent" is where uncertainty creeps in, Goodman said.
Cooper twice ran afoul of the city ordinance — once on Feb. 12, 2009, and again on June 17, 2010, according to Las Vegas police. He accepted a suspended sentence for the first offense. The second is still pending.
The fact that he was caught once and then fell short again instead of simply asking for identification made the case easy to decide, said Councilwoman Lois Tarkanian, who represents the area where Cooper's store was.
"You have to operate your business in a way that's following the rules and regulations," Tarkanian said. "He'd already done it, and he didn't even take less than a minute to ask the question."
The council spent the most time on the June incident, and Cooper said the youth who went undercover for the police raised red flags. On the day in question, Cooper was also overdue on his rent and facing eviction from the store.
"What he said to me when he asked for paint — that he wanted something to 'really make your eyes bleed' — was almost enough for me to refuse service to him," Cooper said. "Then it crossed my mind that it's probably not right to tell somebody, if they're painting something, what color they can paint it.
"He was still acting kind of strange, so I asked him if he was with the Police Department … he said no. And then I sold him the paint."
"Why didn't you ask him for his ID," inquired Councilman Ricki Barlow, "to at least calm your nerves?"
"I was afraid that he would start in with some story," Cooper said. "That he'd left it in the car, or that he didn't have it."
"Is his excuse more valuable than your license?" Barlow asked.
"If I didn't have 320 more dollars by five o'clock, my business would've been closed," Cooper said. "He appeared to be in his 20s. He had full facial hair and was taller than I am."
Cooper told the council that he has provided space for people to paint legally and works against graffiti.
"I have done everything in my power to encourage people not to do illegal work, and to encourage them to do legal work," he insisted. "I regret my mistake and I am sorry."
Cooper could not be reached for comment on whether he would pursue further legal action. He told council members that he tried to hire legal representation for the disciplinary hearing but didn't have enough money.
The council voted 5-2 to rescind Cooper's business license. Goodman and Councilman Steve Wolfson, also an attorney, voted no. Wolfson also voted with Goodman on a failed motion to dismiss the complaint.
Opinions differ on whether the city's ordinance is adequate.
The Las Vegas municipal code states that "no person, other than a responsible adult, shall sell, exchange, give, loan or in any way furnish a graffiti implement to any minor without the consent of the minor's responsible adult."
A "responsible adult" is defined as a minor's parent or legal guardian.
"I believe that the adult has to consent to the purchase in front of the seller," said City Attorney Brad Jerbic.
In the absence of an adult, "it is the responsibility of the seller to ensure that the individual they are selling to is 18 years of age or older," he said.
But Goodman said the "plain language" of the statute isn't that clear.
"The law says that if, in fact, the minor … has the consent of the parents, then the law doesn't apply to them," Goodman said. "In this particular instance, there was a decoy. His parents knew about it. They gave him permission to do it. So as far as I was concerned, the guy who sold it to him was within the law."
The legal questions might be important, Reese said, but so is fighting graffiti, and the council shouldn't hamstring itself.
Reese spoke of seeing a tagger in his neighborhood.
"If I could've caught him, I'd have probably killed him, and I'd be in jail," Reese said. "It made me that mad.
"I've been fighting this graffiti issue for 16 years, and all I've seen it do is go from bad to worse, to worse, to worse."
Contact reporter Alan Choate at achoate@reviewjournal.com or 702-229-6435.
REPORTING GRAFFITI
Las Vegas: 229-6615, or m.lasvegasnevada.gov on any Web-enabled mobile device
Southern Nevada: 455-4509