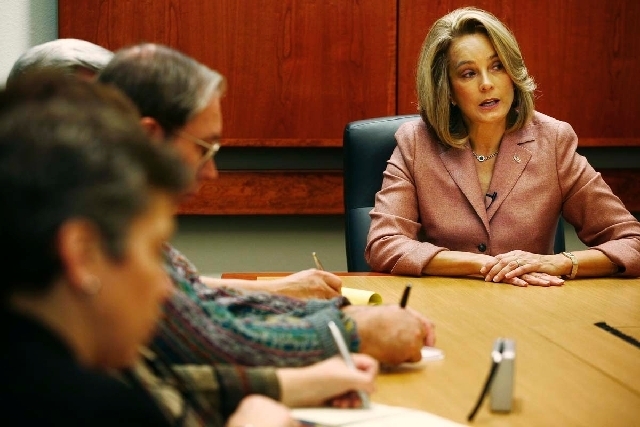 The race for lieutenant governor is heating up with the two Republicans vying for the office, Sue Lowden and Mark Hutchison, trading jabs for donating to Democrats in the past.
Hutchison's campaign said Lowden's biggest political sin was giving a total of $5,000 to U.S. Sen. Harry Reid, D-Nev., the Republican Party's long-time nemesis.
Lowden's camp countered she has given nearly $100,000 to federal and state GOP candidates and causes, including to Gov. Brian Sandoval, who has endorsed Hutchison for lieutenant governor in 2014.
Hutchison's more than $7,000 in Democratic donations from himself or his law firm went to judges running in non-partisan races, his campaign said in his defense.
Although the lieutenant governor's job is only part-time, the race has become the focus of intense competition because of speculation that Sandoval might not finish his four-year term if he's re-elected in 2014. Instead, he could run for the U.S. Senate or accept a Cabinet post if a Republican wins the presidency. He's also been mentioned as a potential vice presidential candidate in 2016, although he has said he loves his job as governor.
Sandoval anointed Hutchison, but Lowden decided to take on the state senator from Las Vegas anyway in the June 10 primary. The general election is Nov. 4.
According to fundraising records, Lowden, a former state senator, former chairwoman of the Nevada Republican Party and failed U.S. Senate candidate, contributed at least $10,500 to prominent Democratic candidates in the 1980s and 1990s.
Half of that total, or $5,000, went to U.S. Sen. Harry Reid, D-Nev., in $1,000 increments — or the maximum contribution allowed by an individual at the time.
Lowden also contributed $2,000 to former U.S. Sen. Richard Bryan's campaign. And Lowden gave $3,500 to former U.S. Rep. James Bilbray, D-Nev.
Hutchison's campaign released the financial information on Lowden's contributions and put together a 15-second video that features Reid telling "Face the Nation" "I get a lot of support from Republicans of Nevada and always have had."
When Reid ran for re-election in 2010 a group called "Republicans for Reid" backed him. Lowden ran in the GOP Senate primary that year, but lost to Republican Sharron Angle.
"Sue's contributions to Harry Reid are more than she's given to these Republicans combined: Mark Amodei, Joe Heck, Brian Krolicki, Dean Heller, Brian Sandoval," the video says.
Amodei is a congressman from Northern Nevada. Krolicki is lieutenant governor and can't run for re-election because of term limits.
More recently, however, Lowden and the company she and her husband own, Archon Corp., have donated nearly $100,000 to GOP candidates and entities. A person close to her campaign released a list of her GOP contributions.
"Sue has given far more to GOP candidates then Democrats. Just look at the records," Lowden's campaign manager Tom Letizia said. "I don't think there is anyone who doubts her loyalty to the Republican Party."
Lowden's largest donations included a total $21,450 to the Nevada Republican Party, $9,500 for former Clark County Commissioner Bruce Woodbury and $9,000 to former President George W. Bush. She also gave $5,000 each to former Gov. Jim Gibbons and to Victory 2008.
Lowden also donated $4,750 to former U.S. Sen. John Ensign, R-Nev., and $1,000 each to Sandoval for his 2010 gubernatorial bid, U.S. Rep. Joe Heck, R-Nev., U.S. Sen. Dean Heller, R-Nev., who also endorsed Hutchison, and former GOP presidential candidate Mitt Romney,
The Lowden loyalist also released a list of Hutchison's $7,052 in Democratic donations from his law firm.
Hutchison's contributions ranged from $175 to $1,598.28 for an in-kind donation to Elissa Cadish in 2008. The firm also donated another $1,000 to Cadish's campaign.
Last year, President Barack Obama withdrew Cadish's nomination for U.S. District Court in Nevada after Sen. Heller blocked her from getting a Senate confirmation hearing. Reid supported Cadish, but Heller objected to a statement she wrote that she believed there was no individual right to keep and bear arms.
Other judicial candidates Hutchison donated to included Nancy Lee Allf, Gloria Sturman, Carolyn Ellsworth, Jerry Tao, Deborah Lippis, Willard Ewing, Ann Zimmerman, Caren Jenkins and Kerry Louise Earley, according to financial records.
"Mark has given to a few individuals running in nonpartisan judicial races," Hutchison's campaign said Monday in a statement. "In no way does this compare to maxing out to Harry Reid five times, which is more than she has donated to Governor Sandoval, Senator Heller, Congressman Heck, Lieutenant Governor Krolicki, and Congressman Amodei, combined. Sue Lowden was the original Republican for Reid, her contributions helped elect him to Congress and then the U.S. Senate."
Hutchison's own financial reports also have received recent scrutiny, prompting him to amend them.
The Constitution Party of Nevada filed a complaint with the secretary of state's office, saying Hutchison's company donated more money to his campaign than allowed. The limit is $5,000 for the primary and $5,000 for the general, or a maximum total of $10,000.
But Hutchison & Steffen LLC donated a total of $11,125.78 to his campaign, the complaint said. Hutchison returned the excess donation last week, his campaign said.
Hutchison also amended a state report to list a $15,000 trip to Israel as a "gift," after the Las Vegas Sun did a story noting that he and other lawmakers who went on the trip didn't report it. The Legislative Counsel Bureau had told the lawmakers they didn't have to report the trip as a gift — a term that isn't defined in Nevada law.
As for Lowden, she has come under heavy criticism because of about $500,000 in debt left over from her 2010 campaign. In January, she filed a debt settlement plan with the Federal Election Commission to settle bills owed to 14 companies or individuals. Lowden remains in litigation over a $77,796 disputed charge.