Little-known law stops some Muslims from obtaining US citizenship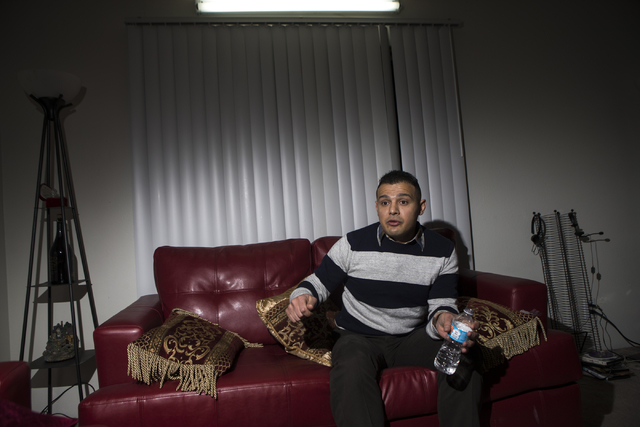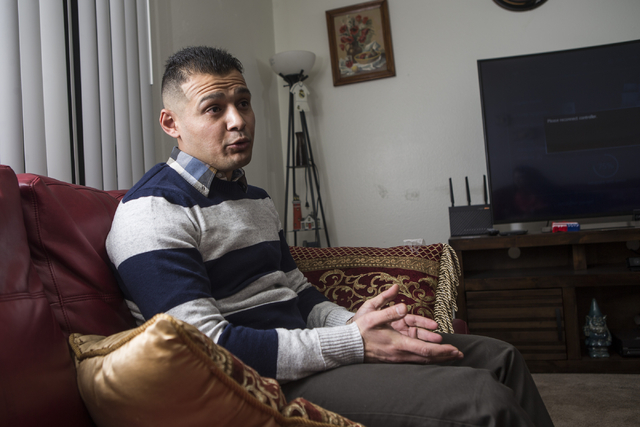 Mohammad Al-Falahi had just gotten home from work and was about to take a shower when two detectives showed up at his door.
At least one of them was on the Southern Nevada Joint Terrorism Task Force with the FBI in Las Vegas.
Al-Falahi claimed one of the detectives wanted him to inform on another man who lived in the same apartment complex. Both men were from Iraq.
This happened in early 2014, about a week after Al-Falahi had his first U.S. citizenship interview, which lasted about 90 minutes, three times longer than most.
The now 30-year-old aviation student from Las Vegas was confounded by the sudden mysterious activity surrounding him.
And that was just the beginning.
His citizenship case was delayed and he couldn't get answers as to why. Al-Falahi hired an attorney and filed a lawsuit in federal court. He and his attorney say he was asked by immigration officials to drop the lawsuit in return for another interview.
After he did so, his second interview lasted about two hours, but still nothing happened.
Al-Falahi was notified in mid-January his U.S. citizenship had been denied after his attorney, M. Edwin Prudhomme, appealed an intent to deny notice in November.
"They were harassing me for two years with no reason just because my name is Mohammad and I'm from Iraq and I'm Muslim," said Al-Falahi, who claims the treatment is a result of his refusal to be an informant. "Is it a crime that I'm from Iraq and my name is Mohammad?"
The Las Vegas Review-Journal was able to confirm that one of the two detectives who visited Al-Falahi is on the Southern Nevada Joint Terrorism Task Force, but he declined to comment.
Al-Falahi's case is not unusual in the Las Vegas area, where other Muslims have similar experiences but never learn why they were treated differently.
Many believe they're caught up in a little-known program called Controlled Application Review and Resolution Program, or CARRP. It was established in 2008 by the U.S. Citizenship and Immigration Services to "ensure that immigration benefits or services are not granted to individuals who pose a threat to national security and or public safety, or who seek to defraud" the immigration system, according to Immigration Services officials.
A total of 41,805 CARRP cases nationwide have been opened since the program's implementation, according to records obtained by the newspaper through the federal Freedom of Information Act.
The top five countries of birth for individuals affected by CARRP since 2008 are Pakistan, Iraq, India, Iran and Yemen, according to the records.
UNUSUAL TREATMENT
A typical process to become a U.S. citizen takes 90 to 100 days, said Prudhomme, who has been handling immigration cases for more than 50 years. It's also rare for interviews to last more than 30 minutes, or for multiple interviews.
"I think only once in the 50-plus years have I had more than one interview," Prudhomme said.
But Prudhomme said he has been seeing a string of delays in cases involving Muslims, with several exceeding 18 months. He said he didn't understand why until learned about the Immigration Services program.
CARRP's methods of identifying "national security concerns" are flawed and sometimes based on religion, national origin and profiling by association, the American Civil Liberties Union of Southern California said in a 2013 report based on Immigration Services documents it obtained through a series of Freedom of Information Act requests.
"Predictably, the … program not only catches far too many harmless applications in its net, but it has overwhelmingly affected applicants who are Muslims or perceived to be Muslim," the report says.
Citizenship applications are flagged as threats without informing the individuals, whose applications are delayed and sometimes denied, the organization found.
Little else is known about the program, said Tod Story, executive director of the Nevada ACLU.
"This is one of those programs that has been kept in secret," he said in January.
The ACLU considers the program a civil rights violation, and says the program shifts authority mostly reserved for Immigration Services to federal law enforcement, in particular the FBI.
"The FBI is not required to tell them they are on the list," he said. "They basically don't hear anything from the Immigration Services. They don't know why their application is in limbo, and nobody has to tell them why."
Maria Elena Upson, an Immigration Services regional spokeswoman, said her agency is unable to discuss individual cases, and she wouldn't be able to confirm or deny if local cases had been flagged under the program.
A request to interview Jeanne M. Kent, Immigration Services director in Las Vegas, was denied.
Al Gallmann, director of the agency's Western District, did not respond to requests for comment.
The FBI did respond, but said only that it "does not originally confirm or deny the existence of an investigation."
GROUNDS FOR DENIAL
Al-Falahi, at least, was able to find out why his application was denied: Immigration Services officials said records show he gave false testimony about membership in the Baath Party, which ruled Iraq before the 2003 invasion that toppled dictator Saddam Hussein, and his explanation of why he fled his country conflicted with his refugee interview.
During his citizenship interviews, Al-Falahi was asked if he was a member or sympathizer of the Baath Party or any other organization in Iraq.
A transcript of the interview shows he answered, "No, but I have an addition. If you went to (go to) school in Iraq, you must sign for Baath. It's like a mandatory thing to sign for it."
He wrote the same thing in a 2008 refugee application he filed in Beirut, and explained that he left because of the war and he needed to provide for his family. Records related to that application say Al-Falahi "states that during his intermediate studies it was required that he join the Baath Party in order to continue his studies." And although he "registered, he never attended any meetings nor did he make any payments towards the Baath Party."
That was about 15 years ago, he said, when he was still under his parents' guardianship in Baghdad.
But Immigration Services said Al-Falahi failed to disclose "previously claimed ties to the Baath Party" during his first citizenship interview. "Failure to disclose your Baath Party membership and provide credible explanation for such was considered false testimony" the denial letter reads.
Story said officials are using Al-Falahi's owns words to punish him since he disclosed the information, but should instead focus on finding evidence such as donations or records that indicate his client was ever active in the Baath Party.
"I think it's illustrated as to why the program is problematic," he said. "That's why the program has to be reformed; whether it's reformed by (Immigration Services) or Congress intercedes or the executive branch, somebody needs to do something."
HE'S NOT ALONE
Nasser Karouni, 45, a Lebanese Muslim who lives in Las Vegas, didn't know why his citizenship process was different than most people's until he found out about CARRP.
"That pretty much cleared up many questions," he said.
He applied in 2011 and passed his citizenship test in 2012, but then went through a three-year nightmare that included a 2012 FBI polygraph interrogation, extra security checks, questioning at airports and no answers. A few weeks after the test, he received a summons to meet the FBI the following day. After an hour of questioning, he agreed to the agent's request that he sit for a polygraph examination.
"I am clear, I sit down, no problem for me," he said in broken English.
The Review-Journal obtained a partial transcript of the interview, which is normally considered confidential, that was declassified in 2014. The transcript shows that agents sought information about Hezbollah, a Shiite militant group operating in Lebanon, and Hamas, a Palestinian Islamic political party with an armed wing, and Islamic Jihad.
"No, God forbid," he responded.
His case languished for two more years, but on Aug. 8, 2014, he became a U.S. citizen.
But his son, Haidar Karouni, 20, is now seeing the same stalling action. He applied to become a U.S. citizen almost a year ago and was fingerprinted in spring 2015, but his case has stalled since.
Under CARRP, applicants are to be labeled a security concern based on national origin or if they have traveled through or resided in areas of "known terrorist activity," according to the ACLU report.
But for the Karouni family, that means automatic designation even for routine travel such as a family visit to Lebanon last summer or Nasser Karouni's 2011 pilgrimage to Mecca, Saudi Arabia, which is required at least once in the life of all able Muslims.
Applicants also make the security list based on their profession, if they wire money to families in their home countries, if their names appear on an FBI file related to a national security investigation even if they were not the subject of the investigation, or if they have voluntarily given interviews to the FBI, according to the ACLU report.
The Karouni family has lived in Las Vegas since 2006. In April 2009, Nasser Karouni opened Afandi Market and Restaurant on West Charleston Boulevard with his friend Ghazwan Salem, an Iraqi Christian. Karouni's family had a butcher shop in Lebanon. He met Salem while working at another butcher shop in Las Vegas before the pair decided to open their business.
Salem, who became a U.S. citizen in 1999, said he didn't experience any issues during the process, has been there for the Karounis through their struggles.
"The story that we lived with his (Karouni's) situation, we are reliving it with his son," Salem said. "With his situation we didn't know what was going on."
U.S. Rep. Dina Titus, D-Nev., said she's aware there is a lack of public access to CARRP data for national security reasons.
Federal officials have said the agency doesn't track reasons for the delay or denial of an application associated with CARRP; monitor the program on a state-by-state basis; or track religious affiliation of people under review.
"That's why my office looks at everyone on a case-by-case basis," Titus said. "We are available to review instances where constituents think they were not given full consideration for legal residency status by (Immigration Services) or other federal agencies."
Story, the Nevada ACLU official, questioned whether immigration officials can know if CARRP is working if key information isn't tracked.
"If they can demonstrate that it has worked, it needs to be brought to light," he said.
Prudhomme said he's preparing to take Al-Falahi's case to federal court. His office met with Nevada ACLU officials last week to discuss the case.
The ACLU of Southern California says it might file a class-action suit of which Al-Falahi would be a plaintiff this year.