Lives go on here and there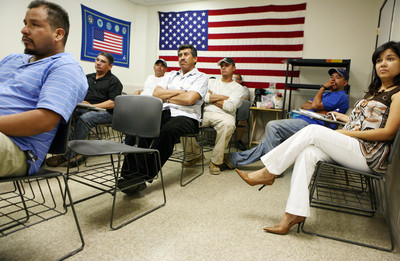 Baker Jaime Lopez loves his life in Las Vegas, where he has lived for more than two decades and has built a successful business.
But a piece of his heart will always remain in his hometown, the small village of Coatlancillo in the Mexican state of Jalisco.
"There are so, so many memories," Lopez said recently during a break from his work at La Mexicana Bakery at Eastern and Stewart avenues. "My parents and the majority of my family still live there."
Lopez says he stays connected to Coatlancillo through his local "hometown association," a term used to describe immigrant groups that band together in the United States based on shared origins.
Thousands of such groups exist nationwide, and are proliferating as global migration increases, according to the Migration Policy Institute, a nonpartisan agency that studies the movement of people worldwide.
The institute this month released a study that, in part, challenged the idea that hometown associations keep immigrants from fully integrating into their new communities.
"Policymakers may view (hometown associations) as signs of insularity in immigrant communities and worry that such organizations act as obstacles to their members' successful integration," the report said.
The opposite is actually true, it said.
In addition to offering information about support services for immigrants, many of the typically informal, volunteer hometown associations offer language classes, day care and citizenship education. They also help fund basic improvements in the often poor, rural hometowns of immigrants.
The 60 members of Club Coatlancillo, for example, have in the past several years raised about $30,000 to help build a road and remodel a health center, school and community garden in the town, Lopez said.
Funding projects that improve the quality of life for his hometown's residents "helps a lot with the homesickness," Lopez said.
Exactly how many hometown associations exist nationwide is unknown, but the number of Mexican associations is greater than for other nationalities. Estimates for the number of Mexican hometown associations active in the United States range from 600 to 3,000.
About 180,000 foreign-born people of Mexican origin live in Las Vegas. Many are still linked to Mexico economically, by family and friends or, at least, sentimentally.
"We want to help take care of our hometowns," said Reveriano Orozco, coordinator of clubs for the Federacion de Clubes Michoacanos Unidos in Nevada, a group of about 550 people who hail from the Mexican state of Michoacan.
"We're here to celebrate our culture, but be American also."
Orozco has blended his origins with his life in America. While he lives in Las Vegas, Orozco also serves in the Mexican Congress, working part-time as an alternate representative for Mexican immigrants in the United States. He takes regular trips to see to his duties there.
Orozco's hometown association has helped fund 70 projects in Michoacan, including helping provide towns with computers, ambulances, hospital equipment, schools and streets.
Hometown associations have spearheaded many such projects by taking advantage of Mexico's "three-for-one" program, which lets people living in the United States send money to their home communities and receive matching funds from the Mexican government on federal, state and municipal levels for projects that help develop a community's infrastructure.
Billions of dollars are sent each year from immigrants in the United States to mostly poor, rural areas in Mexico. Historically, most of the money has been sent from one family member in the United States directly to another back home.
The idea behind the three-for-one program is to channel money toward improving education and economies in poor Mexican towns so that inhabitants won't have to cross the border into the United States in search of work.
The program, initiated in 2002 by the Mexican government, allows hometown communities to be in charge of development projects. The government's contribution comes only in the form of matching funds.
"In areas of extreme poverty (in Mexico), people don't have educational and other opportunities," Orozco said. "We want to change that, to do better for the people there."
Orozco said that in addition to helping their cities of origin, members of hometown associations in the United States provide safe and familiar settings in which migrants can get help adjusting to their new communities.
The groups also bolster political participation and civic involvement, fight for civil rights and help support the fledgling businesses of members.
Contact reporter Lynnette Curtis at lcurtis@reviewjournal.com or 702-383-0285.