LIVES IN RUINS AFTER KILLING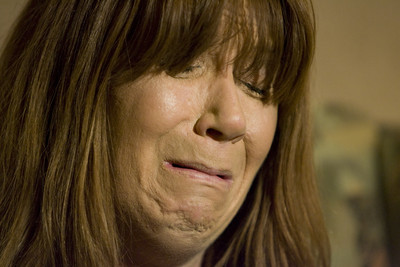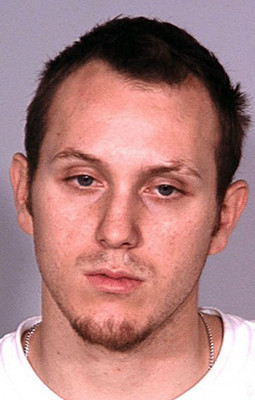 As one young man was eulogized and another clung to life Wednesday, the man fingered by police as the triggerman in last weekend's drive-by shooting sat in a jail cell claiming no memory of the fatal event.
"I don't remember doing it, but I guess all the evidence points to me," Jessie James Cole told a jailhouse medical screener after his arrest, according to a police report.
Las Vegas police booked the 21-year-old late Tuesday on charges that include murder and attempted murder in connection with the early Sunday shooting at Bob Baskin Park that killed 18-year-old David Miramontes and wounded 19-year-old Christopher Luscombe, who remained in critical condition Wednesday at University Medical Center.
Detectives have no doubt that Cole was the man who fired into a crowd of people gathered at the park, homicide Lt. Lew Roberts said.
"He's responsible for it," Roberts said. "He will have to live with this for the rest of his life. The victims' lives are ruined. It's a senseless shooting that didn't have to happen."
Investigators believe the shooting was in retaliation for a fight at a party earlier that night.
Cole is being held without bail at the Clark County Detention Center.
Homicide detectives linked him to the shooting through a combination of witness statements and ballistics evidence that connected spent .40-caliber bullet casings found at the park to those found in Cole's bedroom and at the site of the party, where several gunshots were fired during the fight, the report said.
Miramontes and Luscombe were both at the party at 6561 Gossamer Fog Ave., near Rainbow Boulevard and Windmill Lane, Roberts said.
Detectives were unsure if either victim was involved in the melee at the house, but Roberts said neither of them was targeted by the gunman, who fired indiscriminately into a crowd.
The melee began about 9:30 p.m. Saturday when Thomas Strawn, 22, grabbed Nikole Ornstein as she fought with another girl, the police report said. That angered a group of Ornstein's friends, and the fight ballooned to involve multiple partygoers of both sexes, the report said.
During the fracas, Nick Caldarola hit Strawn in the face with a lacrosse stick, and Kody Fitzgerald hurt her wrist, the report said. The fighting stopped when someone fired several shots into the air, police said.
Fitzgerald and Strawn went to Centennial Hills Hospital for treatment.
Ornstein and about 20 others drove to Baskin Park, where they exchanged threats via cell phone with Strawn's friends, police said.
Miramontes was sitting in the back seat of a car in the parking lot when a dark-colored Scion coupe pulled up about 3 a.m. Eight shots rang out from the driver's side of the Scion. Miramontes was shot in the head. Luscombe, who was standing nearby, was shot in the chest.
Luscombe's condition is grim, Roberts said. "He might not make it," he said.
Several witnesses identified a man named "J.J." as the person who fired shots into the air to break up the fight at the party, the police report said. Detectives identified "J.J." as Cole, who is the registered owner of a .40-caliber Glock semi-automatic handgun and a dark Scion that fit the description of the gunman's car, the report said.
Cole is a close friend of Strawn's, police said.
Detectives obtained a search warrant and on Tuesday afternoon searched Cole's house at 5501 Lonesome Biker Lane, about five miles north of the party house. Inside they discovered his disassembled gun hidden in the oven with the barrel missing, the police report said.
They also found a spent .40-caliber bullet casing on a nightstand in Cole's bedroom and noticed that the interior and exterior driver's side of his car appeared to have been wiped down, the report said.
Ballistics comparisons matched the casing in his room to four casings found at the park and another at the scene of the party, the report said.
Chi Lam, a friend of one of Cole's roommates, told police he was at Cole's house about 1 a.m. Sunday when he overheard Cole telling someone to meet him at Oakey park, the report said.
Baskin Park is at 2700 W. Oakey Blvd. near Rancho Drive.
When he was first interviewed by police, Cole said he was at the party but did not see who was fighting or who fired the gun in the air, the report said. He told detectives he went home after the fight and went to sleep.
Police initially arrested Cole on drug charges after finding a white medicine bottle holding more than 300 pills, clear plastic baggies and a digital scale in his closet during the search, the report said. The substance was not identified.
While he was in jail, Cole told staffers he didn't remember much of what happened that night.
"I was at this party and was drinking a lot, and these guys got lacrosse sticks and started beating/fighting people with them, and I remember leaving to go home and then waking up," he said, according to the report. "I had a lot of phone calls and text messages the next day on my phone. I don't remember anything."
During an interview Wednesday outside the 3,500-square-foot house where the party took place, Strawn blamed the melee on a group of high schoolers who crashed the party. Strawn, a friend of Cole's for eight years, said about 20 teens showed up uninvited and started trouble with the roughly 30 adult friends of the home's residents.
Strawn angrily denied the police account that he grabbed one of the high school girls involved in a fight. He said he never saw the fight between the girls, which witnesses said started when two high school girls attacked a friend of one of the home's residents.
A 17-year-old Basic High School student who is friends with Luscombe told the Review-Journal on Monday that Luscombe said he had thrown a girl to the ground as she fought with one of his female friends.
Strawn said he was attacked when he went outside to help a friend who was being threatened by a boy with a lacrosse stick. Strawn broke up the confrontation and was headed back to the house when he was hit from behind, he said.
He received 10 stitches to his right cheek and cuts on his back from the attack, which he believes involved two or three boys with lacrosse sticks.
"I feel like a victim," Strawn said. "I ran outside to break up a fight, and I'm the one who ended up getting jumped."
Strawn also took issue with the police report's contention that his friends had threatened the group at the park.
"They were threatening my friends," he said. "They said they were going to kill my friends."
Strawn said police confiscated three of his friends' cell phones with messages that will prove which group had instigated the conflict.
He said he's sorry his friend is in jail. But when the park shooting happened, Strawn said, he was in the hospital and didn't know about it.
"If he's guilty, he's guilty," Strawn said. "If he's not, he's not."
Contact reporter Brian Haynes at bhaynes@reviewjournal.com or 702-383-0281.
RELATED STORYMother: Son was gentle giant who shunned spotlight