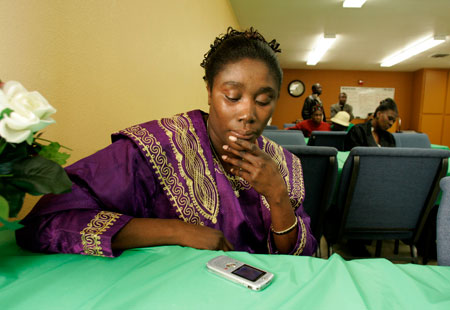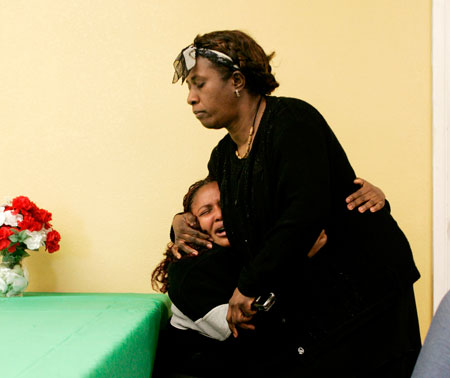 Emmanyela Jean-Louis burst through the doors of the First Baptist Church, sobbing uncontrollably as she received the news that a loved one died in Tuesday's catastrophic earthquake in Haiti.
Another woman sat at a table rocking back and forth, staring into space, clutching a tissue and wailing, "Oh God, oh God, oh God."
In the small church at 4400 W. Oakey Blvd., a handful of local Haitians found comfort today in sharing each others' misery, arms around one another in hugs and in prayer as they learned of relatives who had perished or disappeared in the 7.0-magnitude quake that devastated the capital city of Port-au-Prince.
Some lamented that family members were suffering while they were safe.
Most had tried calling relatives for a solid 12 hours as phone lines were jammed and Internet connections broken.
Perode Charles said she stayed up all night crying after work worrying about her 24 brothers and sisters, all of whom live and go to school in and around the capital.
"I'm so worried about that," the 32-year-old said. "My brother called me yesterday before the earthquake to get money around noon, and I told him to call me back later because I was sleeping. I haven't heard from him since."
Charles said she is hoping to find out some good news but is "expecting to hear bad news."
"It is what it is," she said.
The National Palace, hospitals, schools and other buildings have crumbled in the Caribbean nation.
According to reports, the death toll could reach more than 100,000 and about 3 million people or more are in need of assistance.
The U.S. Geological Service reported the quake had a depth of at least 5 miles and spawned dozens of aftershocks, some reaching 5.0 in magnitude.
Busy phone lines and packed flights to Haiti made it impossible for Jeanot Jean-Charles to check on his family.
The 47-year-old Las Vegas resident, one of 3,000 to 4,000 Haitian immigrants living in Las Vegas, heard from a relative who was able to make a phone call this morning.
But Jean-Charles said he was anxiously waiting by his cell phone for word on his brothers, sisters, nieces and nephews. Most of his relatives live in the northern part of the country, and he was hoping they're safe.
"I haven't heard from my family," he said. "I don't know what's going on right now."
A friend at work texted Jean-Charles that an earthquake had hit the poorest country in the Western Hemisphere.
Jean-Charles said he saw the extent of the quake's damage on CNN.
"I'm wondering if I can get a flight next month," Jean-Charles said. "I tried to book a flight, and I cannot find an open seat anywhere."
Until then, "I'm just waiting to see if anybody's going to call."
His younger brother, Benoit, said their grandmother, who lived in the city, had been killed.
Most who attended the church meeting sat in disbelief and cried. But the tears stopped as they rallied together to create the Las Vegas Haitian Disaster Relief Committee to figure out how to collect donations to help the earthquake victims.
Samuel Pierrot, secretary of the Haitian Community Las Vegas Association, said his sister's home was destroyed. He has yet to make contact with her but was told from a friend, who had spoken with her online, that his sister is alive and staying with a family friend.
"The country is completely destroyed," Pierrot said. "And we need to all sit down and get together and figure out what to do because we were unprepared. But if we can all sit down and talk together, we can create unity and see where we're at. We're all involved."
Contact Kristi Jourdan at kjourdan@reviewjournal.com or 702-383-0279.
DONATIONS FOR QUAKE VICTIMS
Several organizations are taking donations to provide disaster relief from Tuesday's earthquake in Haiti.
—American Red Cross officials are telling people to call the State Department at 1-888-407-4747 or 202-647-5225 until they get through to check on the status of family members.
—The Southern Nevada Chapter of the American Red Cross is accepting donations, although it has not been asked to send any volunteers. For more information visit online at www.redcross.org or call 1-800-RED-CROSS.
—The Las Vegas Haitian Disaster Relief Committee is accepting donations. Call Kenson Desinor at 702-406-0290 to find out what is needed.