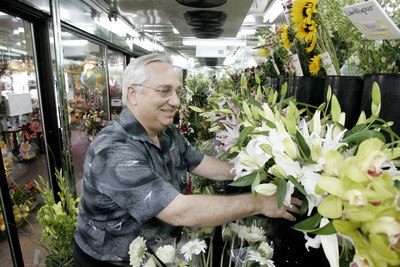 The top Small Business Administration official in Nevada said Monday that President Barack Obama's small-business aid package will be a particular boon to the once booming and now deflated Nevada economy, but at least two local business owners disagreed.
The president's plan will be a "significant catalyst" and help restore confidence, which has collapsed during the downturn in the Silver State, said John Scott, Small Business Administration district director for Nevada.
"It's a win-win situation," Scott said. "It's a win for the American people because it's going to start and sustain a number of small businesses out there," which create most new jobs.
Scott commented as Obama freed billions of dollars to help the nation's small businesses on Monday, hoping to get credit flowing again to Main Street, not just Wall Street.
The centerpiece of Obama's latest plan will allow the government to spend up to $15 billion to buy the small-business loans that are now choking community banks and lenders. That, in turn, could allow those banks to start lending money again to small companies to invest, pay bills and stay afloat.
"You deserve a chance. America needs you to have a chance," Obama said in an appeal to all those who run small businesses or hope to one day.
The package is designed to increase SBA-backed lending, which will could help banks and borrowers. It also provides tax benefits to businesses.
But one local business person is skeptical.
"I don't know how it's going to help a small business my size," said Chad Stone, chief executive officer of PC 911, which employs six workers who fix computers for consumers and businesses and install telecommunications systems for businesses.
The new SBA program is "more for a start-up or expansion, not making payroll," Stone said.
Stone said he is doing OK, because PC 911 is almost debt-free and consumers are calling for computer repairs, rather than buying new computers. Some of his business clients are going through hard times, however.
"A business that's struggling right now doesn't have four to six weeks to wait for (an SBA) loan," Stone said.
Many small businesses need loans just to make payroll at the end of the week, he said.
One large client, which he declined to identify, mortgaged his home to make a $100,000 weekly payroll rather than trying to get a commercial loan, Stone said.
"The strongest action Washington can take in the interest of small business today is to initiate some sort of payroll tax holiday," Stone said in a later e-mail. "That puts dollars in the pockets of every business and, in my view, could have at least a modest jump start effect on the economy."
Another small-business person was skeptical of the plan.
"We can use all the help we can get," said John DiBella, owner and operator of DiBella Flowers & Gifts with his wife. "Our business is down."
"We're going to hang onto our (15) employees come hell or high water," he said.
DiBella said he was unconvinced that complex tax benefits outlined by Treasury Secretary Timothy Geithner would help him.
"Basically, it sounds a little complicated. It needs a lot of clarification," DiBella said.
In clarifying the program, Scott pointed to one key provision: Investing up to $15 billion in federal money in the secondary market for SBA loans.
Investors, such as pension funds, sovereign investment funds and even wealthy individuals, purchased the government portion of SBA-guaranteed loans in the past, Scott explained. That enabled banks to sell large portions of their SBA loans and to use the proceeds for more loans. Banks could profit by selling the government-guaranteed portion at a premium and also from servicing the SBA loans, he said.
However, the market for SBA-guaranteed loans dried up about the time of the debacle in subprime residential mortgages, he said.
By investing federal money in the guaranteed portion of SBA loans, the government will enable banks to make more SBA loans again, Scott said.
"This will make significant strides to unlock the otherwise frozen credit markets out there," Scott said.
In addition, the government will guarantee up to 90 percent of the typical SBA 7(a) loan, compared to 50 percent to 80 percent previously. That reduces the risk banks take when they make SBA loans.
The program eliminates SBA loan fees for banks and borrowers until year-end or until federal money is exhausted, Scott said.
He calculated that a business borrowing $2.5 million under the SBA 204 loan program for long-term equipment or real estate investments could save $15,000 in fees. The bank could save $6,250 fees, he said.
The small business program also contains tax benefits for small businesses.
Geithner ordered the Internal Revenue Service to issue a series of new rules for temporary but significant tax breaks, meaning that small businesses:
• That earn up to $15 million will be allowed to claim losses for the past five years in the current tax year;
• May write off up to $250,000 in investments this year.
• Can reduce estimated tax payments to 90 percent of the previous year's filing.
• Are allowed to take larger depreciation deductions within the first year of property purchases.
• And will see 75 percent of capital gains excluded for those who invest in small businesses.
DiBella was not persuaded of the benefits. The florist said government programs usually do not work in the free enterprise system.
"Somehow it always back-fires and comes back to bite us in the rear," he said. He remains optimistic that the economy will rebound anyway.
The Associated Press contributed to this report. Contact reporter John G. Edwards at jedwards@reviewjournal.com or 702-383-0420.