September 21, 2008 - 9:00 pm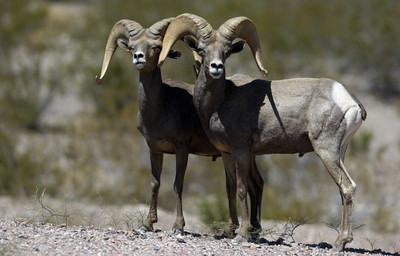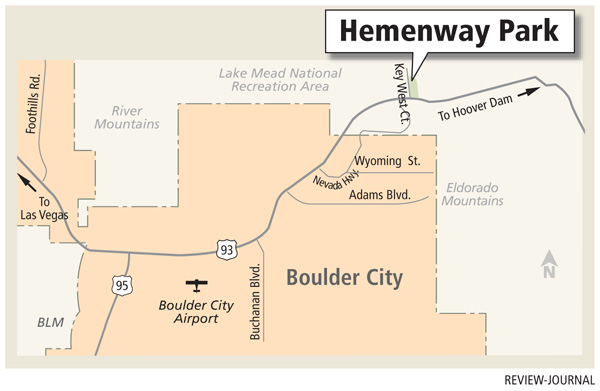 With its green grass and close proximity to the River Mountains, Hemenway Park in Boulder City is a popular spot for desert bighorn sheep and the tourists who want to see them.
Lately, though, Nevada's state animal has horned in on the place like never before.
In growing numbers, they foul the sidewalks, drink from the water fountains and wander into traffic on nearby U.S. Highway 93.
"The herd is as large as I've seen it in 10 years," said Scott Hansen, Boulder City's director of public works.
On Wednesday, Hansen sent a letter to state wildlife officials requesting a reduction in the number of sheep that frequent the park.
At times this summer, the herd has swelled to more than 80, making it all but impossible for city maintenance crews to keep the sidewalks clear of sheep droppings.
But traffic safety is the larger concern, Hansen said.
In addition to the dangers posed by sheep crossing the highway, city officials fear what could happen as more and more motorists pull over or slow down in the travel lane to watch and photograph the herd.
Boulder City police officers have taken to chasing the animals away from the road to reduce the threat.
Even before Hansen's letter, though, the Nevada Department of Wildlife was well aware of the problem, spokesman Doug Nielsen said.
Department biologists already were planning to count the herd by helicopter in the next two weeks, and follow that up with a roundup in late October.
But there is no guarantee that such a capture will reduce the number of animals in Hemenway Park next summer.
"We don't know if (the ones being caught) are the offending sheep, if you will, or if they are the ones that are minding their own business up in the hills," Nielsen said.
Lance Flanagan lives just above the park, next to a rocky slope where the sheep often gather to sleep at night. He said the animals are a great source of free entertainment, especially this year's group, which is the largest he has seen in 11 years.
"Over the weekend, my wife and I were out on our porch watching the sheep. The police were out there all along the road going down to the lake, and they actually had to scare them away, put their sirens on and scare them away from the road," Flanagan said. "They ran them almost right up to our house."
Greg Heilman, who lives two streets over from Flanagan, said this crop of sheep seems different than the ones from years past. These animals are staying down near the park all the time, even at night when they used to retreat back into the hills.
"I'm curious to see what they do in the winter," Heilman said.
That's when the sheep generally abandon the park and disperse into the mountains around Boulder City and Henderson.
During next month's roundup, wildlife officials hope to net about 25 animals by helicopter and transfer them to a spot in Lincoln County where the department has been trying to establish a herd since 1997.
A similar number of sheep were removed from the herd during a roundup in December.
Wildlife officials are reluctant to take too many animals at one time, Nielsen said.
"We don't want to be too aggressive about it. We want to manage that population as a healthy, viable herd."
As for how big a problem bighorn sheep truly pose, Nielsen said it "all depends on who you talk to."
Some people consider the animals a nuisance, and "some people get very mad anytime we do a capture. They can't believe we'd take their sheep," he said.
Short of getting rid of all the delicious grass in Hemenway Park, there probably isn't much that can be done to keep the sheep away completely.
The animals belong to a larger herd, roughly 210 adults by last count, that has seen its traditional range squeezed on all sides by roads and residential development.
With nowhere else to go, why not hang out in the park?
"We've basically got a beautiful smorgasbord for them," said Nielsen, a former game warden who writes an outdoor column for the Review-Journal.
Eventually, though, something has to give, Hansen said.
Already, rams have destroyed trees in the park by basically rubbing them to death with their horns. And after a wedding there in early August, the bride complained that her party felt "intimidated" by the herd, which seemed reluctant to give any ground for the nuptials.
"They're not like your typical wild animals where if they see you they run off," Hansen said.
Even so, he said, people generally seem to like having the sheep around.
"And I do too, when there's a half dozen or a dozen of them," Hansen said. "When it becomes 50 or 60, it's just too much for that area to handle."
Contact reporter Henry Brean at hbrean @reviewjournal.com or 702-383-0350.