Los Angeles mayor says Romney win would 'stop this country in its tracks'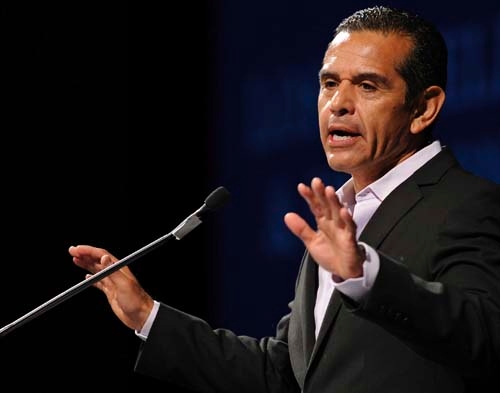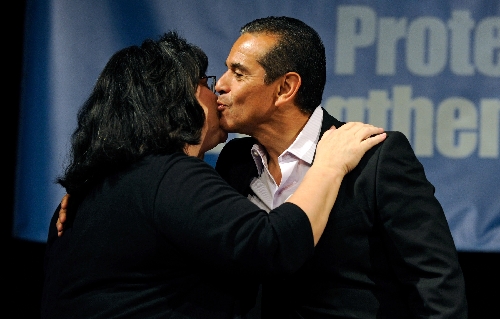 Los Angeles Mayor Antonio Villaraigosa on Saturday warned Nevada Democrats that if Mitt Romney wins the White House, the United States will lose economic gains, health care coverage for the uninsured and equal rights for women promoted by President Barack Obama.
"Mitt Romney and the right wing will stop this country in its tracks," Villaraigosa said, speaking to the Nevada Democratic Party Convention.
The mayor said Republican leaders in Congress have blocked every "common sense solution" Obama has offered to create jobs and help the economy recover from the worst recession since the Great Depression that he inherited as he took office in 2009.
Villaraigosa said the GOP has blocked bills to guarantee equal pay for women and access to contraception. And Republicans have vowed to repeal the president's health care insurance reforms.
"It's a different party. They've given up on governance in favor of ideology," Villaraigosa said of the GOP. "They've actively opposed every common sense solution" to boost the economy.
The L.A. mayor was the keynote speaker at the state party's convention at Bally's in Las Vegas. The Hispanic leader is chairman of the Democratic National Convention to be held in Charlotte, N.C., at the end of the summer after the Republican National Convention in Tampa, Fla.
The state convention comes three days before Nevadans head to the primary election polls Tuesday to vote for Democratic and Republican party nominees for Senate, Congress, legislative races and others.
Nearly every top elected Democratic official and candidate attended the convention, but the Bally's ballroom was only about half full.
Some 562 delegates attended the convention, which will elect 44 delegates to the national convention and take care of other business.
That compares to more than 1,600 delegates who attended the Nevada Republican Party Convention held last month in Sparks.
The GOP event was torn by rifts between Romney supporters and those backing U.S. Rep. Ron Paul of Texas for president, boosting attendance as the two sides fought for power and national delegates.
At Saturday's state convention in Las Vegas, the Democrats were united behind re-electing Obama, who won Nevada in 2008.
Many of the speakers proclaimed there is no "enthusiasm gap" in the party, although attendance at the meeting appeared poor.
U.S. Senate Majority Leader Harry Reid, U.S. Rep. Shelley Berkley, outgoing state Senate Majority Leader Steven Horsford and Assembly Speaker John Oceguera, as well as former U.S. Rep. Dina Titus and other Democratic leaders were among the morning speakers.
Reid aimed fire at Romney and Republicans in Congress, painting them as tea party-backed conservatives who block everything good.
"Mitt Romney doesn't understand the most basic issues facing Nevadans," Reid said, citing the home foreclosure crisis, immigration and saving Medicare for seniors, among others. He said Obama and Democrats are fighting for middle-class workers.
"Mitt Romney and the Republicans in Congress believe in two sets of rules," Reid said, "One for the rich and one for everybody else."
Villaraigosa, in his 20-minute speech, took direct aim at Romney as well. He criticized the former Massachusetts governor's record, saying the state was 47th in the nation for job creation under his watch. He also said the former chief of Bain Capital "likes to fire people."
"When it comes to job creation, Mitt Romney needs to fire himself," said Villaraigosa, drawing cheers from the crowd.
Villaraigosa noted that Romney has said during a Las Vegas visit that the housing market should "hit bottom," dismissing government help for home­owners who are losing their houses to foreclosure.
He also reminded Democrats that Romney opposed the federal government bailout of the U.S. auto industry that Obama backed, arguing "let it go bankrupt."
"You know what we need to say to Mitt Romney this fall?" the mayor asked. "Don't let the door hit you on the way out."
Villaraigosa ended his speech by urging Democrats to work hard to re-elect Obama and other Democrats. He said the country is divided and Republicans will work just as hard to elect Romney and GOP candidates.
Romney's press secretary in Nevada, Mason Harrison, reacted to Villarai­gosa's speech at the convention.
"Mayor Villaraigosa must believe, like President Obama, that the economy is currently 'doing fine,' " Harrison said. "But Nevadans, who are feeling pain during one of the worst economies we've seen, know all too well that President Obama's policies have not left them better off. Unlike President Obama, Governor Romney has a proven record of job creation, both as a businessman and as a governor, and has a plan to make our economy strong again."
In an interview after his speech, Villaraigosa acknowledged the high un­employment rate among Nevadans – and even higher among Latinos – will make the 2012 election a challenge for Democrats and Obama.
But he said he's confident Obama will win at least 65 percent of the Latino vote nationwide, which is a couple of points less than in 2008. GOP strategists believe Romney must win up to 40 percent of the key Latino vote nationwide to win the presidency – something Republican George W. Bush did in 2004.
"Our challenge is to make sure they come out and we have a high turnout," Villaraigosa said of Hispanics.
In Nevada, the jobless rate is 11.7 percent, while it's 8.2 percent nationally, a tick up from last month.
Both Villaraigosa and Reid dismissed the notion that Obama can't win re-election if the jobless rate stays above 8 percent. Reid dismissed it as an "arbitrary" measure and noted that Obama is doing all he can to create jobs in the face of what Reid calls GOP "obstruction."
Also during the convention, delegates re-elected DNC National Committeewoman Erin Bilbray-Kohn and elected state Sen. Ruben Kihuen as the new DNC national committeeman.
Contact Laura Myers at lmyers@reviewjournal.com or 702-387-2919. Follow @lmyerslvrj on Twitter.