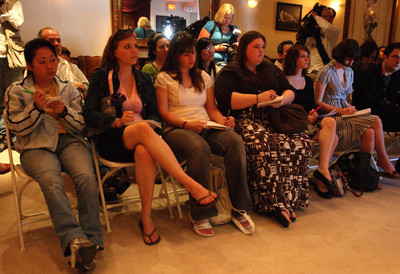 PAHRUMP — The raciest field trip imaginable began in the front parlor of the Chicken Ranch, a dimly lit room where customers go to see a line-up and pick out a girl.
Except for the prostitutes, though, this school-sponsored tour was not so different than the ones you might have gone on as a kid.
Hands were raised. Questions were asked and answered. And when it was over, everyone left with a plastic bag full of souvenirs.
So it went on Thursday, as Nevada's best-known legal brothel opened its doors to a group of 11 students, all of them women, from Randolph College, a private liberal arts school in Lynchburg, Va.
The students were lectured on the brothel industry by the people who work in it. Then they were escorted to parts of the property that even paying customers don't see.
"We've never done anything like this before," said Bob Fisher, who has handled public relations duties for the Chicken Ranch since 1982.
The field trip was part of the 12-credit, semester-long American Culture Program at Randolph.
Amid pictures and paintings of women in boudoir poses, the students took notes and asked questions as the brothel's long-time manager, Debbie Rivenburgh, described the operation in detail.
"This is a big house with 25 women crammed into it, and that can be hell some days," Rivenburgh said. "Ninety-nine percent of the time, it's a happy, fun atmosphere."
Students also heard from two working girls: Alexis, slim and stately in street clothes and high-heeled boots that stretched her already 6-foot frame; and Alicia, all bottle blond hair and breasts in a skimpy nightgown and high-heels.
"I enjoy giving back what some people may not get in their lives — attention, companionship, the touch of a woman," Alicia said.
Alexis, who occasionally referred to notes written on index cards, said it "takes courage" to stand in a line-up and take a customer back to her room to negotiate a price.
Really, though, she said her job is not so different from any other. "You just get in the habit of doing it."
The 38-year-old college graduate said she has been working in Nevada's legal brothels off and on for 13 years. She worked at the Chicken Ranch about seven years ago and then left the industry for a while.
She decided to resume her work as a Ranch hand about six months ago, in part to research a book she is writing about the life of a sex worker.
Alicia, who gave her age as "in the low 30s," said she worked illegally at first.
She has worked at the Chicken Ranch and other brothels off and on for the past 10 years.
Rivenburgh said the women are required to work a minimum of nine days straight, during which time they must be ready to "answer the bell" at any time of the day or night.
They are allowed to leave the brothel for only a few hours a week to get required medical checkups, do some shopping and maybe grab a meal somewhere.
Las Vegas tourists make up most of the brothel's customers, and business is busiest during big conventions in fall and winter, Rivenburgh said.
Alexis said the typical customer is 45 to 50 years old, though they get men anywhere from 21 to 70.
"We've had them in their nineties," Rivenburgh said, drawing a few gasps.
There are no set prices, and each woman is an independent contractor, free to haggle with her customers.
Rivenburgh said it is not unusual for a man to come in planning to spend a few hundred bucks and walk out down a thousand dollars or more.
"These ladies are really good negotiators," she said.
Alicia called it "a great way to make a living" and said the money she earns has enabled her to invest and support her mother and grandmother.
Thursday's field trip was downright scholarly, touching on psychology, commerce and feminism.
One student asked Alexis if she considered legal prostitution a feminist industry.
Alexis paused, then said, "It's not the traditional thing. Women in this business definitely wear the pants."
Neither woman was required to participate in the field trip or allow herself to be interviewed by the gaggle of reporters who tagged along. Both said they volunteered in hopes of cutting through some stereotypes about their profession.
"I wanted to change people's perceptions," Alicia said, "maybe change this idea of what a working girl — a legal working girl — is all about."
"Tell the other side of the story," Alexis added.
It seemed to work.
As she walked down one of the brothel's narrow hallways, Randolph sophomore Caitlin Clare turned to a classmate and said, "People keep asking me if this has changed my opinion about prostitution. I'm not sure I had an opinion on prostitution."
The 19-year-old Virginia native and communications major later said it was hard to condemn the industry after seeing it in person.
"It's always seen so negatively, and to come to a place where it's legal makes you wonder if it should be," she said.
The brothel tour had been in the works since January.
Not only was the Chicken Ranch welcoming, but no one associated with the college — not the administrators, students, or their parents — seemed to object.
"We haven't really gotten any push-back," said Elizabeth-Ann Rowlinson, who organized the trip as the college's "experiential learning coordinator."
"We'll see what happens when we get back," she said.
The visit to the Chicken Ranch was one part of a wide-ranging, eight-day tour through Nevada.
Earlier in the week, the students drove to White Pine County and met with ranchers concerned about plans to pipe groundwater to Las Vegas from across Eastern Nevada. In Las Vegas, they received a briefing on the pipeline project from the agency that plans to build it, the Southern Nevada Water Authority.
The students also toured Hoover Dam, Central Christian Church and a wedding chapel; met with staffers for Senate Majority Leader Harry Reid; and went backstage at the topless show at Bally's, "Jubilee!"
The program's theme is consumption, or as professor Ellen Hostetter put it: "What we consume, how we consume, and what consumes us."
The course work involves examination of everything from natural resource depletion to the sociology of the shopping mall, from religion to drug addiction.
Hostetter, one of four faculty members on the trip, said the students will discuss what they observed at the brothel and write about the experience in journals they are assigned to keep.
"The really important thing is for them to see how this works," she said. "You can read about it, but it's not the same as being here and seeing it face to face."
The Chicken Ranch was mostly quiet during Thursday's field trip. A lone customer showed up a few minutes before the students were set to arrive.
The man took a nervous glance at all the folding chairs and camera tripods set up in the parlor, then headed for the bar to see a line-up.
Contact reporter Henry Brean at hbrean@reviewjournal.com or 702-383-0350.