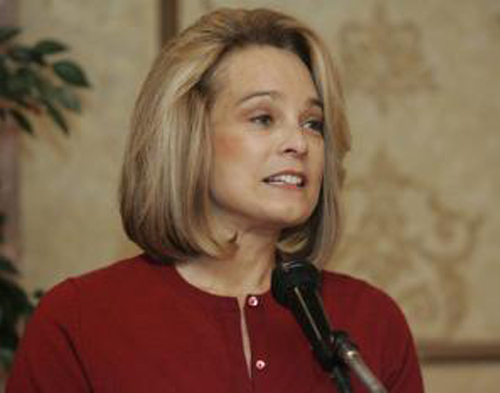 U.S. Senate candidate Sue Lowden launched the first TV ad of the Republican primary campaign, a biographical spot that could force her opponents to grab early airtime, too, in a race that's already breaking fundraising and spending records months before one vote is cast.
The statewide TV and radio ad buy totals more than $125,000, said Lowden's campaign. That pales compared to the $1.2 million Democratic Sen. Harry Reid has spent on four ads and the overall $25 million the Senate majority leader has vowed to pour into his re-election bid.
Top Republican rivals, businessman Danny Tarkanian and former Reno Assemblywoman Sharron Angle, also are expected to air ads ahead of the June primary — sooner rather than later. John Chachas, a largely self-financed investment banker returning to Nevada after 20 years out of state, is another candidate preparing TV ads. Other GOP hopefuls are far behind in the money and ad games.
"Huge money will be spent in this race," said Guy Rocha, retired Nevada archivist and public historian. "Given what's riding on this race … the previous races will be small by comparison."
Lowden's 30-second spot focuses on her personal story as the daughter of an immigrant family who put herself through college by working and then went on to successful careers as a broadcast journalist and businesswoman as well as a state senator. The ad doesn't mention her GOP opponents or Reid.
Titled "leading with integrity," the ad calls Lowden a conservative state senator who fought for lower taxes and less spending, two GOP mainstay issues.
Taking advantage of growing social networks on the Internet, Lowden introduced her ad first on Facebook and Twitter, directing people to her Web site to see it. The Lowden campaign plans to launch issue-focused ads in the near future, which could be more open to attack by opponents.
"Many Republican primary voters haven't been introduced to Sue yet this early in the campaign, and many others remain undecided this far out," said Robert Uithoven, her campaign consultant. "We are making sure voters know something about Sue, that she isn't a perennial candidate or a professional politician. She is a businesswoman who has created real jobs."
The perennial candidate reference is a jab at Tarkanian and Angle, who have each run and lost two recent elections.
The TV spots will appear on the four major networks — ABC, CBS, NBC and FOX — in Las Vegas and Reno and the cable Fox News Channel in rural Nevada. Radio ads with the same theme will air statewide on stations in Las Vegas, Reno, Elko, Ely, Winnemucca and Carson City, her campaign said.
Tarkanian's campaign scoffed at the early Lowden ad effort, suggesting it is a waste of money this early in a primary campaign where rural Nevadans who prefer to meet candidates turn out most.
"Network television seems like an inefficient way to reach the few people paying attention at this time," said Jamie Fisfis, a consultant to Tarkanian's campaign.
The Angle and Chachas campaigns were keeping their ad powder dry, for now.
"All options are available to the Angle campaign," spokesman Jerry Stacy said.
Chachas' consultant, Ryan Erwin, said he had no media buys to announce yet.