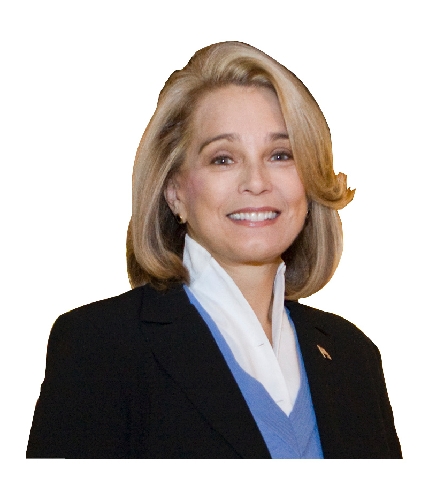 Sue Lowden, the vanquished Republican in the U.S. Senate race, sounds like an old soldier.
"I just want to fade into the sunset," Lowden said in her first interview since she lost the June 8 primary to Sharron Angle, the Tea Party pick facing Sen. Harry Reid in a tough, close contest.
But Nevadans, especially the 45,890 who supported Lowden at the ballot box, have been wondering where she has been and why they haven't seen her on the campaign trail, helping her former rival battle the Democratic incumbent.
"I've been busy with life," Lowden, 58, told the Las Vegas Review-Journal. "I'm in the thick of it. There's nothing wrong with taking a step back and reconnecting with friends and family."
As for whether Lowden will vote for Angle on Nov. 2 and keep working to help retire Reid, she points to the concession speech she gave that Tuesday night. Lowden publicly endorsed Angle, congratulated her in a phone call and told her supporters the election fight wasn't over.
And in the interview earlier this week, she said, "Reid's not good for our country. Things are just so bad."
Reluctant to be out front in the Angle-Reid race, Lowden did not want to talk too much about politics, but she was willing to put to rest whispered speculation she might join some moderate Republicans who have said they will support Reid over Angle, a staunch conservative.
"I can't imagine why anyone would ever say that," Lowden said, looking shocked at the notion of getting behind the Senate majority leader, whom she spent months trying to defeat.
"I wish her well," Lowden added of Angle. "It's really a crazy year, and anything can happen."
Lowden should know. A former chairwoman of the Nevada Republican Party, she was the establishment pick who was expected to win. She led a dozen GOP candidates until the last month when gaffes, attacks by Reid and Angle's $1 million boost from outside groups carried the Tea Party favorite to victory instead.
"I'm a very positive person. I'm accepting," Lowden said of her defeat.
Asked whether she would publicly participate in the fall campaign to help Angle and other Republicans, Lowden, who was reluctant to even sit for an interview, said, "Anything is possible, but I prefer to be more behind the scenes."
Angle hasn't raised expectations about Lowden beyond thanking her for support and suggesting she and former GOP rival Danny Tarkanian might play roles, either public or private, in her campaign.
Lowden quietly has been keeping up her fundraising contacts and is hoping to organize a political action committee to support conservative female candidates on the federal level in Nevada and nationwide, but that might not come together until next year.
"I really was humbled that there were several women PACs who contributed to my campaign," Lowden said. "It's hard to raise money, and it's even harder for some women."
Lowden, a state senator from 1993 to 1997, said she always has been politically active but doesn't plan on running for public office again.
"I'm not a career politician," Lowden said, looking relaxed in a white blouse and slacks and seeming to enjoy life out of the spotlight of a high-stakes campaign. "I'm getting on with my life."
The past couple of months have been a whirl of activity, Lowden said in an hour-plus interview at a coffee shop after returning from a 10-day visit to Florida to see her parents, who are in their 80s.
Lowden has spent much of that time working on a proposed $750 million arena project that would be located on the former Wet 'n Wild property on the north Strip. The property belongs to the Sahara Las Vegas Corp., a wholly owned subsidiary of Archon Corp., whose principal owner is her husband, Paul Lowden, the company's president, chairman and CEO.
Sue Lowden is an officer of Archon, which owns and operates the Pioneer Hotel & Gambling Hall in Laughlin. She and her husband have operated several hotel-casinos over the years.
The arena project is on hold after the Clark County Commission recently considered Lowden's proposal and two other similar ones on or near the Strip but rejected them because they all called for some form of public financing — something difficult to get approved in an election year.
Meanwhile, she has been catching up on her duties as national treasurer for the Muscular Dystrophy Association and preparing for its annual Labor Day fund-raising telethon.
"I'm taking care of things that I had put on hold for six months of my life," she said.
It's clear she has not made politics a priority this summer. She remains a member of the Spring Mountain Republican Women's Club, but she missed last month's luncheon at which Angle spoke.
Lowden cited a scheduling conflict in missing the Nevada Republican Party convention in early July, where Tarkanian introduced Angle at a dinner. Lowden said she had expected to attend the convention as the GOP nominee for the Senate, and so she was not a delegate this year.
In contrast, Tarkanian has stayed active on the political circuit and in helping Angle. He also has made it clear he wants to run for office again, although he has not yet set his sights on a specific seat.
Both Lowden and Tarkanian, a businessman and former University of Nevada, Las Vegas, basketball player, were initially viewed as the strongest contenders in the GOP primary.
It seemed a two-person GOP race until Angle won the April 15 Tax Day endorsement of the Tea Party Express, a political part of the national movement that is for smaller government and less spending — the things the former Reno assemblywoman has stood for since her Nevada legislative days.
Angle went from 5 percent in the polls to winning the primary with 40 percent of the vote, compared with 26 percent for Lowden and 23 percent for Tarkanian, with the rest split among the crowded field.
Even before Angle's rise, Lowden's campaign was coming undone following a gaffe she committed in suggesting people could barter for health care, much like people did in the old days by "bringing a chicken to a doctor."
She stood by her comparison, which the Reid campaign, the Nevada Democratic Party and outside groups mocked in a series of TV ads and videos.
Lowden has said she has no regrets about how she ran her campaign.
"This isn't the only thing that happened in my life that I didn't expect," Lowden said.
"But I always just keep moving forward."
Contact Laura Myers at lmyers@reviewjournal.com or 702-387-2919.