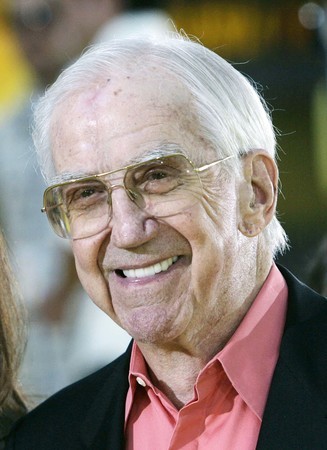 LOS ANGELES — Ed McMahon, a television pioneer who warmed "The Tonight Show" couch for nearly 30 years as Johnny Carson's jovial sidekick and announcer, died Tuesday. He was 86.
McMahon died at Ronald Reagan UCLA Medical Center Tuesday morning, according to his publicist, Howard Bragman. The cause of death was not announced, but McMahon had been in failing health with a number of issues that required his hospitalization for some time.
Initially unable to work after breaking his neck in a fall in 2007, McMahon made news a year later when he defaulted on $4.8 million in mortgage loans and was facing the possible foreclosure of his multimillion-dollar Beverly Hills estate, which had been on the market for two years. An outside party purchased the mortgage and the McMahons were still living in the home.
"If you spend more money than you make, you know what happens. A couple of divorces thrown in, a few things like that," McMahon, in a neck brace, explained in June 2008 on CNN's "Larry King Live," where he was accompanied by his wife, Pamela.
In 2008, McMahon filed a lawsuit against Cedars-Sinai Medical Center in Los Angeles, two doctors and the owner of the home where he fell. The suit is pending, Bragman said.
McMahon's health and financial woes marked an unexpected turn of events for the high-profile TV celebrity whose career began in 1949 and spanned more than half a century. During that time, he was rarely absent from the screen.
He hosted the syndicated "Star Search" for 12 years and co-hosted "TV's Bloopers and Practical Jokes" with Dick Clark on NBC for nine years.
He also played a clown for eight years on the "Big Top" live circus show on CBS in the 1950s and co-starred with Tom Arnold in a sitcom, "The Tom Show," on the WB network in the late '90s.
And there were stints hosting the game shows "Missing Links," "Snap Judgment" and "Whodunnit?" in the '60s and '70s.
In between, McMahon did commercials for Budweiser beer, Alpo dog food and hundreds of other products.
At one point in the early 1980s, he reportedly was the spokesman for no fewer than 37 banks around the country. And for years he served as the spokesman for the American Family Publishers national sweepstakes, famously informing Americans that "You may already have won $10 million!"
More recently, McMahon turned up in commercials for FreeCreditReport.com that poked fun at his financial woes. And he appeared with MC Hammer in a Cash4Gold commercial that aired during the 2009 Super Bowl.
McMahon was often sighted in Las Vegas in the post-"Tonight Show" years, more through TV projects or promotions than as a ticketed performer.
He lived up to his good-time image, whether he was on the guest list of a 1998 Rolling Stones concert at the Hard Rock Hotel or taking a flight with the Thunderbirds at Nellis Air Force Base, an 80th birthday present to himself in 2003.
But McMahon will be best remembered as the prototypal late-night talk-show announcer and second banana, who enthusiastically boomed out in his rolling baritone the familiar words, "And now, heeeeere's Johnny!"
As Carson's loyal, quick-to-laugh sidekick and comic foil, Big Ed had so many catchphrases he could have done a medley of them in his nightclub act.
When Carson died in 2005 at 79, McMahon described his longtime friend and colleague as being "like a brother to me."
This is "very sad for me," Doc Severinsen, the longtime bandleader of "The Tonight Show" during the Carson era, said Tuesday. "Ed was one of those guys who was bigger than life and full of joy. Always lots of laughs around him. We worked together for 30 years and went through a lot of layers of life together."
McMahon occasionally worked as an opening act for Las Vegas showroom headliners, including Caesars Palace dates with Shirley MacLaine, and Steve Lawrence and Eydie Gorme in 1976.
"A lot of guys made a mistake. They'd try to go into Vegas and just do questions and answers with an audience. But the audience wants to be entertained," he recalled in 2001. "I decided, wisely as it turns out, to go around the country first and decide what was good. I had an hour show that I condensed down to 30 minutes to be a front act (in the showrooms)."
Years later, The Orleans paired him with Severinsen for a 2001 co-billing. It turned out to be a one-shot deal, even though McMahon was hopeful at the time that it would become a regular attraction: "It's going to be a first and I hope it's successful. If people like it we'll do it again. It would be a thing we'd look forward to doing several times per year."
Instead, McMahon returned to television and hoped to repeat his "Star Search" success by taping 26 episodes of "Ed McMahon's Next Big Star" at the MGM Grand in 2001. The project was hampered by the 9/11 terrorist attacks.
McMahon returned to The Orleans in 2003 for a short-lived venture that attempted to revive the Telly Savalas Players Club.
In 2004, he was honored with the Bob Hope Lifetime of Service Award during the Las Vegas Comedy Festival at the Golden Nugget.
McMahon liked to say that he was "one of the very fortunate people who grew up to do exactly what I spent my whole childhood dreaming of doing — even if no one is quite sure exactly what it is that I do."
In 1958, McMahon met Carson, the man who would forever alter his career and fortunes.
McMahon's job on the show consisted of introducing the contestants, doing the commercials and occasionally talking briefly to Carson at the beginning of the show. From the start, Carson made McMahon his comedy foil and in so doing established an on-air relationship that would continue for nearly 34 years.
On the duo's last "Tonight Show" broadcast, on May, 22, 1992, Carson paid tribute to his sidekick.
"Ed has been a rock for 30 years, sitting over here next to me. … We have been friends for 34 years. A lot of people who work together on television don't necessarily like each other. This hasn't been true. … We're good friends; you can't fake that on television."
In addition to his wife, McMahon's survivors include five children.
Review-Journal writer Mike Weatherford contributed to this report.