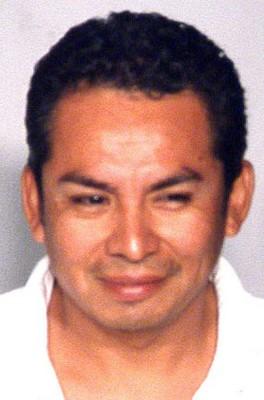 Long before someone planted a bomb on his car, Willebaldo Dorantes Antonio had reason to worry.
The 24-year-old from Mexico told coworkers he had been warned to stop seeing his girlfriend, and he was nervous, according to a police report. But he didn't end the relationship, and it cost him his life, police said.
Antonio died May 7 after a small bomb blew up when he tried to remove it from the roof of his car. Four days later, Las Vegas police arrested two people, including the ex-boyfriend of Antonio's girlfriend, in connection to the bombing.
Omar Rueda-Denvers, 24, was charged with murder, attempted murder and possession of an explosive device. He was scheduled to appear in Las Vegas Justice Court this morning to face those charges.
The Panamanian pleaded guilty on Monday to an unrelated misdemeanor charge of possessing false identification.
The second man, Porfirro Duarte Herrera, 27, was held on a charge of being an alien possessing a gun. Police said he would face additional charges related to the bombing.
On the morning of the bombing, Antonio and his girlfriend, 27-year-old Caren Chali, were walking to his car after finishing their shifts at Nathan's Famous hot dog restaurant in the Luxor food court. They didn't know that someone had planted the bomb just 90 minutes before.
It was a pipe bomb hidden in a Styrofoam cup from 7-Eleven, according to the report.
When Antonio picked it up, it exploded. He died a short time later at University Medical Center.
Chali was walking around the front of the car and did not get hurt in the blast.
She had been dating Antonio for about 10 months. She has a child with Rueda-Denvers, and he wanted her back, she told detectives.
Investigators tracked down Rueda-Denvers' current girlfriend, Rosa Alfonso, who told them she was trying to break up because she was afraid of him, according to the report.
When detectives found and questioned Rueda-Denvers, he told them he took Alfonso's Chevrolet Cobalt without her permission and drove to the Luxor parking garage with Herrera, the report said.
Investigators searched a maintenance shed at the Sedona on the Boulevard condominium complex on South Las Vegas Boulevard and found Eveready nine-volt batteries like those used in the bomb, according to the report.
A search of Herrera's home turned up other materials that could be connected to the bomb, including a can of spray insulation foam, according to the report.