Luxury home market ripe for renting — PHOTOS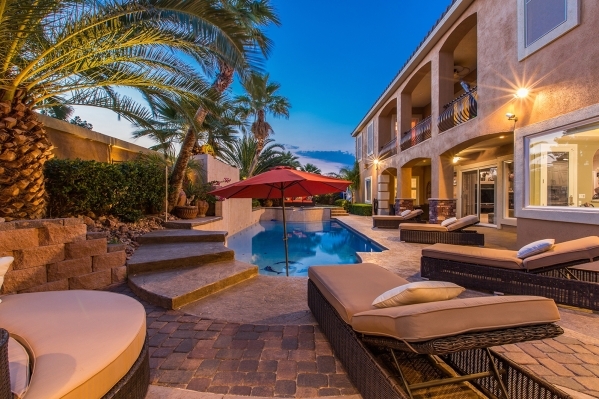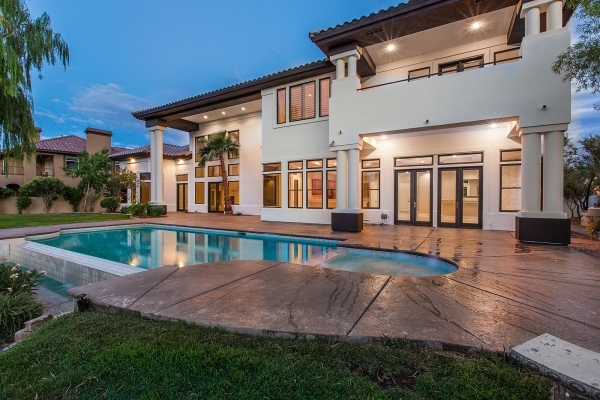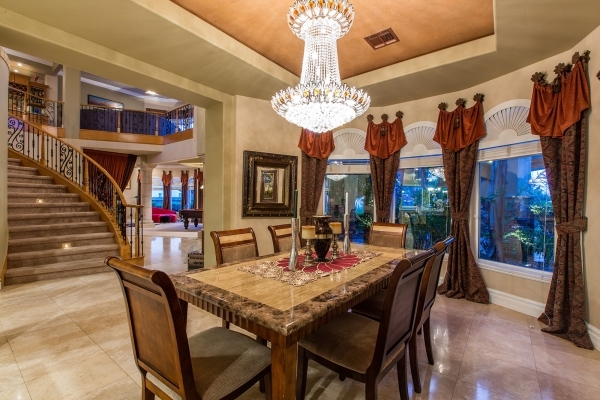 Not everyone in the Las Vegas luxury home market is looking to purchase a mansion with finely manicured surroundings or a lofty tower apartment with cityscape veranda views. A certain set of well-heeled individuals is looking to live in just such amazing places for a limited time.
Upscale residences generally don'€™t have "€œFor Rent"€ signs posted out front. This is a segment of the local real estate economy that is somewhat unknown by many.
Gordon Miles, president of Berkshire Hathaway HomeServices Nevada Properties, has an expert'€™s eagle-eye view of the local luxury rental landscape. He points out that Las Vegas is one of the world'€™s pre-eminent entertainment cities,€" if not the leader in what he humorously describes as the "€œjubilation"€ category. This makes for particular renter profiles.
"€œWe'€™re drawing on a very unique clientele,"€ Miles said. "€œWe'€™ll have a lot of celebrity clients. That'€™s a huge market here."
Many professional athletes and performers set up deluxe temporary camps for months on end in Clark County, but they often want to be somewhat away from the tourist corridor and its busy party crush.
"€œThey prefer to stay in a home rather than in hotel suites, especially if they'€™re bringing their families and pets,"€ he said. "They prefer to be off-Strip."€
Miles notes that there is also a burgeoning number of business executives moving to Las Vegas on the hunt for semi-permanent domiciles as they get settled in. Further, he mentions that a growing number of wealthy foreign nationals visit the city for extended stretches. They are looking to rent, too. In addition, a significant number of tony Los Angelenos frequently lease ritzy Southern Nevada abodes.
Miles is sanguine on the general trend in Las Vegas luxury rentals. While supply is ultimately restricted to a very slender slice of the local housing stock with a tiny qualified customer-demand base, the region'€™s ongoing, overall economic recovery and its impact on the high-end market is sloping upward. This is witnessed by increasing tourist visits as a whole, which passed 41 million individuals in 2014, as tabulated by the Las Vegas Convention and Visitors Authority.
"Our numbers are coming up, our visitors are coming up. Everything is pointing in such a positive direction here right now,"€ Miles said.
He specifically points to extended stays by visitors from abroad.
"Look at the airport, how many international flights we now have coming in,"€ he said. "€œIt'€™s increasing constantly. Those are the type of people who will tend to stay a little bit longer."
"€œIt'€™s all positive moving forward,"€ said Miles in summing up the luxury rental market.
Many individuals who rent top-notch and top-dollar Las Vegas properties do so to "test the waters" before buying in. Lynne Bloomquist, a broker with Urban Nest Realty, has many years of experience with matching such clients with appropriate residences. Normal Vegas-style living is a whole new game for many, she remarks.
"€œA lot of people, when they'€™ve been here, they'€™ve only been to the Strip,"€ Bloomquist said. "€œBut now, they'€™re relocating here."€
Bloomquist has found that clients are highly interested in proximity to local schools, churches and other civic institutions.
"€œThey don't have a lot of time, and they don'€™t want to waste a lot of time,"€ she said of luxury residence renters. They prefer to pay at a premium for a spell while they explore day-to-day living in metropolitan Vegas, a somewhat arguably different experience than in any other U.S. city. Amortized mortgages come later at a more leisurely, informed and personally experienced pace.
In the valley, the west side is a hot bed of luxury rentals.
One Queensridge Place, with its distinctive pair of Venetian Art Nouveau-inspired towers rising above the corner of Rampart Boulevard and Alta Drive, is exceptionally popular with renters.
"€œIt'€™s one of the highest-end residential towers in Las Vegas," Randy Char said. His company, Char Luxury, represents the towers on the rental market.
Astride the picturesque Badlands Golf Course, the towers have a combined total of 219 residences. Char explains that owners have the option to rent their units for 12 months or longer.
"You have to be a long-term resident, even if you'€™re renting,'€ he said.
In the past, two-bedroom residences have ranged in the $4,000 to $5,000 monthly rate range.
"For three bedrooms, we just set a new bar. We have one that rented for $9,500 for three bedrooms,"€ Char said. Rare exceptions have cracked the $18,000 ceiling.
Why the significant prices?
"€œThe property arguable has the richest amenity package of any residential tower, maybe in the Western region,"€ Char said.
He lists off a mind-dazzling array of accoutrements, starting with a grandiose lobby that is partially inlaid with semiprecious gems in spots. There'€™s also an indoor junior Olympic-sized pool; a spa with private massage rooms and Pilates equipment; a wine cellar with separate lockers for every resident; a conference area; a theater; a poker room (hello, Vegas!); and even a library. That'€™s merely to start.
There also is a cafe open daily from morning to midday that offers complementary coffee, fruit, yogurt, bagels, pastries and more for residents, including renters.
Queensridge is across the street from Tivoli Village's numerous restaurants and retail boutiques. Boca Park, for grocery and sundries shopping, also is nearby; it'€™s barely a car drive distant. To keep the neighborhood adequately Vegasy, Suncoast Casino and Rampart Casino at the Resort at Summerlin are next door. Downtown Summerlin and Red Rock Casino Resort are both just up the road.
"€œThere is just a plethora of choices for restaurants, entertaining and shopping,"€ said Char of Queensridge's wider environment.
Char also identifies an important aspect of Queensridge'€™s towers for potential renters: they provide both solitude and social interaction. There'€™s absolute quietness, but also a built-in community amidst the tower floors, foyers and promenades.
"€œYou can live as privately as you like, with private elevators and garages. Or, you can live socially,"€ he said, mentioning the cafe, concierge-scheduled events and simply walking the lovely grounds. The choice is up to renters at any time depending on their mood.
Obviously, Queensridge is not solely towers. Behind the mammoth horse statues at the gate on Charleston Boulevard, there are free-standing mansions for lease, as well.
Bill Hargraves of Shapiro & Sher Group represents one such exemplary home. Going for $12,500 per month, it has six bedrooms and six bathrooms in a 7,227-square-foot footprint next to irrigated, desert-cradled links.
"€œIt has amazing views of the golf course,"€ Hargraves said.
Upscale touches include an infinity-edge pool and ceilings that soar to 30 feet in height. The master bedroom is on the first floor, with the other en-suite sleeping enclosures nestled upstairs for mutual privacy.
Hargraves also mentions that the home is innately impressive to guests, from its external porte-cochere to its wide-open, friendly interior. It'€™s made for business parties.
"€œFor an executive who wants to come here to town and make a very serious statement of who they are and the position that they hold, this is probably the best house you could possibly want,"€ Hargraves said.
For a family, it'€™s close to top-performing schools in the Las Vegas metro area, including Faith Lutheran, Meadows, Alexander Dawson, Bishop Gorman and Palo Verde.
Like many luxury properties in Southern Nevada, this mansion is also for sale. It is listed at $2.9 million.
Enormous, easily identified marquee expanses like Queensridge are not the only sites for luxury rentals in town. Some 2 miles to the east is Marina Estates. Just off of lightly traveled Oakey Boulevard, in this gated community, there'€™s an available 7,323-square-foot, six-bedroom domicile.
It'€™s represented by Maureen Robinson, also with Shapiro & Sher Group.
"€œIt'€™s an unbelievable house,"€ Robinson said. "€œThis is a true custom home."
While a passerby might never know from the concealing outside walls, it'€™s a significant area.
"€œEverybody in this neighborhood has about a half-acre lot or larger,"€ she said.
Fittingly for a property with sizable external space, it is decked-out on the outside with a park-style swing set, a living room-sized gazebo, a pool, a whirlpool and a basketball court.
"€œIt'€™s a really beautiful backyard,"€ said Robinson of the family-ready place.
In its interior, it is fully wired for audio-visual entertainment, including a theater. All bedrooms have full en-suite layouts.
It is also close to numerous churches and major amenities such as All American Park and Charlie Kellogg and Joe Zaher Sports Complex.
A few blocks north of Marina Estates, there is another home for rent in the similarly quiet and somewhat out-of-sight Ten Oaks Estates. While it is represented by Destination Homes, Hargraves is a big fan. He even tried to buy it for himself recently, but got beat to the closing-offer punch.
"€œThis was my dream house,"€ Hargraves said with good-natured regret.
Available for $4,850 a month, it is a 6,000-square-foot, single-story abode.
"€œIt'€™s a gorgeous home with a pool,"€ he said, also referring to its seclusion close to family-minded necessities such as shopping, educational institutions and houses of worship.
From giant get-together backyards to swanky tower overlooks, Vegas has luxury rentals for all takers.