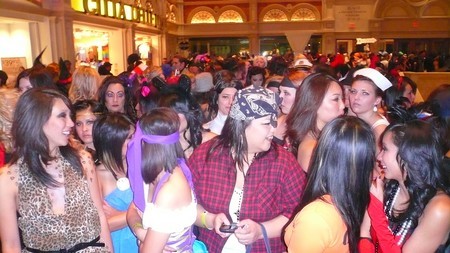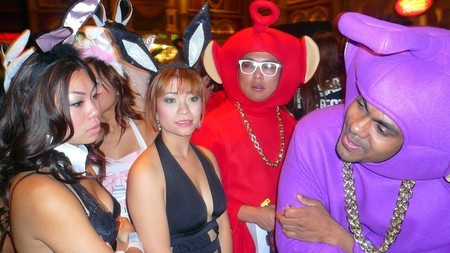 You can't always trust the media when journalists go hunting for topical trends to try to seem like pop culture prophets. This weekend's example: Halloween costumes.
All last week, newspaper and TV people across America told readers and viewers — while quoting costume retailers hustling wig supplies — the hot outfits of the season would be Kate Gosselin, Octomom, Michael Jackson, Farrah Fawcett and Lady Gaga.
I concede I don't know what moms were wearing while greeting trick-or-treaters in Iowa City or Portland. But I scoured the Strip and found nary a Kate Gosselin, no more than two Michaels, nada Octomoms and zero Farrahs, but I did spy a handful of Lady Gagas, several of them men.
That was my clearly important, eyewitness report from the entry and exit lines of the Hard Rock's Fetish & Fantasy Ball, nightclubs at the Palms, The Venetian and Bellagio, Club Paradise, the Double Down Saloon and sidewalks near each hot spot.
Typical of the night, I met a woman dressed as Beatrix Kiddo from "Kill Bill," and asked her, Taylor Seidler, if she'd seen any Kate Gosselins.
"Who the hell is Kate Gosselin?" she said, then she made out with her date, who was dressed exactly like the leather-bound "gimp" from "Pulp Fiction." (If you don't know, Kate Gosselin is just another reality TV scumbag.)
A guy dressed as zombie Eva Braun wasn't really familiar with her, either. But he did get excited when an 18-year-old girl ran her hands through his zombie Eva hair and French kissed him.
Costume retailers also convinced newspapers across the country that vampires would be huge, because of the kid-skewing "Twilight" movie phenomenon.
Here in Vegas: On the one hand, The Venetian's club Tao did draw insane numbers of party people partly by paying to trot out a few "Twilight" co-stars as club guests: Kellan Lutz and Ashley Greene.
On the other hand, such "Twilight" vampires seemed in short supply among the regular people — the 500 or so paying customers I eyeballed at Tao — or anywhere else on the Strip.
I realize this all seems pretty silly, tallying costumes. But there are some important media and anthropological observations here.
First of all, we journalists never do ourselves favors by quoting retailers but not their customers. Sometimes, we make that mistake (myself included) because we love combining pop culture with an event to look all-knowing. This happens a lot in my business. This happened constantly last week.
The Associated Press sent out a feature story for newspapers to run nationwide that declared: "Costume suppliers predict this year's hot costumes will come from reality television, tabloid celebs and the high-profile deaths of two superstars."
Wrong, wrong, wrong, at least on the Strip.
The AP story continued:
"'Inspiration for Halloween costumes comes from the media, the movies, current events and pop culture,'" said Steven Silverstein, CEO and president of Spirit Halloween.
That quote is more accurate. Do you know how I know it's accurate? I got off my chair, went out in the real world on my legs, and observed things with my own eyes. I know that's a radical concept, since it's what most of us were taught in Journalism 101.
Here's what I saw across Vegas: tradition. The tradition of women dressed as sexy cats, sexy devils, sexy maids (French maids, Swiss Miss maids), winged angels, Pocahontas, Dorothy from "Wizard of Oz," Alice from "Wonderland," Little Red Riding Hood, Playboy bunnies, ghouls, African queens and Japanese schoolgirls.
Dudes: There were lots of "Ghostbusters," quite a few Fred Flintstones, several "Beetlejuices," many Batmans, plenty of Jokers, ghouls, "Star Trek" characters, devils and zombies.
In fact, my final score notched fewer Michael Jacksons (two) than Nintendo's Mario (four), Nintendo's Luigi (three), Teletubbies (four), and "The Hangover" character (four) holding a baby on his chest (as played in the film by Zach Galifianakis).
I spotted even fewer MJs than Lt. Dangle characters from "Reno 911!" (three), as made famous to Generation Y by actor Thomas Lennon.
My conclusion from all this is either:
A) The holiday/pop culture media was wrong again, posting headlines unfurling forecasts such as, "Michael Jackson, Lady Gag, Kate-minus-Jon" (in the San Jose Mercury News), and running MJ/Kate Gosselin predictions everywhere from the Chicago Sun-Times to the Boston Herald, the Reading (Pa.) Eagle, the Glen Falls (New York) Post-Star, and on and on.
Or B), Vegas party people are more creative and go more all-out with their costumes than most of the country. I mean, you should have seen the detail in these outfits.
In fact, check out my blog. I snapped 99 photos on the Strip. Dig on the Cookie Monster, the "God of War," the guy dressed as Rene Magritte's painting "The Son of Man," the guy dressed as Magritte's painting "Le Pelerin," and the partier who wore a perfect Bender robot costume from "Futurama."
Those were inspired outfits, definitely more thoughtful than plopping on a Kate Gosselin wig to satisfy we the pop culture-hungry media.
Doug Elfman's column appears on Mondays, Tuesdays and Fridays. Contact him at 383-0391 or e-mail him at delfman@reviewjournal.com. He also blogs at reviewjournal.com/elfman.
on the web:
Check out 99 Halloween photos from the Strip on the Vegasland blog.
www.lvrj.com/blogs/elfman