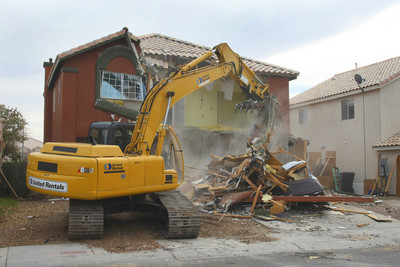 The excavator fired up.
Its bucket jerked skyward, and then the claws crashed down, turning the front of Terri and Chuck Cerda's garage into a cloud of dust and flying lumber.
It wasn't a traditional Las Vegas-style implosion, but it was good enough for the volunteers and onlookers who watched Thursday morning as the TV series "Extreme Makeover: Home Edition" kicked off a weeklong effort to build a new home for the Cerdas.
The Cerda home, at 5760 Royal Castle Lane near Ann Road and U.S. 95, is one of five Southern Nevada homes the popular ABC series considered for a rebuild.
Chuck Cerda works for the U.S. Department of Homeland Security, and Terri volunteers in global relief efforts and for several community organizations.
Their daughters, Molly, 8, and Maggie, 6, both have been diagnosed with a severe immune condition.
The 2,076-square-foot home was built in 1996.
However, after several floods, the home sustained severe water and mold damage that makes it dangerous to the girls' health. It also has serious structural damage that would have required costly repairs.
Family members learned Tuesday, during the show's classic "door knock" segment, that their home would be torn down and a new home built.
The show's producers sent the family on vacation in Maui, Hawaii. During the next several days and the span of about 106 hours, volunteers, including contractors, plumbers, electricians, carpenters and other local individuals and companies, will pitch in to build the Cerdas a new home.
The family is scheduled to see its new home for the first time on Tuesday.
The show featuring the Cerdas and the Las Vegas project is set to air May 10.
Spectators who wish to watch the project's progress may take a free shuttle bus to the site through Tuesday morning. The shuttle lot is at North Tenaya Way and West Azure Drive, and shuttles are scheduled to run daily from 9 a.m. to 4:15 p.m.
Contact reporter John Przybys at jprzybys@reviewjournal.com or 702-383-0280.